Scuba diving some of the best walls in the world, sea kayaking into hidden caves and wandering around on Phuket's many beaches are just some of the wonderful activities that await you in Phuket.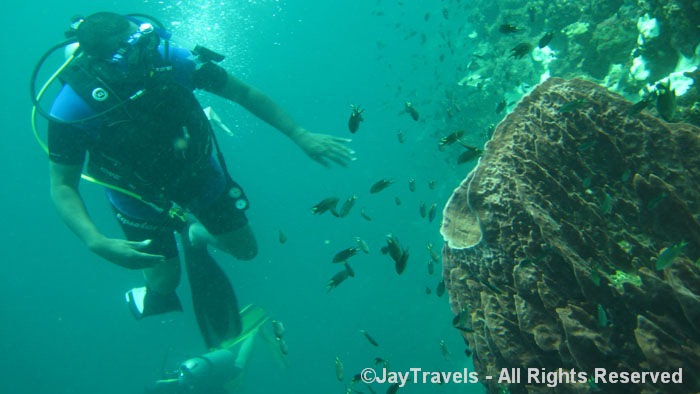 Destination at a Glance

Date of Trip
May 2010
Destination Good for
Watersports, Partying, Food
Best Time to Go
Always hot – though rainy season June-September
Currency/Conv. Rate
Thai Bhat/ 1 USD = 32 THB – Very Favorable
Good Way to Get Around
Rent Car: No
Public: No
Taxi: Yes
Walking: No
Appox. Trip Cost
Fairly Inexpensive
Speaks English?
Many
Entry Requirements
Passport
Do it

Scuba Dive over 20 sites
Sea Kayaking Tour
Patong Beach
Exquisite Massages

Skip it

Bring negotiating skills for Tuk Tuk Drivers

Didn't get to do

Phi Phi Markets
Insects Night markets

Would I Recommend
Yes
Overall Trip Rating
Trip Review
(Click Thumbnails to see Full-Sized Images)
After spending half of my 6 day tour of Thailand in Bangkok, I took a flight on AirAsia to Phuket.  Phuket (pronounced "Poo-ket") is one of the most beautiful places in Thailand – some say the world.  Movies such as James Bond's "The Man with the Golden Gun" and Leonardo DiCaprio's "The Beach" to name a few were filmed on the beautiful islands of Phuket.  The alien rock formations lure visitors from around the globe to this tropical paradise.
The 1hr 15 minute flight from Bangkok is the most practical way to get to Phuket – as a bus ride would take 10 hours and there is no train that will get your there without also taking an additional 4-5 hour bus ride. Unlike Bangkok, as soon as I stepped out of the baggage claim area I was literally assaulted by taxi drivers yelling – "taxi", "Hello Sir, where you go", "My Brother, I can take you wherever you need".  This would be a prelude for things to come as far as taxi services were concerned.
You may remember from my time in Bangkok that all of the taxis are metered and extremely cheap.  Not so in Phuket.  Not only are they not metered, few of them have permanent signs/lights indicating they are taxis (think Toyota Corollas with a piece of cardboard with "taxi" scribbled on it).  More notorious than the taxis are the Tuk-Tuks – 4-6 seat open air taxis which serve as the primary method of transportation in Phuket.  Not a single Tuk-Tuk has a meter, so the cost of your trip will depend heavily on your negotiating skills, where you're going, whether it's high or low season and the general mood of the driver.   That 20 minute taxi ride that costs 70 Baht in Bangkok now costs 450 Baht in Phuket.  No kidding – the Tuk-Tuk drivers are like the mob in that they all collude together to fix pricing (sorta reminds me of the Coco-coco taxis in Havana, Cuba).
Once you get over the transportation shock, you can settle into one of the hundreds of hostels/ hotels that cater to $10 to $1,000 a night budgets.  Two of Phuket's most revered activities – water activities and nightlife await you.
Phuket Activities
There are a ton of things to do in Phuket including white water rafting, jungle tours, elephant treks and ATV/horseback riding tours.  Here are three additional activities in which I took part.
Scuba Diving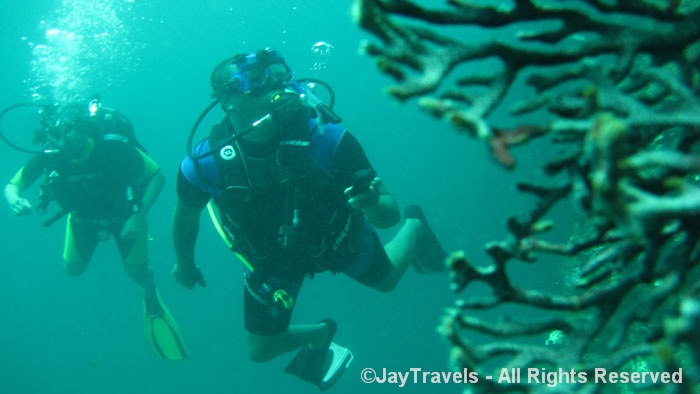 May is the start of the rainy (low) season so diving is pretty much limited to day trips – liveaboards are too dangerous due to the monsoons.  This was not a problem for me since I was only in town for 3 days.  Thailand Liveaboards charged me 3,700 Baht ($124 US) for a 3 tank dive tour with no surcharge using a credit card (most other tour resellers charge 3% surcharge).  The price included full equipment rental – others wanted an additional 700 Baht for BCD, Regulator, etc.   Regardless of which reseller you choose, the process is essentially the same – company arranges for pickup at most any hotel in Phuket, equipment and divers are loaded onto the boat and you are served a light breakfast prior to the hour or so ride to the first dive spot.  A hot Thai lunch is served in between the 2nd and 3rd dives.  Here's a summary of each dive site I visited:
Koh Doc Mai – The best dive of the group, extremely colorful reefs and coral – first time I've ever witnessed a giant purple clam.  This also marked my first wall dive, as well as, my first entry into an ocean born cave (Cenotes are fresh water).
King Cruiser – Is an 85 meter automobile ferry that wrecked off the Phuket coast in 1997.  The ferry sits in about 20-30m of water and is filled with coral and marine life.  Like many wreak dives, visibility isn't that great – but good enough to take decent pictures.
Shark Point – Three large partially submerged rock formations which are home to the Leopard Shark (yellow had has spots like a leopard).  Unfortunately, I didn't see any sharks on my dive and there wasn't much by the way of reef/coral activity.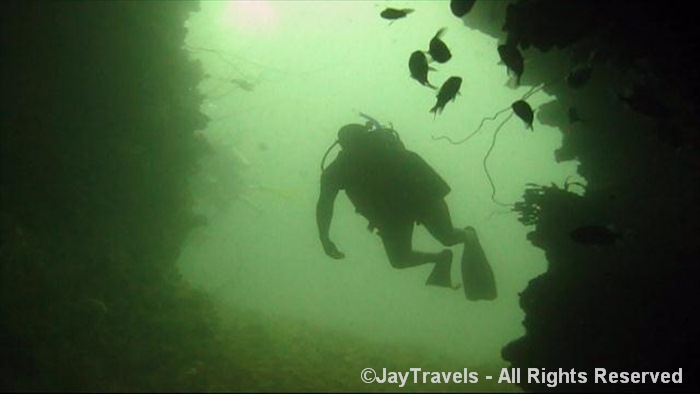 In addition to having the best price, Steven from Thailand Liveaboards really set himself apart from other resellers by offering to pick me up from the airport, bring me to his shop to complete the sale (swipe the car) and drop me off at my hotel for an extra 600 Baht.  While certainly not as cheap as local taxis in Bangkok – it was a hell of a lot better than the 1,400  Baht the Hilton tried to charge me for the return trip to the airport (I used Steven's service on the way back as well).  Kudos to Steven and Thailand Liveaboards – I highly recommend their service.  One other note about this dive trip is it was the first time I used the Liquid Image HD320 Scuba Mask which I will be reviewing shortly.
Sea Kayaking
After a day spent underwater exploring, it was off to spend a little time topside surveying several of the many Phuket Islands via a sea kayak.  This time, the company selling the package SeaCanoe – was the actual company offering the tour.  Similar to other tours, someone picks you up from your hotel in the morning, drives to a dock and ferry you to the sea kayaking destination.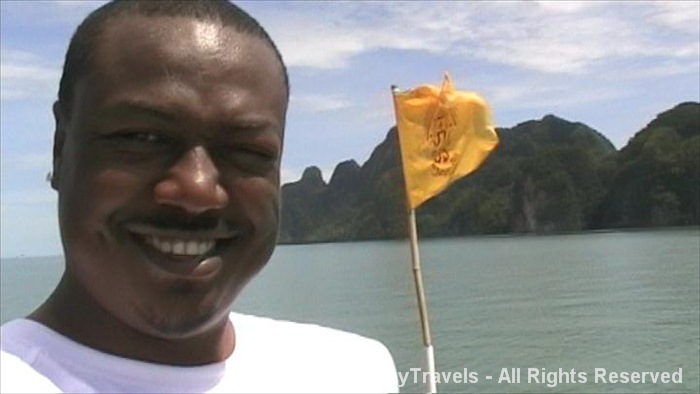 My particular adventure took place in Phang Nga Bay – a 45 minute ride from Phuket (the Bond movie mentioned above was filmed here).  The rock formations in this region are some of the strangest and yet fascinating natural creations I've seen on earth.  It's pretty hard to describe, but these limestone rock formations protrude out of the ground like giant green & grey thumbs.  I swear they look like something from Mars.  Some of these formations have caves and overhangs that are exposed/hidden based on the tide.  Once in the kayak, you can travel through the exposed caves leading to several lagoons filled with wildlife.  SeaCanoe provides dry bags for your cameras, as well as a hot Thai lunch.
The Beaches – Which one? Doesn't matter, pick any one.  Every beach in Phuket is almost just as beautiful as the next – white sand, excellent vistas of the many Phuket islands and absolutely amazing turquoise 80-85 degree water.  The most popular beaches (at least for tourists) are Patong Beach, Karon Beach and Kata Beach.
Perhaps the most famous of the Phuket islands is the Phi Phi Islands (where the movie the Beach was filmed).  I didn't get a chance to make it to Phi Phi Islands, but hey, that's reason enough to go back.
…Continued
Related Articles You Might Be Interested In: