This is the third and final part of my traveling to Cuba series. Part One of the series focused on the history of the embargo, how the embargo is portrayed in the US and my opinions on why every American should visit the island. Part Two detailed how a US citizen can qualify/travel to Cuba and a few tips on what to expect once they arrive. Part Three is about my personal experiences in Cuba's capital city of Havana including the usual pictures and video.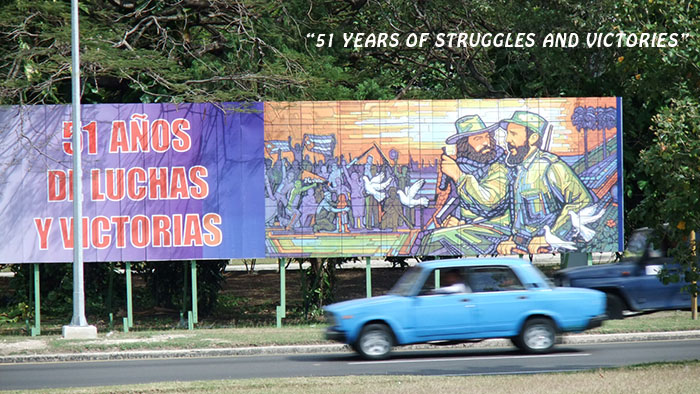 Destination at a Glance

Date of Trip
April 2010
Destination Good for
Culture, Learning
Best Time to Go
Always hot – though hurricane season is June-November
Currency/Conv. Rate
Cuban Convertible Currency / 1 CUC = 1.20 USD – Unfavorable
Good Way to Get Around
Rent Car: No
Public: No
Taxi: Yes
Walking: Yes
Appox. Trip Cost
Fairly Expensive
Speaks English?
Some
Entry Requirements
Passport & Medical insurance. 25 CUC departure tax
Do it

Havana Club Rum Tour
Stay in a Casa Particular
Catch a show at the Tropicana
Smoke a fine Cuban cigar!

Skip it

Coco taxis – at least more than once

Didn't get to do

Lack of Spanish prevented in-depth conversations with Afro-Cubans
Party with the locals

Would I Recommend
Strongly Yes
Overall Trip Rating
Trip Review
(Click Thumbnails to see Full-Sized Images)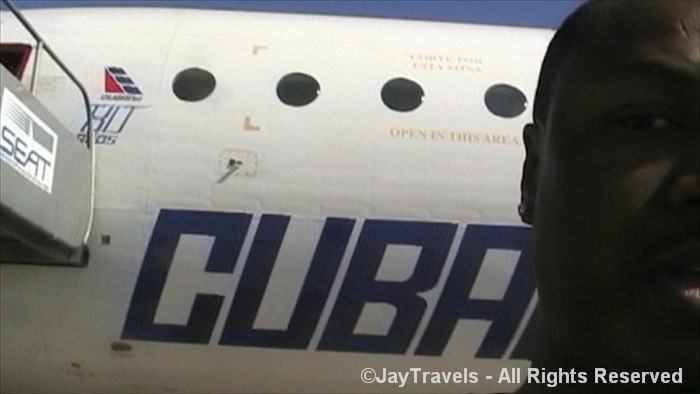 As I discussed in Part 2, getting to Cuba from the US is best done via a 3rd party country – even if you have a license. Since I live in Atlanta, the easiest (and cheapest) method for me was to fly to Cancun then directly to Havana on Cuba's national carrier – Cubana Airlines. I'd already purchased my airline tickets and tourist visa when I was in Cancun a few months earlier. The way some folks talk about Cuba, everything is tied together with duct tape and wires. While that's a serious exaggeration, there has been an issue with supplies/spare parts ever since the collapse of the Soviet Union. Why do I bring this up – the Cubana Airlines plane I flew on from Cancun was a 1970s Soviet made jet – which is over 40 years old. I wasn't worried so much about the safety of the plane itself (both inside and out appeared extremely well maintained); I was more concerned about a maintenance issue delaying or canceling the flight to Havana or returning to Cancun causing me to miss my connecting flight back to the US. Arriving at Havana's airport was a breeze; the Cuban customs officials processed me through in a matter of minutes. Off to the currency exchange to get some money and catch a cab to my Casa Particular.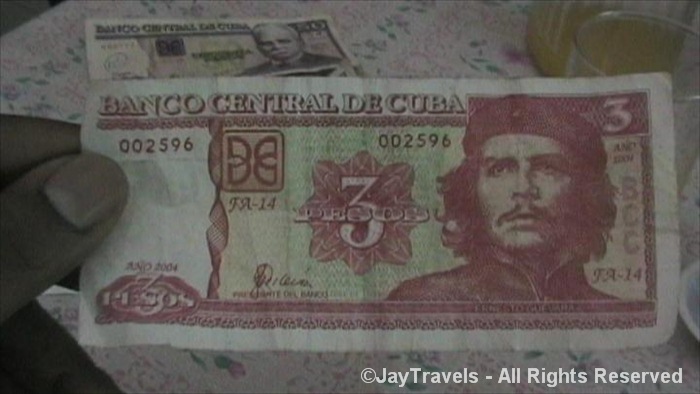 Unlike most countries you'll travel to, Cuba actually has a dual currency system. The Cuban Peso (CUP) is the original government tender and what locals are paid in from their government jobs. The Cuban Convertible Peso (CUC) is what all foreigners are issued to make purchases in Cuba that is artificially pegged to the US Dollar at $1.08 plus a 10% conversion tax when converting from US Dollars. To avoid this 10% tax, I ordered a bunch of Euros from Bank of America before I left Atlanta and converted those to CUC in the Havana airport. Keep in mind – the CUC cannot be converted back any currency once you leave Cuba – so be sure to spend it all or convert them back at the airport when you leave. The fact that the CUC is artificially pegged to the dollar and Americans cannot use credit/debit cards makes traveling to Cuba very expensive. Get a least 5 CUC worth of CUP (1 CUP equals .03 CUC or 3.3 cents USD) to save a little when purchasing from street vendors or if you plan to take a local bus.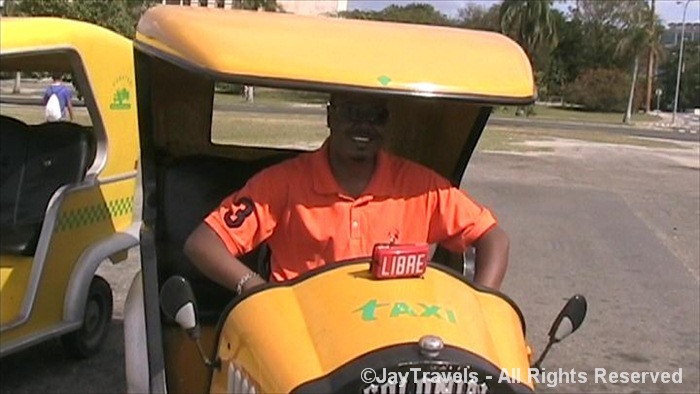 Once I got my cash, it was time to obtain transportation into the city. Buses are the cheapest option and catching a taxi is the easiest. If you decide to go the taxi route, you should know you will encounter three types during your stay in Havana – official metered, unmetered and Coco Taxis. The CubaTaxi is the official metered taxi in Cuba. Metered taxi rates are very cheap in Havana – but you must make sure the driver uses the meter (he may just quote a price that is usually higher than what the meter rate would have been). Coco Taxis are 3 wheeled open air scooter looking contraptions similar to the Tuk Tuk Taxis I used while in Bangkok. Coco Taxis can be fun to ride around town for very short distances and/or just to experience the ride, but they are fairly expensive when compared to a metered taxi. Unmetered taxis are popular with locals and are frequently the 1950s era cars you see in pictures. Understand it is common for locals to share a taxi – 3-4 different groups heading to multiple destinations is not uncommon. Unmetered taxis also take CUP so I'll likely save even more (not sure if they also accept CUC).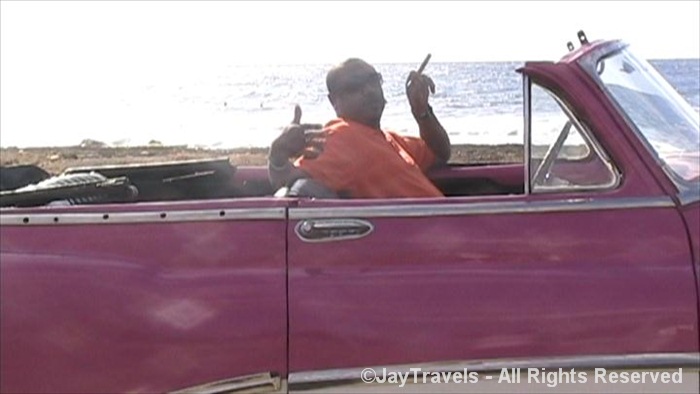 Speaking of cars, you may have heard there are a ton of 1950s American cars roaming around Havana; which is true, but it's isn't like those are the only cars in the country. Although US companies and its foreign subsidiaries are prevented from doing business in Cuba, the Chinese have no such problem – thus Havana's streets are filled with late-model Chinese imports. As for the 1950s era vehicles, they are very cool to look at and a wonderful experience to ride in the first few times; but that quickly wears off in the heat & humidity as they generally don't have air conditioning.
Like I talked about in Part Two, I decided to stay in a Casa Particular instead of a hotel. Using WikiTravel's Havana page, I reached out to a number of Casa owners with questions about per night fees, room/property pictures, additional fees for breakfast/dinner and if anyone spoke English. I settled on a casa in the Vedado neighborhood and we agreed on the price of 35 CUC per night and an arrival and departure date via email. Whichever Casa/hotel you choose, be sure to write/print the address to provide to the taxi driver. Old Havana, Vedado and Playa/Miramar are the best areas to find either a Casa or a Hotel – Frommers has a pretty good 'Neighborhoods in Brief' explaining each.
The Impact of the Embargo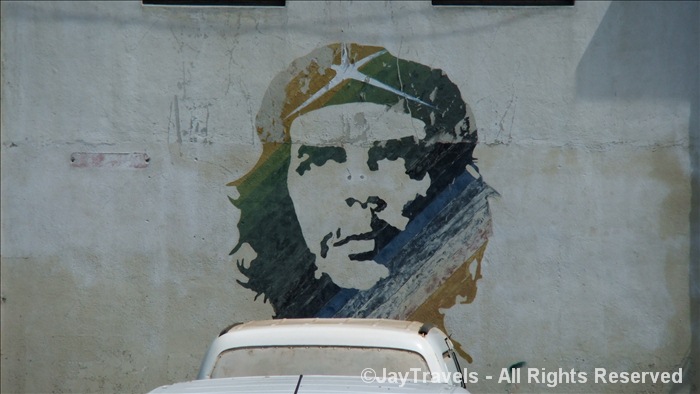 It's not fair to compare Cuba in terms of economic status and the wellbeing of its citizens to the United States – very few countries in the world compare favorably to the US. The more accurate comparison is to neighboring countries in the Caribbean and Central America. Under that light, in many ways Cuba is most prosperous country in the region. As I alluded to earlier, unemployment is under 2%, homelessness is almost non-existent, all citizens are guaranteed healthcare, a literacy rate that is 2nd highest in the world and a GDP higher than Costa Rica, Jamaica and the Bahamas – combined. Whether you'd benefit in Cuba is directly based on your economic status elsewhere; I have a job & live in the US – so there's no place I'd rather be. On the other hand, if I was jobless, homeless and/or without healthcare in almost any US city (particularly during the brutal winter season) – I would clearly be better off in Cuba.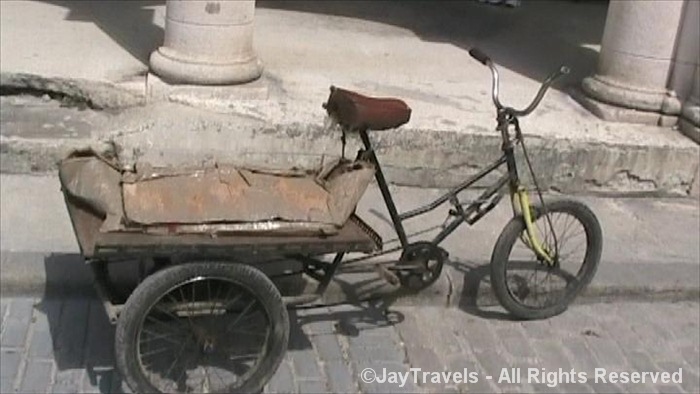 That said, Cuba has to deal with circumstances no other country in North America has to deal with – namely the economic embargo imposed by the 800lb gorilla 90 miles from its border. This manifests itself in a number of ways – the most glaring of which are shortages. Shortages of food, medicine, mechanical parts, and supplies – you name it. Those 1950s era cars aren't all over Cuba because they have an affinity for 60 year old gas guzzlers with no AC; they are there because until China's very recent global presence in the automobile industry, no one else would trade with them. Lack of agricultural trade with the largest economy in the world further impacts the supply chain. It's not uncommon for restaurants to simply run out of menu items (2 restaurants I tried to eat at ran out of chicken!) or pass on the increased cost of importing rice all the way from Vietnam on to the general public. Finally, Cuba can't fall back on US tourism when global import costs rise as the other Caribbean nations can. Yes Canadians, Europeans or those from neighboring Latin American countries do visit Cuba – but who are we kidding; that revenue stream doesn't begin to compare to the opportunity lost from restricted US tourism.
Since I was staying in a Casa Particular, I figured I'd query Marie and her husband Jose (names changed to avoid any reprisals against them) on their thoughts on the embargo, the US and the Castros.
What do you think of the Embargo?
Jose - It needs to end!
Me - But doesn't Castro have something to do with that – can he do anything?
Jose - Why would he; using the US as an enemy makes him strong.
What do you think of America and Americans?
Jose – We don't have any problems with Americans – we appreciate you visiting and staying with us – it helps us tremendously.
Marie – No problems with America visitors, but the way things are (the embargo) just makes things difficult for everyone.
What do you think of Castros?
Jose – I don't personally have a problem with the Castros. I really don't care who's in power, I just don't want everything to be so expensive. Things our visitors take for granted are very expensive here as many Cubans are paid in Pesos – but most everything is priced in CUC. So, embargo, no embargo, Castro, no Castro, whatever – I just don't want everything to be so expensive.
Marie – Things were bad under Batista. I remember when I was a child my neighbor was dragged into the middle of the street and executed. The Revolución changed that – things were much better for everyone for years. Then in the 90s, everything started to go bad. (Jay's Note: The Soviet Union collapsed in the 90s and with it its subsidies of Cuban industry).
I would be remise not to point out that Marie & Jose have it relatively 'good'. They are fortunate enough to own their own house and be able to rent it out for additional income. In fact, they were well off enough to hire a maid!! A little Capitalism within the Socialist model if you will.
Sex tourism (aka Prostitution) is a big problem in Cuba. Conceptually, I don't have a problem with consenting adults selling their bodies if that's what they want to do; so long as they are not forced or coerced. Unless the prostitute is part of some slavery ring – there is a consensual and equal exchange. They choose the life – you chose to pay and both agree to services to be rendered before the event. In Cuba – the person you are dealing with isn't on equal footing. In the US, one has freedom of movement to locate better opportunities, there is a correlation between better education and a better standard of living, and it is possible for you to win the lottery. None of that is true in Cuba – the lack of choice eliminates the ability of an equal exchange. It is not uncommon to hear of a doctor, engineer or lawyer who is also a prostitute – both men and women. When I was in Miami, a friend of mine mentioned on his trip to Cuba he paid $20 US to be with two women for the entire evening. Now, I'm not the paying for naa-naa type, but even if I were I can't imagine taking advantage of someone in this way (now that I'm better educated on the Cuban plight). If you Google the issue, I'm clearly in the minority. If you really want to help someone without degrading them in the process, I suggest bringing clothing or everyday household items – such things are in great need and will be greatly appreciated.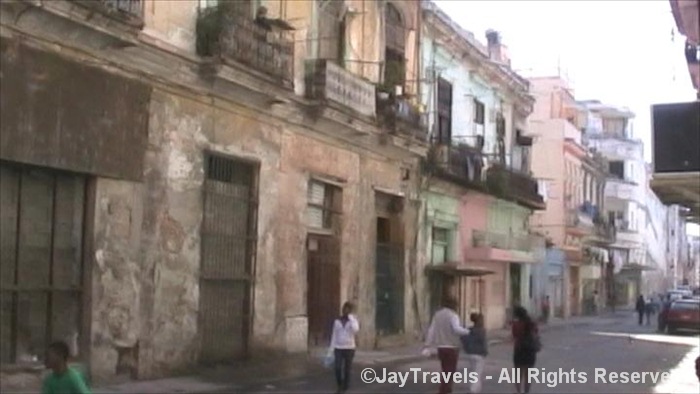 These are just a few examples of the embargo's overall impacts. Certainly the Cuban government (namely the Castros) have some responsibility in this issue – but they don't have the power to truly affect its change. The embargo doesn't hurt the government so much as it hurts the people who have to live under it; I assure you Castro and his inner circle aren't hurting for the daily necessities, running out of supplies or turning to prostitution as some their citizens are. The US government's general position on the issue is that the Cuban people will rise up, overthrow government and implement western style capitalism is just fucking stupid. You'd think after 50 years – we'd have a better plan of attack.
Next Page: The Havana Sights
Related Articles You Might Be Interested In: