There are tons of watersport activities to do in Cancun. Throw in world class fishing/scuba diving in Cozumel, Jungle/Cenote excursions near Playa del Carmen and the Mayan ruins of Chichen Itza/Tulum and it's easy to see why Cancun is such a popular destination.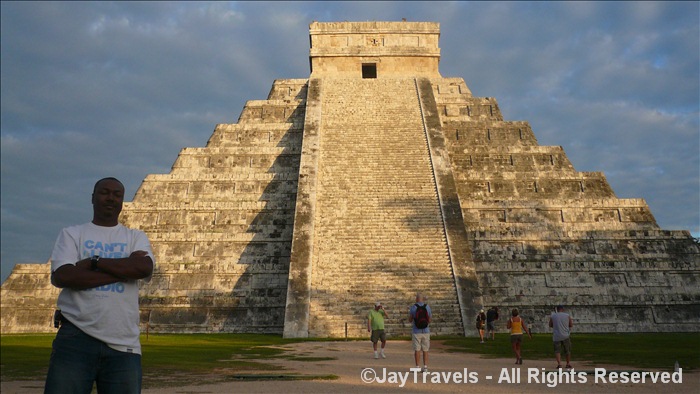 Destination at a Glance

Date of Trip
November 2009
Destination Good for
Watersports, Relaxation, Romance
Best Time to Go
Anytime except Hurricane season (June-Nov)
Currency/Conv. Rate
Mexican Peso/ 1 USD = 13.26 MXN – Favorable
Good Way to Get Around
Rent Car: Yes
Public: Yes
Taxi: Yes
Walking: No
Appox. Trip Cost
Moderately Expensive
Speaks English?
Most Everyone
Entry Requirements
Passport
Do it

Scuba Dive a Cenote
Chichen Itza
Walk the Beach

Skip it

Overpriced American Mall/Shops

Didn't get to do
Lagoon Speeder
Would I Recommend
Yes
Overall Trip Rating
Trip Review
(Click Thumbnails to see Full-Sized Images)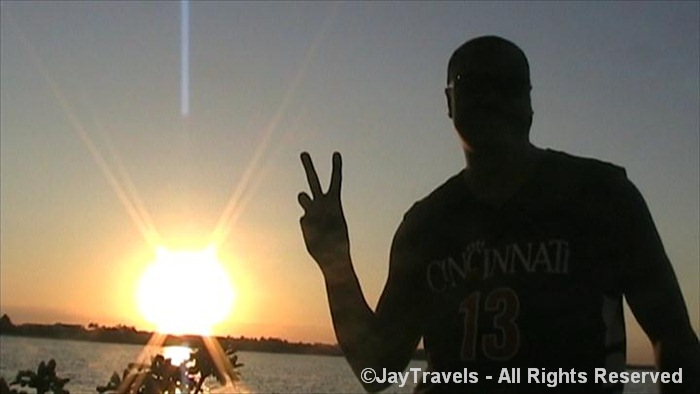 Many of us have a Bucket List, e.g., things we want to do before we leave this earth (kick the bucket).  The destinations on my bucket list usually offer seeing something amazing (artifacts in Egypt), participating in something crazy (shark diving in South Africa), learning something new (the real Cuba) or experiencing something wildly entertaining (Chinese New Year in Hong Kong).  Cancun, Mexico doesn't really fit into any of these categories – or so I mistakenly thought.
I had not actually 'planned' on going to Cancun for vacation; it was supposed to be a stop on the way to my long desired trip to Cuba.  I'll save the details of why I didn't make it to Havana for my upcoming Cuba series; for now, I was stuck executing my backup plan – Cancun.
One of the reasons Cancun never really intrigued me was it is so close (only 2 hours flight from Atlanta) and heavily Americanized.  The thought being why spend more money going through the hassles of international travel (customs, taxes, currency exchange, etc) when I could get a similar experience in California or Florida.  Turns out Cancun (and the surrounding areas) is actually pretty cool and worthy of a visit.
Getting Around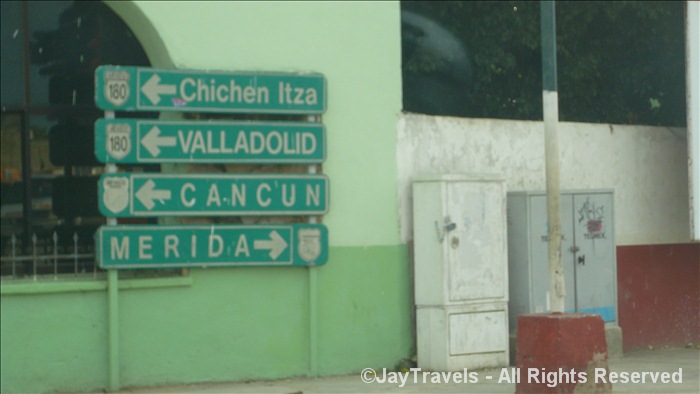 Cancun and the two popular nearby cities – Cozumel and Playa del Carmen each have their own airports, but there are usually more flight options and is generally less expensive to fly into Cancun.  Cancun has wonderful weather year round – even in January when the average high/low temperature is 81/67 Fahrenheit – though it can get a bit windy and rainy during hurricane season (June to November).  Cancun could be the most "Americanized" city in Mexico; which is to say the number of English speakers, American restaurants/hotels and the percentage of tourists from the US means you should have no issues getting around or communicating simply because you can't speak Spanish. In fact, the US dollar is widely accepted so you may not even need to go through the currency exchange process.
As soon as you walk through customs/baggage claim, you'll be virtually mobbed by people hawking taxis, buses, limos, rental cars, shuttles, local tours – whatever – it's like a goddamned swap meet.  On top of this, taxies are ridiculously expensive from the airport – $50 to the hotel zone – that's $100 round trip for a 15 minute drive.  Once you reach your hotel, you can skip the taxis and take the relatively cheap public buses up and down the strip.
Perhaps a better method of getting around may be renting a car; though rental agencies are not upfront about the fees until you reach the counter.  The coverage extended to rentals by your personal insurance policy is not accepted in Mexico; therefore purchasing primary insurance from the rental agency is mandatory. The fact that it's mandatory is a good thing in my opinion – the last thing you need is a lean/debt collector from Mexico hounding you.  Most secondary coverage policies (Collision Damage Waivers) offered by credit card companies are accepted or the agency policies can be waived (not recommended in Mexico).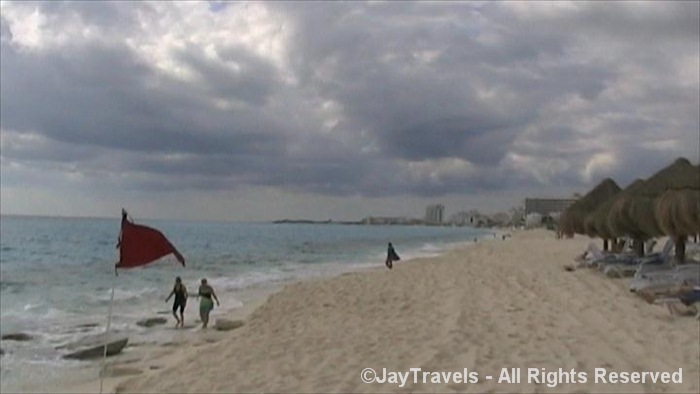 The hotel (tourist) zone of Cancun is a strip of land flanked by a lagoon (inland) and the beach (Atlantic Ocean) separated by a highway.  For the most part, the lagoon side of the strip has all of the restaurants, gas stations, convenience stores, etc. and beach side holds most of the hotels.  Unlike other Mexican cities, there are very few street vendors and/or open air markets in Cancun's hotel zone.  There are 2 malls catering to the Gap & Tommy Hilfiger and the Louis Vuitton & Burberry crowds alike.  Don't expect to haggle much, nor get any significant deals in Cancun (at least in the tourist zone).
Fun in the Sun
If you like the beach and/or water sports then Cancun is an excellent place to be.  Parasailing, snorkeling, wave runners, kite boarding, sail boating – you name it – if it involves getting in the ocean – you can find it near Cancun.  As just about all of the hotels are on the ocean side of the strip, you shouldn't have too much trouble finding a hotel that offers views of the beautiful ocean water.  You can find most of the activities listed above by just walking up and down the beach; as many vendors are right on the sand.  The more formal offerings (speeder boat tours, deep sea fishing, etc.) can be found on the lagoon side of the strip.  Of course, sun bathing or just walking the beach are also popular activities in Cancun.   Here are some options that go beyond the normal beach activities.
Cenote Scuba Dive

– A Cenote is a fresh water lake usually connected to an underground river or body of water.  In the Yucatan Peninsula, Cenote water temperatures are generally around 75 degrees and are often referred to as "Gin" clear (meaning there is excellent visibility underwater).  In many of the Cenotes, there are underwater caves, tunnels and caverns that make for some amazing visuals (though there's rarely any plant or marine life).   Although there are caves, most Cenote dives are not considered 'cave dives' so the cave diving certification is not required (Open Water is fine).   The nearest Cenote is about an hour drive from the Cancun strip depending on which Cenote you dive.  I dove with Aquaworld water sports which provided two Cenote dives for about $120 per person.

ATV/Cenote Tour

– Also about an hour from Cancun is Boca del Puma eco-park; part jungle and part ATV trail with a number of Cenotes.  The program is essentially an ATV tour that stops at 3 Cenotes to either swim or leap from some fairly high ledges.  I initially really sucked at driving the ATV because I tried to drive it like a motorcycle – which I am fairly good at.  You turn motorcycles by leaning; ATVs don't lean, so I ended up in the ditch twice in the first five minutes.  After an hour or so, I got the hang of it and driving became second nature.  The first Cenote we stopped at was about 15ft underground inside of a cave and filled with bats.   The bats weren't a problem at all and the Cenote swim itself was a welcome reprieve from the blistering Mexican sun.  The second Cenote was also in a cave but had an opening near the top perfect for leaping from the 20ft ledge into the water.  This Cenote also had a zipline, water hammock and an inflatable pad.  The final Cenote was completely exposed and sat 50ft below a cliff.  Leaping from this ledge put a little fear into me but it was pretty awesome.  The tour costs $78-$90 per person including hotel pickup depending on whether you are riding solo or sharing an ATV and can be reserved here.

Lagoon Speeder Boat

– The two seat speeder boats are similar to wave runners, but the seats are side by side instead of piggyback.  The tour starts on the lagoon side of the beach, then proceeds out to the ocean for a stop on a reef to do some snorkeling and back into a mangrove jungle waterway.  Tour is $55 per person, last 2 hours and can be booked here.

Deep Sea Fishing

– Though much bigger in Cozumel, there are a few outfits that depart from the lagoon side of Cancun strip.  Some tours drive/ferry to Cozumel and others (mainly charters) boat directly to one of a few fishing spots.  If your tour drives/ferries to Cozumel, be prepared to spend almost 3 hours in just transportation.  Regardless of how you get there, Blue Marlin, Sailfish and Tuna are just a few of the main draws to the Cozumel fishing area.
…Continued
Related Articles You Might Be Interested In: