Hong Kong is a marvelous but very expensive city. The ease in which English visitors can communicate, the excellent public transit system and abundance of seafood makes Hong Kong a must see for those who get the opportunity.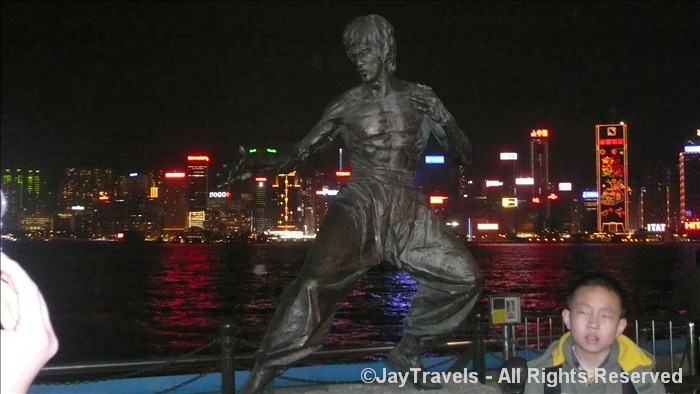 Destination at a Glance

Date of Trip
January 2009
Destination Good for
Shopping, Culture/History, Eating
Best Time to Go

Year round – Summers can be muggy
Currency/Conv. Rate
HK Dollar/ 1 USD equaled 7.78 HK Dollar- Unfavorable
Good Way to Get Around
Rent Car: No
Public: Yes
Taxi: Yes
Walking: Yes
Appox. Trip Cost
Very Expensive
Speaks English?
Many – most signs in English
Entry Requirements
Passport Only – Visa if going to mainland
Do it

Ocean Park
Victoria Peak
The Giant Buddha
Symphony of Lights/Avenue of Stars

Skip it

Beware – 90% of anything "real" is fake

Didn't get to do
Hong Kong Disneyland
Would I Recommend
Yes
Overall Trip Rating
Trip Review
As former British colony, Hong Kong has the feel of a technologically advanced Asian society with the familiarity of English culture.  Hong Kong is a Special Administrative Region (SAR) – which means while it is technically part of the "People's Republic of China" – the economic, political and governmental systems are separate from the mainland.  The most notable difference is its embrace of Capitalism instead of the mainland's Communism.
This environment has a number of practical benefits.  The first of which is the British influence; almost all street signs, menus, etc. are in English along with Mandarin Chinese.  In addition, visitors aren't required to go through the expensive and lengthy visa process to visit Hong Kong (so long as you don't enter mainland China).  Furthermore, the Chinese in Hong Kong practice Capitalism in its purist form – Bartering.  Whether in a high class department store or a corner street market – locals do not pay sticker price.  The culture is to continue to negotiate until there is an acceptable price.  Nothing makes a Hong Kong shop owner happier than a foreigner shopping in the store – especially someone from the US.  They will hustle you in a second – with a smile on their face.  If it helps – think of every transaction in Hong Kong as a purchase of a used car.
A Little Bit About Hong Kong
Hong Kong is a sub-tropical environment and even in the dead of winter; it rarely gets below 60 degrees.    Unfortunately for me, I happened to arrive during a period of unusual cold and fog.  One of the first things I noticed after my 15 hour flight from New York was how densely populated the city is.  The city itself is not very large in terms a square mileage – likely because outward expansion is limited by the Pacific Ocean and several mountains.  When extra space is needed, everything goes up.  There are hundreds – if not thousands of high-rises in Hong Kong.  Even the projects are 80 story high-rises!
With so many people cramped into such a small space, it's amazing the traffic in this place isn't like Freaknik 1992 in Atlanta.  Luckily, Hong Kong has one of the most extensive and impressive public transit systems I've seen.  No matter which train station you are in, you had access to other trains in the system and could time their arrival within 30 seconds.  These trains were so efficient that as one train line arrived at a connecting station, the connecting train would arrive at the same time.  This way, each train would simply exchange passengers.  It was amazing to watch hundreds of people swap trains so efficiently in a matter of seconds.  With this efficiency, it's no wonder the only automobiles on the street tended to be cabs and buses.
Because the city is so small and basically a self-supporting island – natural resources are scarce.  There aren't many cattle ranches; vegetable farms or natural ore mines in Hong Kong; these items have to be imported from other countries or from mainland China.  This makes almost everything in Hong Kong very expensive – with the notable exception of seafood.    One thing that really surprised me was the number of Basketball courts throughout in the city.  You literally could not walk 5 blocks in any direction without finding a basketball court with kids playing on them to the wee hours of the morning.  Mark my words, in 10 years the Chinese will dominate the sport of Basketball.
Like other Asian cities, the gadget technology (phones, music players, etc.) are far more advanced than what you would find in the US.  There are a number of reasons for this – including there aren't competing standards (like GSM vs. CDMA in the US), Asian companies regularly clone (some say steal) and enhance good ideas from competitors and most importantly – the Asian culture values features/functionality over a cheaper price.  For example, I witnessed a kid on the subway conducting a video call on a Chinese iPhone clone.  Let me repeat – a video call on a moving subway train.  How long before we can do this in the US???  Finally, in case you were wondering, there are plenty of Squat Toilets throughout Hong Kong.
…Continued
Related Articles You Might Be Interested In: