Getting off of the Strip
Chichen Itza

– a UNESCO World Heritage Site and one of the New Seven Wonders of the World, Chichen Itza is an ancient Mayan ruins site that's main draw is the giant pyramid – El Castillo.  The site is a 2 hour drive from Cancun, though most people take an organized bus tour, I prefer to drive on my own due to my aversion to Group Tours.  If you decide to drive, be careful – there is only one gas station the entire route and very little traffic should you run into a problem.  Also, be sure you have change for the 2 toll roads along the way.  My suggestion is to plan your visit so that you arrive at the site an hour or so before it closes.  That way, you will have enough time to see the site, as well as, get something to eat for an hour until the night show starts.  The night show is actually pretty lame (as these things go) – but if you are already out there – you might as well take advantage of it.  You used to be able to walk up the pyramid and into the structures; however, it is no longer allowed after someone died due to a fall from El Castillo.

Cozumel

– A tiny island 40 miles from the Cancun strip and a ferry ride from Playa del Carmen.  Tons of travel companies offer tours to the island ranging from single day excursions or several day adventures.  Some of the best scuba diving and sport fishing in the world is said to take place in Cozumel.

Playa del Carmen

– Sits directly opposite of Cozumel has as many beautiful turquoise lined beaches as Cancun without all of the craziness of the hotel zone.   There are plenty of shops and restaurants all in walking distance of the main drag, as well as, a few open air markets/street vendors.  Taxis from the Cancun airport are really expensive – nearly $70 one way – so either take the bus (third of the cost-twice the time) or rent a car.  Playa del Carmen is also closer to the Yucatan Peninsula's other popular Mayan ruins sites – Tulum.

Downtown Cancun

– If your goal is to live and see as the locals do, you aren't going to be very successful in the Hotel (tourist) Zone in Cancun.  To hang with the locals, you'll need to drive to the end of the strip into downtown Cancun.  It is pretty easy to tell when you've made it – there are no high rise hotels and most everything is in Spanish.  Though not necessarily an area you want to get caught in after dark, this may best be described as the 'real' Cancun.  Though you'll certainly need be able to speak Spanish, you'll find authentic Mexican food (street food) vastly less expensive than you would on the strip.
Random Thoughts
There have been reports of Police in Cancun pulling foreign drivers over for minor infractions – like driving 3 miles over speed limit and expecting bribes.  So I was somewhat worried when the Police pulled me over for not wearing my seatbelt of all things.  Not sure if I talked my way out of the ticket or I was just going to get a warning anyway – but I left with the same amount of money I had before I got stopped.  Your mileage may vary!
While there's certainly not a big boxing match every weekend, when there is it's good to know Mexico's love affair with the Sweet Science hasn't waned over the years as it has in the US.  Also unlike in the US, many major boxing events aren't sold as Pay-Per-View.  Not sure if this is a cultural thing or the economics don't make sense, but I watched both the Cotto v Pacquiao (Cancun) and Mayweather v Hatton (Mexico City) for free on regular cable in bars with no cover.
As a final note, I recommend Americans stick to the tri-city Cancun, Cozumel and Playa del Carmen areas instead of just about any other Mexican city due to the ongoing violence – drug related or otherwise.  While US tourists are rarely the targets of drug traffickers, they are prime targets for kidnappings and 'express robberies'.  In a country where police chiefs are routinely murdered and beheaded, why put yourself in a position to be hit by a stray bullet, kidnapped for ransom or flat out robbed?
In Closing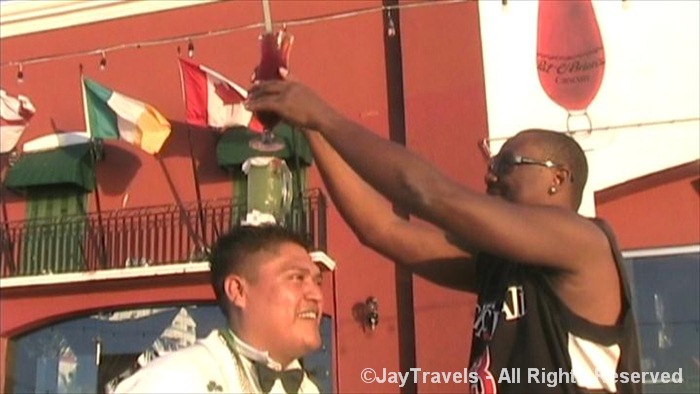 Seems like I unfairly designated Cancun as a boring beach town catering to American tourists.  While it's far from what you would call an authentic Mexican experience, there are tons of water sports activities things to do.  Throw in world class fishing/scuba diving in nearby Cozumel and Jungle/Cenote excursions near Playa del Carmen and Cancun is in fact an excellent destination.  I would also suggest making the trip to Chichen Itza – whether on your own or via a tour and if you have time – Tulum an hour south of Playa del Carmen.  You are unlikely to run into any of the violence plaguing other Mexican cities in Cancun even if you venture downtown (though I wouldn't call the area safe for tourists at night).  Last, but certainly not least – Cancun is a great place to get cheap and direct flights to Havana, Cuba.  What could be better than that?
Related Articles You Might Be Interested In: