Mexico City is unlike the more Americanized Cancun – Big City, Aztec Ruins and the largest Bull Fighting ring in the world. Livin la Vida Loca!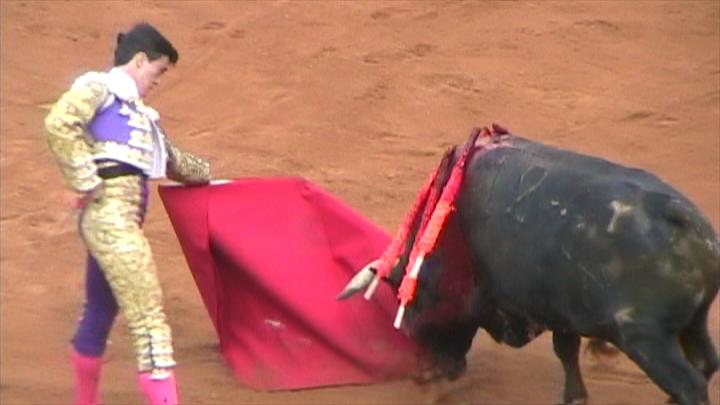 Destination at a Glance

Date of Trip
December / 2007
Destination Good for
Relax, Big City, History/Culture
Cities Visited
Mexico City
Currency/Conv. Rate
Peso / 1 USD equals 10 Pesos (Favorable)
Good Way to Get Around
Rent Car: No
Public: Yes
Taxi: Yes
Walking: Yes
Appox. Trip Cost
Moderate
Speaks English?
Relatively Few
Entry Requirements
Passport Only
Do it

Teotihuacan Region
Authentic street food

Skip it
Didn't get to do
Would I Recommend
Maybe – as an add-on to a business trip
Overall Trip Rating
Trip Review
One of the first things you notice when you arrive in Mexico City is that the place is huge and densely populated.  Mexico City is the largest city in North America – by a pretty wide margin.  As my visit occurred well before the recent Swine Flu outbreak, the city itself is relatively safe from most of the issues surrounding the drug wars in other Mexican states.  While kidnapping foreigners has always been an issue in certain parts of Mexico, this generally applies to foreigners living in Mexico – not tourists.  Nothing puts a damper on business like kidnapping an American tourist.
Another thing that's fairly obvious is the distinction between rich and poor.  On any given downtown street, you can find a sprawling glass coated multi-million dollar high-rise and twenty feet away abject poverty.
Finally, unlike many other Mexican cities that cater to tourists (like Cancun or Acapulco) – very few people in the Mexico's capital speak English.  This is something to keep in mind as you travel outside of your hotel and or to restaurants.  Many of the menus, staff, and certainly people of the street are not fluent in English at all.
Food
One of the things many American are surprised with is what we think of as "Mexican" food – most Mexicans don't actually eat.  You'd be hard pressed to find any non-American owned establishments in Mexico City that sell Burritos, Tamales or Enchiladas.  Some Mexicans don't even know what these things are.  Furthermore, authentic tacos usually don't have all the stuff you see in the US, like cheese, tomatoes, sour cream, etc. and usually have shredded steak – not ground beef.  In fact, there are very few Taco Bell or Del Taco establishments – I certainly didn't see any and I find it hard to believe the average person living in Mexico City would choose this over an excellent street vendor.
Anyway, many authentic restaurants serve dishes that are at least familiar to American diets – heavy on pork and beef entries.  One in particular, Focolare made a Caesar salad right in front of your face – dude actually cracked an egg, some oil, spices and whipped it up right in front of us.  Wow.
To be honest, the best food I've found was served by the street vendors.  Nothing processed or frozen – vendors cutting up real steak to make tacos or blending real papayas to serve smoothies.  Delicious.
Tequila Village
Near the Teotihuacan region is a makeshift village whose claim to fame is the most industrious uses of the Agave plant.  The first strange use they demonstrated is the ability to pull fibers from the stem of the plant to make rope almost as strong as any synthetic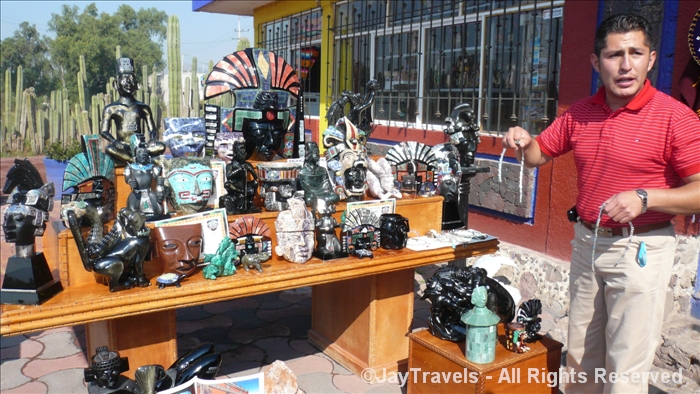 material, such as nylon.  Other uses for the Agave plant is as a food source (leaves & syrup) and using the stalk as a form of musical instrument called a Didgeridoo. Probably the most well known use of the Blue Agave plant is it can be distilled into mescal – or more popularly known as Tequila.  70% of this 'village' was devoted to making Tequila onsite – which is why I called it Tequila Village (not the actual village name).  This being a 'fact finding' vacation, I felt it was my 'duty' to sample the local product to (cough) ensure quality standards (cough).  In fact, I didn't feel I'd adequately experienced all I could with the first shot of Tequila, further research was necessary – so I experienced 4 more.  All in the name of science folks!!
The other 30% of the villages' resources were spent excavating, shaping and polishing Marble from the surrounding countryside.  These master craftsmen spend hours in dusty conditions grinding and polishing their artwork for sale in the adjacent shop and across the world.  For a 'tip', they were kind enough to create a custom piece for me.
Teotihuacan Ruins
About 30 minutes outside of Mexico City is a prominent Aztec ruin site known as Teotihuacan – home of the largest still standing pyramids in the world.  This historic landmark contains 3 separate pyramid structures – the largest named the Pyramid of the Sun.  Likely because when you get to the top, your scalp will burn off your head if you don't put on a hat (hence the cowboy hat in the pictures)   There are remnants of an entire civilization surrounding the pyramids, such as several homes with bedrooms still intact, statues and tools.  Unlike the Egyptians – which used their pyramids as tombs – the Aztecs used them primarily as places of worship (including a human sacrifice or two).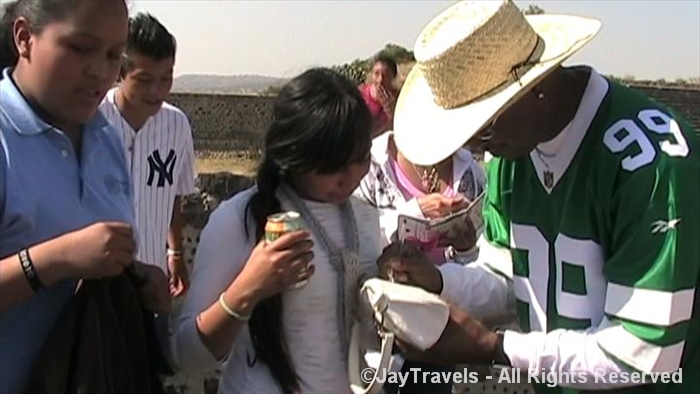 While working my way through the ruins, I ran into a few of my 'fans'.   It all started when 4-5 kids along the ridge start to say something to me in Spanish.  The 'leader' says – "Hip Hop" in his best broken English – to which I say "uh, sure – Hip Hop".  From this, he calls the other 20-25 members of his crew and informs them he recognized me from – well – who the hell knows.    Seriously, these kids obviously thought I was someone famous – and even though we couldn't communicate – wanted my autograph.    
Question: if you are in a foreign country and someone mistakes you for an entertainer, athlete, or someone famous – you should:
a)    Apologize and inform them you are not famous and can't sign any autographs
b)    Tell them you are on vacation and would prefer some quiet time
c)    Make everyone happy and sign a few autographs
Which one do you think I choose???  Half an hour and 40 autographs later….chuckle.  I signed autographs on paper, legs, purses, chests – you name it.  The moral of the story is – whenever your fans need you – do your best to accommodate – as I had the chance to make someone's day – at least until they got home and asked – who the hell was that guy????
"International Known – Locally Accepted" people.  LMAO – check out the video on this one.
…Continued
Related Articles You Might Be Interested In: