Seattle perfectly balances a community engaged in high-tech business (home to Starbucks, Microsoft and Amazon), outdoor life (hiking, Fishing) and sophisticated local vibes.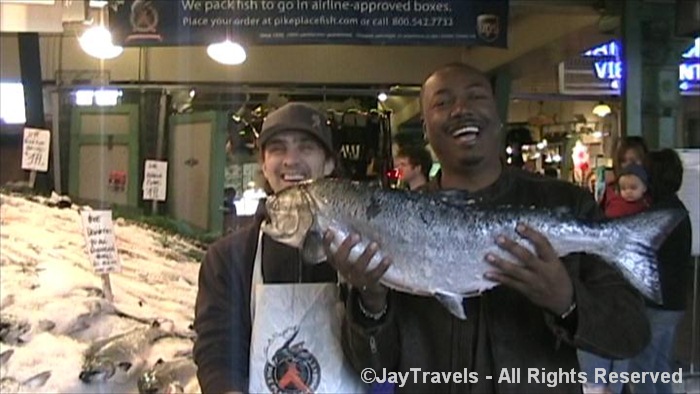 Destination at a Glance

Date of Trip
November 2009
Destination Good for
Sightseeing, Shopping, Dining and Outdoors
Best Time to Go

Summer – June-August
Currency/Conv. Rate
NA
Good Way to Get Around
Car: Yes
Public: Yes
Taxi: Yes
Walking: Yes
Appox. Trip Cost
Somewhat Expensive
Speaks English?
NA
Entry Requirements
NA
Do it

Pike Place Market
Bainbridge Island Ferry
Chittenden Locks

Skip it

Rainy season – anytime not in June-August
Underwhelming Harbor Stairs

Didn't get to do
Hike/climb Mt. Rainier
Would I Recommend
Yes
Overall Trip Rating
Trip Review
(Click Thumbnails to see Full-Sized Images)
I got the opportunity to spend a weekend in Seattle as part of one of my good friend's wedding festivities.  I'm not necessarily the biggest fan of weddings, but as these things go it was pretty nice.  I used the one and a half days surrounding the event to get to know the largest city in the Pacific Northwest of the United States.  I drug along my boy Eric Kimbrough – who is about to turn the corner into stardom as a stand-up comedian – along for the ride during most of the fun.
Getting Your Bearings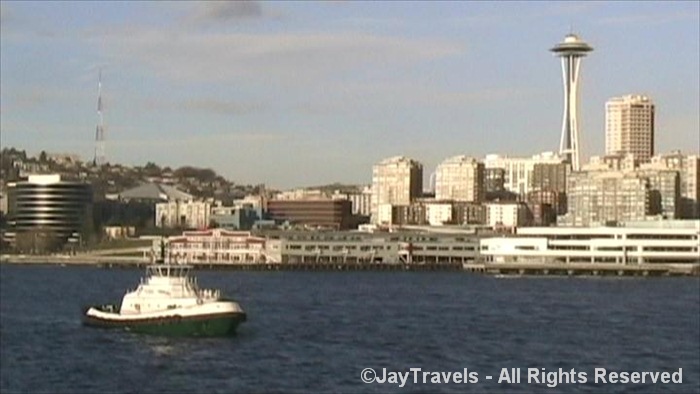 Many people believe all it ever does is storm in Seattle, but that's not actually true.  In fact, Seattle's annual rainfall is less than Atlanta, Miami and Houston.  This is one of those cases where the phrase "Numbers don't lie; but liars use numbers" turns out to be completely accurate.  While Seattle may not experience the torrential downpours like in Miami, the number of days a year where it's cloudy – as Eric has says "makes you wanna kill yourself".   No joke, the entire time we were in Seattle it seemed to drizzle every 30 mins – never a strong rain, but consistently overcast.  I know November is rainy season, but I was feeling a serious bout of depression coming over me.  The best time to visit Seattle is June through August as that timeframe historically has the least amount of rainfall in the year.
Even though Seattle is further north than Chicago and New York City, it rarely receives any snowfall due to the way it is positioned between the water (Pacific Ocean/Puget Sound) and the mountains (Olympic/Cascade range).  This also means Seattle's temperature is fairly consistent throughout the year – with average summer temperatures between 75°/55° F and 45°/35° F in the middle of January.  I dated a girl from Tacoma who stated she never owned a car with Air Conditioning until she moved to Atlanta.  Interesting.  One note about driving – Seattle has a number steep hills in the downtown area and with the constant light rain makes for some fairly difficult driving.  Also, parking can be a serious bitch in the downtown area as it is both limited in availability and expensive.
The Sites
I freely admit a day and a half is not enough to see an entire city, but with some excellent planning – we were able to see a good deal of Seattle's tourist attractions.  Here are the ones we hit;
Seattle Needle

– The most recognizable landmark in Seattle sits over 605ft above the ground.  While certainly not the only observation deck, I think it's the best place in Seattle to get panoramic pictures of the city and the surrounding mountains.  The Needle is excellent for both day and night pictures but you should be aware that the constant rain/fog may affect your visibility of the mountains and Puget Sound.  Tickets to the observation deck & restaurant are $18 for a day-only pass and $24 that includes day and night access.

Pike Place Market

– Perhaps the second most famous landmark in Seattle, the 100 year old Pike Place Market is the home of farmers/fishermen selling their fresh catch, arts and crafts and fruits and vegetables.  If you get to the market early in the morning, you can watch the local fishermen put on a 'show' as they toss the day's fresh catch from the boat into the stalls for sale.  If you are lucky, one of the workers will even let you attempt to catch a fish like I did (2 salmon thrown – 2 salmon caught by ya boy!)  You can even take an hour long Market Heritage Tour that walks through the history and daily operations for only $10.

Chittenden Locks

– A Lock is manmade canal system that allows boats to navigate between water sources that are at two different elevations – the most famous being the Panama Canal.   Seattle's Chittenden Lock provides a means for boats coming from/to the Pacific Ocean (lower elevation) to continue inland via Lake Washington (higher elevation).  Watching giant boats being lifted and lowered 30ft in either direction using nothing but gravity is something you just have to see in person.  A modern engineering feat in my book!  If you come in June, you'll be treated to an extra show of Salmon literally jumping out of the water (called a ladder) as they swim upstream to spawn.  Admission is free.

Downtown Panoramic View

– This has to be easiest and least expensive way to get panoramic photos of downtown Seattle.  The Bainbridge Ferry takes you on a 35 minute ride across Puget Sound to Bainbridge Island.  While there are a few things to do on the island, the main attraction for me was being able to capture the entire Seattle skyline in a single frame.  If you take one of the afternoon ferries over, the sun will be at your back as you leave the downtown shore (best for pictures) and if in winter, the 6pm ferry back allows you to get nighttime skyline pictures.  Ferry tickets are only $7.

Harbor Steps

– I got the idea of visiting the Harbor Steps after reading Frommer's suggested itinerary for Seattle.  According to the outline, they are similar (though possibly not as beautiful as) Rome's Spanish Steps.  Since my opinion of Rome's attraction is utterly unimpressive (it's just a bunch of steps), the Seattle version was equally easily forgotten.  As Eric was fond of saying the rest of the entire trip, "Wow, we just saw some stairs.  Did you see those stairs???"  Couldn't agree more – skip it.

Olympic Sculpture Park

– I'm not a big museum dude, but this giant sculptured art was pretty decent.  Exhibits – which ranged from 5ft to 100ft tall are scattered both inside of the main building and outside on the park grounds.  Not too far a walk from the Pike Place Market and admission is free.

Seahawks Game

– Though Seattle has lost its professional basketball team, the Mariners and Seahawks are still around. In the case of the Seahawks, their brand spanking new Qwest stadium is super nice.  Though I have to wonder why the 3rd richest man in the US didn't spring for a retractable roof on the stadium that sits in an extremely drizzly city.  Anyway, the game between the Detroit Lions and the hometown Seahawks was pretty good – right up until the point I left because it was wet and I was starting to freeze my ass off!!  Tickets range from $20 to $500.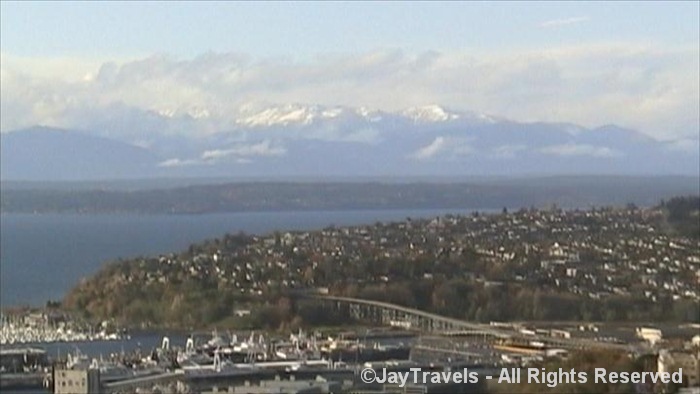 If I had the time, I would have also spent a little time at the Seattle Art Museum, the Museum of Science Fiction & Hall of Fame and the Music Experience – all in the downtown area.  I would have probably spent a little more time in Belltown, Seattle's hip neighborhood full of restaurants and clubs.  But the real reason I want to go back to Seattle is to do something I've never done before – climb a mountain.  With Mt. Rainier omnipresent over the Seattle skyline, it represents the ability to conquer one of my remaining fears – the fear of falling.  This is something I definitely have to do before I kick the bucket!
In Closing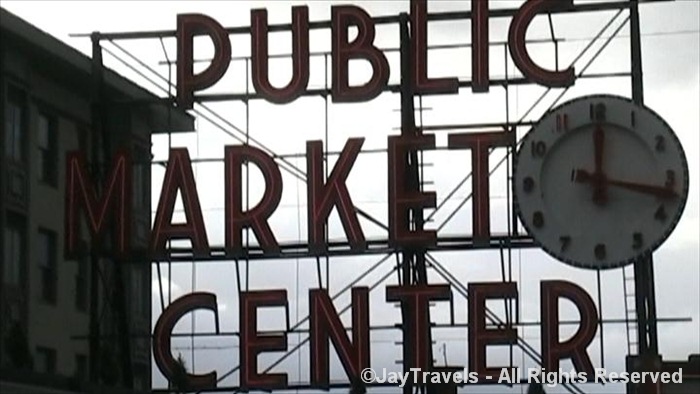 There's no way I would write a review on the entire city after spending a day and half walking through it; but I feel I visited enough of the tourist attractions to get a good 'taste'.  Though my time in the wedding activities kept me from really indulging in the food scene, I felt we really maximized our time in this city.  I recommend the Needle, Pike Place Market and a trip on the Bainbridge Ferry.  Finally, it's worth repeating that the best time to visit Seattle is during the summer months.  I know it is peak season and prices nearly double, but the constant gloomy days in the fall were nearly too much for this brotha to handle (I admit living in Atlanta makes me a little biased).  From what I can see, Seattle perfectly balances a community engaged in high-tech business (home to Starbucks, Microsoft and Amazon), outdoor life (hiking, fishing) and sophisticated local vibes.
Happy Travels
Related Articles You Might Be Interested In: