My overall impression of Rome is – underwhelmed. It's like the movie everyone tells you was so great (like any Tarantino flick) and you watch it wondering what all of the fuss was about.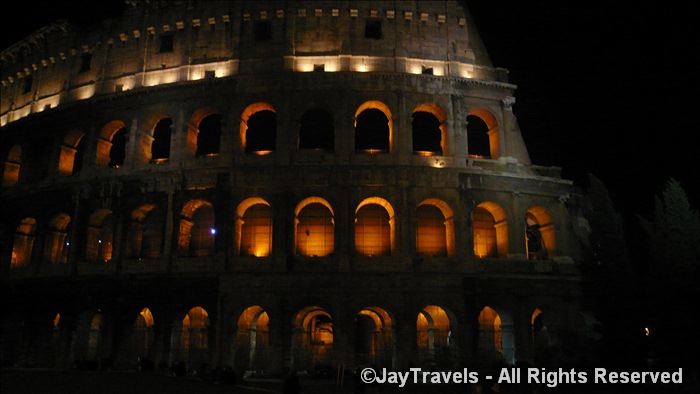 Destination at a Glance

Date of Trip
November 2008
Destination Good for
Shopping, Culture/History
Best Time to Go

Spring & Fall
Currency/Conv. Rate
Euro/ 1 USD equaled .56 Euros – Unfavorable
Good Way to Get Around
Rent Car: Yes
Public: Yes
Taxi: Yes
Walking: Yes
Appox. Trip Cost
Moderately Expensive
Speaks English?
Many – some signs in English
Entry Requirements
Passport Only
Do it

Capuchini Bone Chapel
Ristorante del Pallaro
Imperial Forums

Skip it

Awful breakfast and most lunch cafes
The Vatican

Didn't get to do
Inside Sistine Chapel (no pictures allowed)
Would I Recommend
Tour of Italy – not a Rome only trip
Overall Trip Rating
Trip Review
(Click Thumbnails to see Full-Sized Images)
There's probably no ancient culture talked about in our current environment more than ancient Rome – from books, television programs (Rome, Spartacus) or movies (Gladiator).  Luckily, many of the archeological locations referenced in these works are still standing; making a visit to Rome a good opportunity to see what all the fuss is about.  Rome has been on my Bucket List for as long as I've had one; unfortunately for me – it didn't warrant its spot on the list.
Getting Around
One of the first things you notice as you drive into the city from the airport is how relatively small Rome is – at least the non-farm metropolitan area.  This is actually a good thing though, as it allows you to get to all of the interesting historic sites by a short taxi/bus ride – in many cases even walking.  In fact, if you do a little planning, you can visit all 14 of Rome's frequently visited tourist attractions in a single day.
Oddly enough, Rome has a more "European" feel to it than an "Italian" feel.  If you closed your eyes for a minute and open them on any street without a tourist attraction – it would look no different than any other Western European city such as Paris, Brussels or Frankfurt.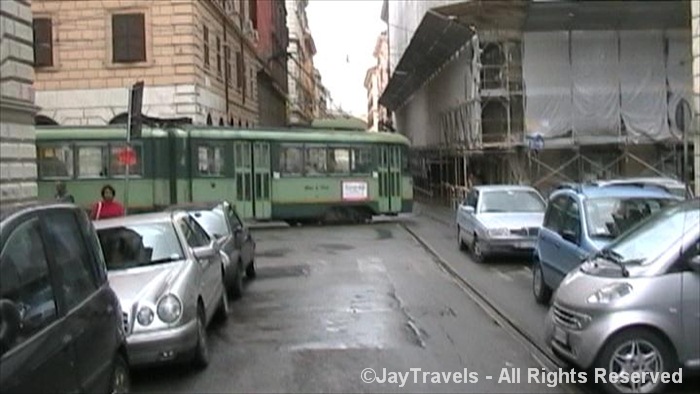 There are hundreds of cabs in the city center – so getting from one site to the other is simple – if not expensive.   Due to the notoriously bad traffic, taking a cab isn't necessarily a faster option than taking one of the many local tour buses.  These double-decker local tour buses essentially drive in a circle stopping at one of the 14 or so tourist attractions.  You purchase a 24hr pass which allows you to get on/off any stop in the route – with buses arriving every 20 minutes.  Most tour buses are equipped with multi-language commentary for each stop on the route and the headphones are usually included in the price of the 24hr ticket.
Finally, Rome has a simple train system that runs North/South and East/West – if you need anything in-between – you're out of luck (sort of reminds me of Atlanta in that way).  My suggestion is to stay near the city center – any other area is a good ways away from most of the tourist attractions.
Historic Rome
While I did not visit all of the tourist attractions, here are a few of the attractions worth writing about.
Colosseum

– One of the more recognizable sites in the world, the Colosseum is by far the most popular tourist attraction in Rome.  I made the mistake of not getting there early in the morning and was faced with at least a 2-hour wait in line.  There are two ways around this – pay extra to be part of a tour or hustle your way to the front of the line.  After hustling my way to the front of the line, I was struck by how much the place needed a bath!   Seriously, I know the place is thousands of years old – but dirt and moss growing on the pillars?  On top of that, visitors are not allowed on the Colosseum floor or in the underground passages.  You are essentially confined to the 2nd and 3rd levels where you can take downward facing shots – of moss covered stone.  WTF?   At least they have a small museum on the 3rd level – but if I'd waited two hours to see this crap I'd been really mad.  One suggestion – the nighttime pictures of the Colosseum's exterior are stunning – highly recommended.

Imperial Forums

– Not far from the Colosseum are the Imperial Forums – a series of public squares, temples and buildings.  Even though they are not surrounded by walls like the Colosseum, as a whole they are much better maintained.  Again, I'd suggest visiting at night to take some excellent pictures.

Trevi Fountain

– Another popular tourist attraction, the fountain was initially built as the end point to the Roman irrigation/water system (aqueducts).  Several strong looking Romans adorn the top of the monument – many on Pegasus looking horses.  Other than taking excellent pictures (at night again) – the in thing to do at the Trevi Fountain is to make a wish.  According to legend – throwing 2 coins into the fountain will lead to a new romance – while throwing 3 coins will lead to marriage or divorce (huh???).

Pantheon

– Built around 100 AD, the Pantheon was meant to be a temple to all of the gods.  It's essentially a giant church – complete with Roman Catholic hems playing in the background.  I must say this place is grand; the pillars have to be at least 50ft high, the floors were very nice looking marble and the domed center is somewhat of an archeological masterpiece.  I'm not really a museum kinda dude – but pretty nice as these things go.

Spanish Steps

– A rather steep incline of steps right off of the Piazza di Spagna (many shops/cafes).  Allegedly, these are the longest and widest staircases in Europe.  Nothing special here folks – keep it moving.
The thing that was really annoying to me was the number of beggars around these tourist traps.  While no one comes close to the beggars in Egypt – the Romans are making a strong push for 2nd place.  At least the Egyptians had enough sense not to touch you – these Son of a Guns obviously hadn't heard of the "Ugly Americans".  I happily provided a lesson.  Beggin Asses!!!
…Continued
Related Articles You Might Be Interested In: