Watersports, fresh seafood and some of the best partying around – Panama City is no longer the "Red-Neck Riviera"!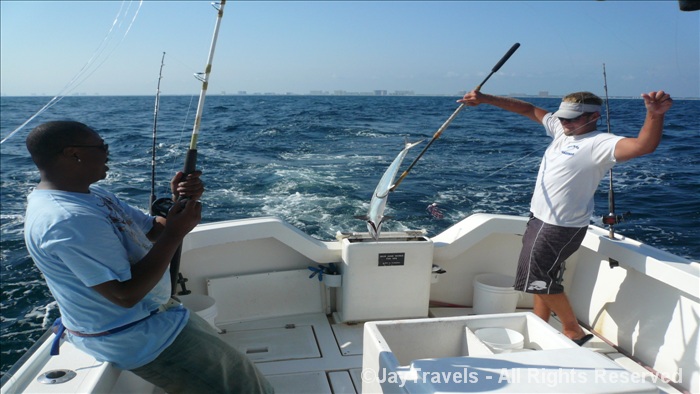 Destination at a Glance

Date of Trip
June 2009
Destination Good for
Watersports, Partying, Eating (seafood)
Best Time to Go

Anytime – though Summers are Hot/Hurricane season
Currency/Conv. Rate
NA
Good Way to Get Around
Own Car: Yes
Public: No
Taxi: No
Walking: Yes
Appox. Trip Cost
Moderate to Expensive
Speaks English?
NA
Entry Requirements
NA
Do it

PADI Discover Scuba
Fresh Seafood
Dolphin Jet Ski Tour
The Beach

Skip it

Traffic
Pineapple Willy's Ribs

Didn't get to do
Shipwreck Water Park
Would I Recommend
Yes
Overall Trip Rating
Trip Review
What used to be called the "Red Neck Riviera", Panama City has transformed into a serious beach getaway in less than a decade.  The 'strip' used to be lined with shady rundown Waffle-House looking restaurants; these days – you'll be hard pressed to find any restaurant on the strip – just miles of condos and hotels.
Panama City is located on what is called Florida's panhandle – or Northwest corner of the state in the Gulf of Mexico.  Though it has a growing airport, it's not the most efficient method of getting there if you live beyond the neighboring Southern states (few airlines offer direct flights from locations outside of the Southeast).  Even within the Southeast region, flights into Panama City can be quite expensive.  Luckily, Panama City is less than a six hour drive from a number of southern destinations, including New Orleans, Atlanta and Birmingham.
Panama City is similar to Miami in that they are almost always confused with their neighboring cities – Panama City Beach and Miami Beach respectively.  When you hear people talk about what a great time they had in "Miami" – 99% of the time they are really talking about "Miami Beach" – a completely separate city across a water channel.  There is actually very little to do (for a tourist at least) in Miami.  This is the same for Panama City.  For the remainder of this review – assume I really mean Panama City Beach.
Big Time Water Sports
Panama City has an abundance of two things – beaches and water related activities.  There are several water related activities to get into, including:
Dolphin Tour Jet Skis

– For whatever reason, a gang of Dolphins have made several lagoons off Panama City their home for at least the last 10 years.  A few local operators are taking advantage of this by offering 2-hour Jet Ski tours to see these dolphins.  In essence, the tour consists of a follow the leader trek in the Gulf, a short stop on "Shell Island", followed by 20 minutes in the dolphin 'area'.  The area seems to always have a dolphin nearby – some of the dolphins will even jump out of the water next to your jet ski almost on cue for you to snap your picture.  Many folks jump in the water and swim with the dolphins. $90  Sunshine Water Sports

Parasailing

– There are at least 5 different operators right on the beach offering parasailing rides.  For the uninitiated, Parasailing is being attached to a parachute while being drawn by a relatively fast speedboat.  The speed of the boat and resistance of the parachute causes the person to float in the air – usually 400ft-800ft high.  The process usually involves several "dips" or times where the boat stops its engines and allows the rider to slowly descend into the water.  Just as the rider hits the water, the boat driver speeds off – causing the rider to ascend again.  I went parasailing to get over my fear of heights.  As it turns out, I realized I wasn't scared of heights, I was afraid of falling.  In the end, Parasailing sounds a lot cooler than it actually is – but still something one should experience once in their lifetime.

Deep Sea Fishing

– This was a first for me – though it really wasn't deep sea fishing so much as it was 'off-shore' fishing – the difference primarily being the size of the catch.  You'll need to go several hundred miles into deep water to catch a giant marlin, swordfish or shark.  Nevertheless – this was a blast.  I hadn't been fishing since I was a kid – so reeling in 2½ foot King Mackerels and Red Snappers was an awesome experience.  If you decide to go, I'd suggest going the private charter route, e.g., a boat that maxes out at 8 passengers.  While more expensive than the 30-50 people offerings – you'll actually get a chance to – you know – fish!  You can decrease the overall costs by filling the 8 people maximum – as you are paying for the time on the boat – not the number of people.  I paid $500 for 4 hours (that would be $40 pp with 8 people) – but prices vary based on how far off shore you want to go out.  Fishing Charters

Sailboat Rentals

– Though not a prevalent as it used to be 5-6 years ago due to liability reasons, there are 1-2 operators still offering sailboat rentals.  The sailboats offers are 20'-20' catamarans built for speed.  Word of caution – these are not guided tours – you must already know how to captain a sailboat.  You break it – you bought it!

Scuba Diving

– Panama City is where I first tried Scuba Diving and also where I became a certified diver.  The great thing about the waters in Panama City is they are relatively calm; thus are perfect for getting into the sport.  There are several dive operators that offer the PADI 'Discover Scuba' adventure – which is an introduction to scuba diving that lets you actually dive to about 30ft under the supervision of a scuba instructor.  The dive center provides everything necessary to complete the 3-hour process including a short training session and all of the equipment.  Costs about $100 pp and can be scheduled through Dive Locker Panama City.

Shipwreck Island Waterpark

– If actual ocean activities weren't enough, there's also a waterpark.  Though the rides themselves aren't necessarily unique, the park does serve as an alternative method of cooling off without getting sand and salt water all over you.  On the other hand – it isn't free!  $32 – Shipwreck Island Water Park
…Continued
Related Articles You Might Be Interested In: