Bourbon Street, Skydiving, Airboating with the Gators, Voodoo and the most wonderful Food.  Doesn't get much better than that!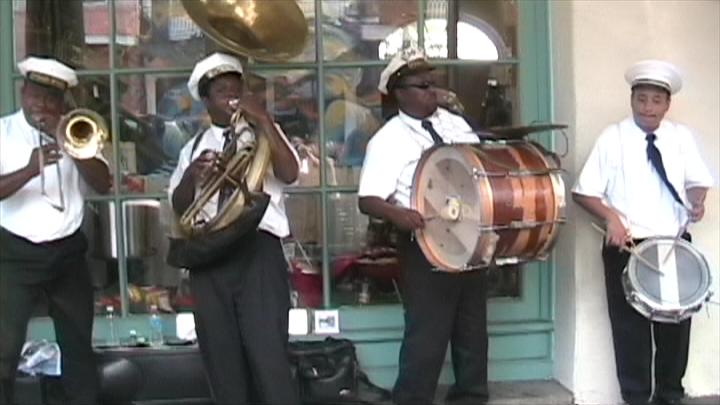 Destination at a Glance

Date of Trip
May 2007
Destination Good for
Party, History & Culture, Food
Best Time to Go

Fall & Winter – extremely humid in summer
Currency/Conv. Rate
US Dollar / NA
Good Way to Get Around
Rent Car: Yes
Public: No
Taxi: Yes
Walking: Yes
Appox. Trip Cost
Cheap to Moderate
Speaks English?
Everyone
Entry Requirements
NA
Do it

Airboat/Gator Tour
Authentic Cajun/Creole Food

Skip it

Bourbon Street before 11am

Didn't get to do
Tabbaso Factory Tour
Would I Recommend
Absolutely
Overall Trip Rating
Trip Review
Ahhh the "Big Easy" – the land of hot music, lovely women, corruption, swamp land and last but not least – exceptional food.  Altogether they make a pot of Gumbo as diverse as the population itself.  New Orleans is a city unlike most others in the United States – full of contradictions; Big Oil all around – but very little visible suit & tie crown; famous for all night partying – with a community that is very religious; known for great Jazz & Blues – but strip clubs out number them almost 2-1; well deserved reputation for friendliness as many Southern states enjoy – with a ticking time-bomb of social and financial inequalities just beneath the surface.
Nothing is black and white in New Orleans – but it is always interesting.  My time spent extended beyond the city and into Cajun country.
Bourbon Street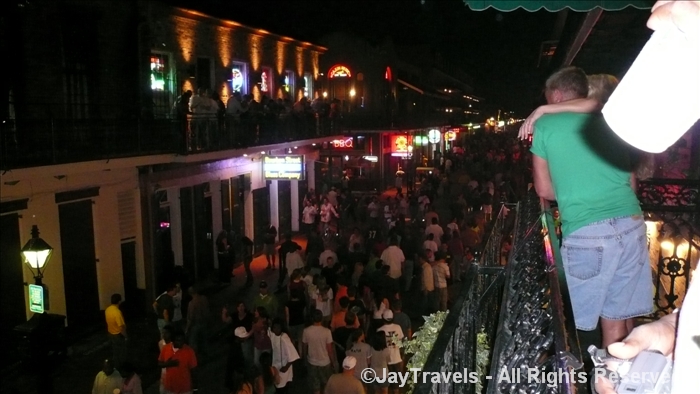 I guess no visit to New Orleans would be any good without spending a little time in the famous Bourbon Street.  About a 4 block stretch in downtown, Bourbon Street has a number of restaurants, clubs (both music and exotic), and street performers.  During holidays or special events (especially Mardi Gras) – thousands of people descend on this little stretch of the city to enjoy everything New Orleans has to offer.  With fairly lax public drinking laws (at least in this area), partiers can move from one establishment to the next.  If large crowds and/or public drunkenness are not your thing – you'd probably be best served with visiting the Bourbon Street during the day.
On the other hand, if drinking and acting/watching people act silly is your thing – you're gonna be in hog heaven.  Not surprisingly, the area skews towards the 18-25 demographic – which isn't to say you can't have fun – you just need to understand what you are signing up for.
In terms of actual things to do on Bourbon Street, the options are pretty diverse.  So long as you get there before 10pm, there are a few full service restaurants on the strip.  These places are ok, but as most of their clientele are tourists, the food isn't what I'd call "authentic" New Orleans.   Other options on the strip are at least 15 different strip clubs – including Larry Flint's Hustlers.  If strip clubs aren't your thing, you can visit the numerous dance or music clubs that play everything from live Jazz, Blues, Rock & Roll, and Rap to a regular DJ based dance clubs.  Finally, there is somewhere to get a drink if you walk 15 steps in any direction – whether restaurant, bar or kiosk looking liquor stands.
People watching on Bourbon Street is almost as old as the street itself.  There's little chance you can spend an hour during the evening and not have at least one visual image burned into your brain (I'll let your imagination take it from here).  One of the more unique ways of people watching is renting a balcony above the string for a couple hundred dollars for 3-4 hours.  (Suckers!!).
Finally, I'd suggest visiting Bourbon Street at least once during the afternoon.  For one, you'll get a better perspective of the surrounding areas and it is likely to be less crowded.  Warning – try to go after 11am – New Orleans is below sea level and surrounded by the Mississippi River and Lake Pontchartrain.  These two facts – along with the extremely hot and humid weather – just cooks the garbage, vomit, urine and everything else from last night's 'party' that was left in the street.  The smell is just flat out AWFUL.  11am is when the city's cleaning crew finishes removing the trash and water jetting the streets/sidewalks.  You've been warned.
Airboating with the Gators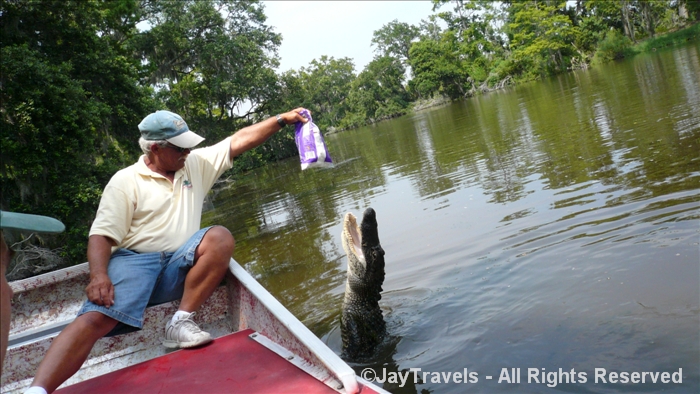 Now that I've gotten the touristy Bourbon Street out of the way, it was time to see the rest of what New Orleans has to offer.  First on my list was to get out to the Bayou and maybe see a gator or two.  Best way to do both is to go on an Airboat.  An Airboat is a flat bottom boat – about 10-15 ft long that is powered by a large fan on the back.  It essentially skips across the top of the water as opposed to moving through the water like a normal boat.  This has two advantages; first – it allows you to navigate into water that is very shallow (parts of the Bayou are only a foot deep!) and second – doesn't disturb the underwater habitats of local animal life.  Oh yea – they are really cool to ride!
So off we go on a high-speed run through Bayou country and we pull up on Bill the Alligator (name has been changed to protect the innocent).  Apparently – Bill likes marshmallows – who knew?  Throughout this trip we ran into a couple of gators, fed a few and even held a baby gator (awwwww).
A few useless facts about Gators:
Alligators are found in Fresh Water – Crocodiles are in Salt Water
Alligator meat tastes just like Pork Chops
Alligator's brains are not big enough to train, so they cannot be pets.  They will eat their owners if they get hungry enough.
…Continued
Related Articles You Might Be Interested In: