The Food
One of the primary reasons for visiting Bangkok was to try some exotic and perhaps strange foods.  Due to the Red Shirt demonstrations, both of the main night markets were shut down, so I wasn't able to eat any bugs.  I did eat at a few sidewalk/mobile restaurants, but there wasn't much out of the ordinary beyond seafood that doesn't exist in my hemisphere.  There were a ton of fruits and vegetables I'd never seen or heard of; here are a few I sampled:
| | | |
| --- | --- | --- |
| | Dragonfruit | Pinkish-Red fruit with white flesh/black seeds – tastes similar to a Kiwi |
| | Rambutan | Sorta red hairy looking fruit with firm and somewhat chewy white flesh around a seed.  Sweet and tangy. |
| | Orange | In Thailand, the oranges are the size of a Lemon and rind is green, but the flesh is still orange. |
| | Mangosteen | Dark purple outside with soft white fleshy center and a pit.  Similar tasting to a plum but the consistence of a mushy peach. |
| | Durian | Giant prickly fruit either hated or revered around the world.  See Phuket Review for more on this fruit. |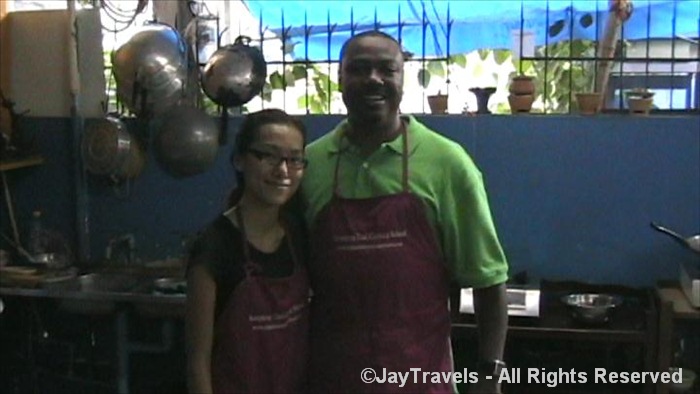 Whatever authentic Thai food I didn't get to sample in street markets, I did get to make myself at the Samphong Thai Cooking School.  This was an awesome hands-on experience as the four hour class started with a trip to the local market to pick up the fresh ingredients.   Each class participant has their own cooking station/Wok and makes their own curries & sauces themselves.   I made 7 dishes in total (Thai Banana Fritters not pictured) and am pleased to say every one turned out as expected (though I didn't really care for the Green Curry Chicken).  The best part of the experience was the chef/owner/teacher who took the time to explain what and why certain elements went together, how cutting the food correctly during preparation increases the flavor and techniques for making visually appealing food (see tomato skin rose in picture).  There is a different class menu each day, so if you are in Bangkok for an extended period you can learn/eat during your entire stay.  Finally, she provides written instructions of every recipe you make during the class so you can whip up a batch once you get home.  The cost of the 4 hour class is 1,000 Baht ($32) – highly recommended!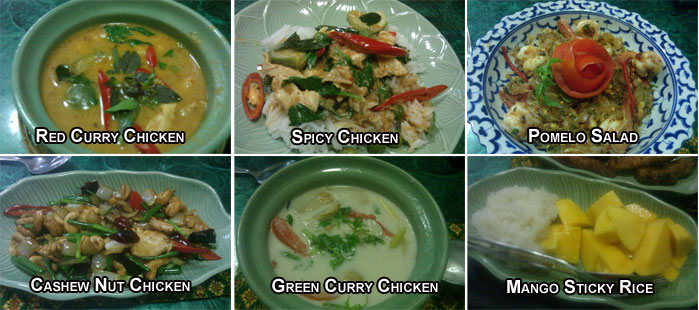 Flat out awesome!
Closing
Bangkok is an amazing city; the weather, the food and the politics are all as hot as can be.  Though I only spent 3 days in the city and the demonstrations curtailed a few of my plans, neither took away from a truly fascinating time.  The Cooking Class, Tiger Temple Tour, Grand Palace and the absolutely cheap and wonderful massages were some of the highlights of my visit.  I won't lie, it sucked that I wasn't able to hit the night markets and try any crickets, scorpions or beetles; but I guess you can't win them all.  I had a wonderful time in Bangkok; next up – the beautiful beach town of Phuket, Thailand.
Related Articles You Might Be Interested In: