Cairns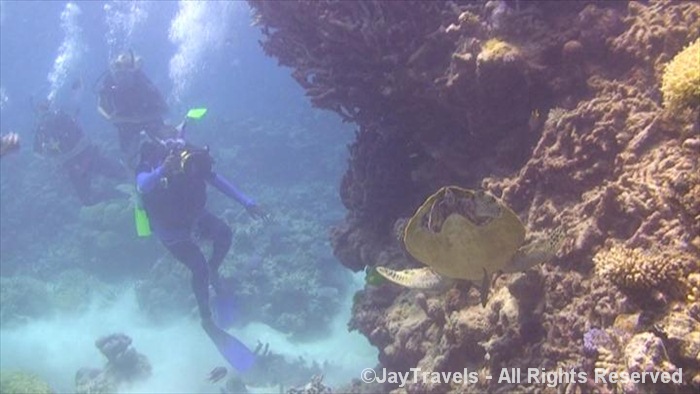 After my excellent time in Sydney, it was off on a JetStar plane to Cairns (pronounced "Cans").  This tropical location has some of the best weather in Australia with average year-round highs in the 80s and lows no less than 62 degrees.  Though not as many beaches as other Australian cities like the Gold Coast, Cairns is an excellent destination for outdoor and water related sports.
By far, the most popular activities in Cairns are scuba diving and snorkeling the Great Barrier Reef.  There are two primary ways to scuba dive the GBR – a day trip or on a liveaboard.  Day Trips are those those that start and end the same day stay relatively close to shore (Inner Refs in this case).  Liveaboards mean you eat, sleep and dive from a single vessel over a 2-7 day period.  Great Barrier Reef liveaboard tours allow you to travel further north and deeper into the Great Barrier Reef – exposing you to marine life that lives in deeper water like sharks and whales.  Since I only had 8 days total in Australia and you need 24 hours before/after diving to board an airplane, a day trip was my only option.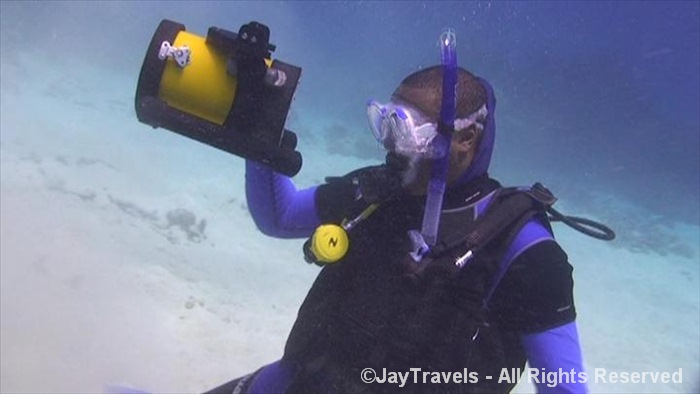 This was actually my first scuba diving trip outside of the US since I'd gotten my certification, so I was somewhat nervous.  It was also the first time I was able to test the Nemo 200 Underwater Camera housing in salt-water.  The dive company I used for my day trip operated a 95ft catamaran called the SilverSwift.  For $240, the day trip included 3 certified dives, all dive equipment, light breakfast, full lunch and a guide.  During the three dives, I was able to capture video of sea turtles, a stingray, a fish feeding frenzy, several coral and rock formations and of course me having a blast underwater.
The video and pictures of the dive can be found on the appropriate sections of this site; suffice it to say the Great Bear Reef was wonderful diving – even if we were confined to the inner reefs.  One thing I will do with my next video/housing setup is to invest in a good Blue/Green water filter to accurately capture the entire color spectrum.
Finally, there are other things to do in Cairns besides a visit to the GBR including White Water rafting, ATV Tours, Skydiving and a trek to the rain forest in Daintree National Park.  All in all, a wonderful experience … now off to Melbourne.
Melbourne
Unfortunately, my itinerary in Melbourne was cut short due to rain, but there were a few things I was able to get done.
Harley Ride Through Wine Country

– It seems there is an endless number of group wine tasting tours out of Melbourne.  My desire to do something a little different and my general aversion to group tours led me to an interesting alternative – rent a Harley and ride through wine country.  Brilliant!   Although I've been riding sport bikes for years, I'd never jumped on a 'Hog'.  While certainly not the near catastrophe I had with an ATV in Cancun, it took a few minutes to get comfortable with the motorcycle.  I have to say, this was one of the nicest and relaxing ways to see the wine region as I was able to go from one winery/tasting to another at my own pace.  The ride from Melbourne into the Yarra Valley region took about 2 hours and I hit up 3 different wineries.  Several outfits offer Harley rentals – expect to pay around $250-$300.

AFL Playoff Game

– The Australian Football League (AFL) is the most popular football league in Australia and extremely popular in Melbourne.  I say most popular because the AFL is one of a few different leagues that offer variations of what we call Football in the US.  In addition to the AFL, there's the National Rugby League (NRL) and the National Rugby Union (NRU).  I won't spend a lot of time in this review discussing the differences between the AFL and the NRL/NRU, you can Google it yourself.  My personal take is the AFL seems to be a modified version of Soccer – lots of kicking, less tackling, and frankly – a whole bunch of whining/faking like is done in Soccer (at least when I was there).  NRL/NRU games appear to be more in line with US Football – massive hits (with no padding), gang tackles, laterals, etc.  In short, if you like Soccer go to an AFL game – if you want to see the violence of US football – rugby based NRL/NRU league is the only way to go.

Old Melbourne Gaol

– The Gaol is a 1800s prison converted into a museum (think Alcatraz).  The museum contains many of the cells restored to their 1800s conditions, exhibits of the shackles, uniforms, etc. and even an execution contraption.  Next door, you can take a tour of a more recent prison (City Watch House) which allows you to be locked in a cell, listen to audio of a prisoner being raped (bathroom in section 2) and take a mug shot.  Cost is $21 per person.
Due to bad weather, I wasn't able to do the planned Hot Air Balloon ride, Kayak downtown Melbourne or visit the Queen Victoria Market.
Food
The diversity of restaurants in both Sydney & Melbourne is impressive, if not expensive.  As a former British colony, I didn't expect much in the way of exotic fare in any of the cities I visited.    What I found were the normal array of international fare menus tweaked to include local game.  Here are the few items I tried that I guess folks in the US would call exotic:
Ostridge

– Pretty good, marbled like a ribeye but a little 'gamey'.

Kangaroo

– very lean and tender piece of meat with the consistency of beef.  In fact, it tasted like an excellent Filet Mignon.

Crocodile Sausage

– Actually pretty gross.  Fairly gelatinous and mushy.  But I'm willing to chalk it up to the sausage preparation, not the Crocodile.  I've had great experiences with the croc's cousin the Alligator – so I'll try a leaner and/or filleted piece of Crocodile meat in the future.
One thing I didn't get a chance to try was Vegemite – mainly because I somehow forgot about it the entire time I was in the country.  I understand many Australians swear by it and perhaps many more non-Australians hate it.  Guess I'll have to try it and weigh-in when I go back.
In Closing
Not too many countries in the world have such varied geographic landscapes that include beaches, deserts, mountains, rain forests and big cities as Australia does.  I had such a wonderful time in each of the cities I visited and I can't wait to go back to experience more.   My next trip to the land down under will focus on the famous Great Outback, the Mountains of Tasmania, the things I missed in Melbourne and the rain forests in Daintree National Park.  Oh, maybe I'll attempt to regain some pride by surfing again at the Gold Coast – maybe.
Good Day Mate!
Related Articles You Might Be Interested In: