Lesser Known – But No Less Cool
Beyond the normal tourist traps are some of the lesser known exhibits.  What makes these items so nice is most of them are interactive (and indoors).  These are the top five I visited.
Food
While DC has not been known for food, there are a few standout places.  According to population statistics, DC has the highest percentage of East African immigrants in the country – Ethiopians in particular.  As such, there are a number of excellent Ethiopian restaurants – several lumped together around U Street.  In short, Ethiopian food is relatively spicy food and is served in a manner encouraging you to eat with your fingers.  You use a special type of bread called Injera to pick up the meats & vegetables from your plate.  I tried Dukem and was more or less happy with their offerings.
Although not really a port city, the proximity to Baltimore and the Virginia coast line makes it close enough to get fresh fish without driving an hour to the coast.  One popular seafood restaurant is Phillips Seafood in downtown DC.  The restaurant is simultaneously a huge seafood buffet (everything you can think of) and a conventional sit down restaurant.  Is also fairly expensive – but the lobster buckets for two (two large lobsters, 2lb snow crabs, shrimp, clams, mussels, potatoes & corn for $90) is the best I've seen in a while.
Next up – the Bethesda Crab House for some Blue Crab.  I learned something here – which is the way you've seen people eat Blue Crab in the movies (a la beat it with a hammer) is actually the worst way to eat them.  Beating the crab crushes all of the bones in the process – requiring hours picking them out of the meat.  Thanks to YouTube, I learned the correct way to eat these suckers – and it was the best crab ever!!!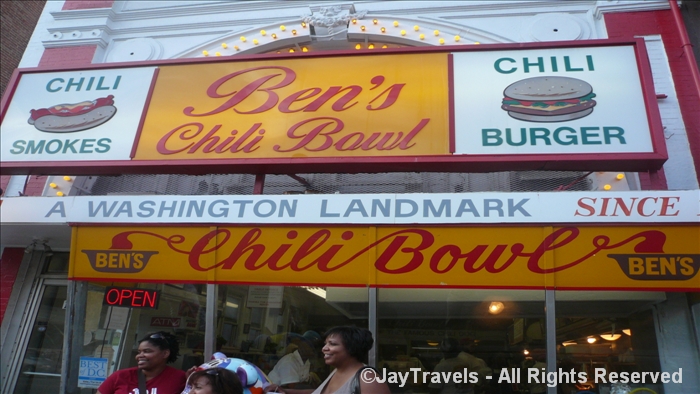 Last but not least – Ben Chili Bowl.  Actually a historic location in Washington, DC – I never miss a chance to get a half-smoke (sausage) with chili whenever I'm in DC.  Not as inexpensive as they used to be – nevertheless some very good eating.  They even have vegetarian sausage and dogs if that's your thing.  Get There!!
In Closing
I like DC – both the environment and the people.  In the 80s, it was one of the most violent cities in the country but due to gentrification and better living standards (government is largest employer and is hiring) – the city has become a wonderful place to visit.  Be sure to visit a number of areas I didn't cover in this write-up – including the Georgetown area, Jazz clubs on U Street, Howard University and if you have the time – a Wizards or Redskins game.
Related Articles You Might Be Interested In: