Another installment of Traveler's Spotlight on Jay Travels. This spotlight features Greg from I'm Black and I Travel. Greg feels travel opens your eyes and broadens your mind. It inspires and it humbles. You return knowing your world, and yourself, a little better. So here's a little more about Greg.
Quick Info on Greg
---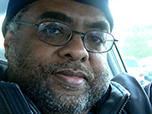 Current City
San Diego, CA
How Often Do I Travel
2-4 times year
Where to Next?
Senegal
Favorite Travel Gadget
Laptop Computer
Last Trip?
Germany
Ever Hitchhiked?
No
Go to Outer Space if You Could?
In a heartbeat.
Favorite Pastime?
Writing, Cooking and Photography
Connect with Greg
I'm Black and I Travel

What was your favorite destination and why?

Paris – I love the history, the vibe, the food and the ease of getting around. In addition, Paris has a sizable population of expatriate African-Americans, including the descendants of soldiers, writers, artists ad musicians whose souls have been finding refuge here since early in the 20th century.
Where have you traveled Internationally?
I've been to over 15 countries – but these are a few of my favorites:
Venice, Italy

- Serenity floating on water.

Paris, France -

Seducer of the unwary.

London, England

– Rocks to a beat that never stops

Santo Domingo, Dominican Republic

– Warm but crumbling under the twin burdens of history and neglect.

Tokyo, Japan

– Hyper-modern cities built on the foundation of a culture centuries old.
What are the Top 3 destinations on your Bucket List?
| | | |
| --- | --- | --- |
| West Africa | Amsterdam | South Korea |
Has any trip changed the way you think or act – whether politically, socially or otherwise?Every trip changes me in some way, large or small. I take fewer things in my own life for granted. I've learned that the minor inconveniences in my life are exactly that. I've learned that as Americans, we don't know everything, we don't have all the answers — and I'm fine with that.
Have you ever experienced a problem when traveling (passport, victim of crime, etc.)?I was pick pocketed in Mexico City. Escaped Bangkok just ahead of an airport strike. Briefly shared a London apartment with rats.
What's the strangest thing you've eaten when traveling?Mofongo (Spanish dish generally made of fried plantains or yuca)
What was your least favorite travel experience and why?Spending 14 hours crammed into a stretched DC-8 airliner flying from Tokyo to LAX. If you never experienced flying on a DC-8, consider yourself blessed.
What kind of vacation do you prefer, adventure, nature, backpacking, luxury getaways, shopping, relaxing, other?At one time or another, any or all of those, as well as baseball trips with friends, focusing on minor-league ball in Latin America and around the world.
What's the best thing about traveling? What's the Worst?
Best

– The best thing is not just seeing the sights, but making connections with people. That's how you really start to learn about a place.

Worst

–

Flying. It was bad before 9/11. Now, it's hellish

.
When you've traveled internationally, did you prefer to do things that are familiar (American food/activities) or go outside of the tourists areas an see how the natives live?I try to get out of home mode, to the point that I no longer do group tours. I refuse to set foot in a Mickey D's, which is increasingly difficult to do, since they seem to be everywhere except North Korea.
Do you look for Americans when you travel? Also, do you try to blend in or don't think about it. I do look for Americans. When I see them, I try to head in the other direction. Nothing personal, but I didn't endure 11 hours in Sardine Class to be with my countrymen.
Do you have any travel tips to share?Just one: Embrace the whole experience when you travel, good or bad. Roll with it, learn from it.
Any parting shots or Shout outs?A shout out to you, Jay, for a truly outstanding site!
Related Articles You Might Be Interested In: