Another installment of Traveler's Spotlight on Jay Travels featuring Ellen. Ellen enjoys spending time with her grandchildren, singing in the choir and traveling.
Quick Bio for Ellen
---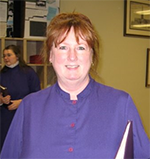 Current City
Duluth, GA
How Often Do I Travel
2 times year
Where to Next?
Golden, CO. Mon petit chou and his parents (my son and daughter-in-law) moved there in August.
Favorite Travel Gadget
My blow up neck pillow
Last Trip?
NYC. Choir Tour
Ever Hitchhiked?
Yes. It's how I got to and from college. (I do NOT advocate this mode of transportation in today's environment; not sure I would have done it, had I thought more than 2 secs about it even back then!)
Go to Outer Space if You Could?
Big Yes!
Favorite Pastime?
Singing. It takes up ALL my Sunday and two other long nights a week.

What was your favorite destination and why?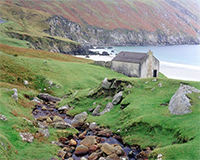 Ireland
– I just loved the entire country! Everyone was so friendly it made me feel at home. It's hard to explain, but I did feel an ancestral connection to the place. I visited
Dublin
(capital and financial epicenter),
Galway
(port city on the western coast),
Kilkenny
(great castles) and
Killarney
(national parks and nightlife).
Alaska is a very close second.
Where have you traveled Internationally and in a single word/phrase, how would you describe each destination?
Dublin, Ireland

– Friendly

Nice, France

– Wine/bread/cheese-y

Rio de Janeiro, Brazil

– Sexy. Except the leathery old men in speedos on the beach.

Barcelona, Spain

– Awesome/Scary. We were there for the Olympics in 92 and each bus entering the harbor (we were staying on a cruise ship) was searched with those scary machine guns and mirrors to check for suspicious packages under the bus.

Nova Scotia, Canada

– love the natural and rustic beauty of the Northeast
What are the Top 3 destinations on your Bucket List?
| | | |
| --- | --- | --- |
| Italy | Something Nordic | Greece |
Has any trip changed the way you think or act – whether politically, socially or otherwise?I re-affirmed my love of singing after doing so in Westminster Abbey.
Have you ever experienced a problem when traveling (passport, victim of crime, etc.)?After 9-11, my husband was on the no-fly list due to his common name. This used to be a royal pain; the last time he was stopped (I think to Alaska), we were detained while a TSA guy came out from behind the curtain and asked him questions. It has recently gotten a little better after we filled out some TSA form designed to help folks with common names.
What's the strangest thing you've eaten when traveling?I don't choose to eat strange things, but Blood Sausage may qualify (sounds worse than it is).
What was your least favorite travel experience and why?Our flight to Hawaii was a bitch. Long, crowded flight and Hot! I ate hot! Hawaii itself was great. We took a plane tour of the island, saw the turtles, surfed, etc. but that damned heat!!! The sights were wonderful, but buggy and hot.
What kind of vacation do you prefer, adventure, nature, backpacking, luxury getaways, shopping, relaxing, other?Tracing history and its sights
What's the best thing about traveling? What's the Worst?
Best

– Experiencing new places.

Worst

– Hauling dirty laundry around
Do you have any travel tips to share?Rolly bags are God's way of saying "Please Travel"! What a great invention. Take off your shoes and put on warm sox for long flights.
Related Articles You Might Be Interested In: