Another installment of Traveler's Spotlight on Jay Travels. This spotlight features Delorys – a best selling American expat author now living in the French Riviera. Delorys enjoys traveling, writing and spending time with her husband.
Quick Info on Delorys
---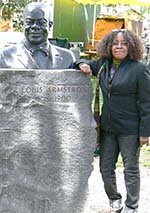 Current City
French Riviera
How Often Do I Travel
Living in the South of France I travel often during the year in France. We travel to Paris about once a month, except during July and August. My husband and I generally plan one big trip a year outside of France.
Where to Next?
Right now we're trying to decide between a Cruise on the Western Mediterranean, or the Eastern Mediterranean.
Favorite Travel Gadget
Credit Cards and foreign language phrase book. I get a real charge out of saying foreign stuff to people and finding that I'm actually understood.
Last Trip?
Madrid during the Christmas holiday.
Ever Hitchhiked?
No
Go to Outer Space if You Could?
There are so many places on this planet that I'd like to visit first, that I doubt I'll get a chance. But on the other hand, given the general political chaos on this planet, perhaps I might book a seat on a space shuttle just to take a break!
Favorite Pastime?
I love movies, reading contemporary fiction. I paint, write and love international cuisines.
Connect with Delorys
Delorys' Website

What was your favorite destination and why?
I have traveled and lived in various places in America, South America, the Caribbean, Europe and North Africa – so I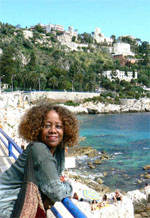 actually don't have a favorite destination. I have enjoyed visiting different places for different reasons.
I would say, though, that the most intriguing places were Cartagena, Columbia, Marrakesh, Morocco, Aswan and Cairo, Egypt and Israel. I did fall in love with the South of France many years ago, which is why we decided to move here from New York City, but I wouldn't consider it a favorite destination, just a perfect crossroads and location from which to travel to fun foreign locales.
Where have you traveled Internationally? If you could describe each location in a single word or phrase, what would it be?
Geneva, Switzerland

– Not what it's cracked up to be.

Porte Au Prince, Haiti

– Exotic, great art, and friendly, proud people.

Egypt

– Can't get a handle on what's been achieved since the time of the Pharaohs.

Monaco

– Glitzy, fun, safe, spectacular urban vistas.

Paris

– Fabulous, great shopping, sophisticated, splendid architecture, constantly evolving.

Madrid

– Will have to visit again after the economic depression has subsided.

Marrakech, Morocco

– Exotic, terrific food, fabulous resorts.
What are the Top 3 destinations on your Bucket List?
| | | |
| --- | --- | --- |
| Ethiopia | Hong Kong | Amazon Cruise |
Has any trip changed the way you think or act – whether politically, socially or otherwise?Not really, I've always been rather adaptable to different environments.
Have you ever experienced a problem when traveling (passport, victim of crime, etc.)?It's amazing, but aside from the standard flight delays, I have only one experience that was problematic: my boarding pass was stolen on my way to Rome from Nice, France. Can't imagine why, since when I look back on it, I was the only person who looked like me on that flight.
What's the strangest thing you've eaten when traveling?Ironically it was on our own territory…Puerto Rico. Asopao riñon…Kidney Soup. Don't ask.
What was your least favorite travel experience and why?Aside from the magnificent antiquities, the 14-day Nile Cruise we look in 2005 was the most stressful experience I have ever had in my life (okay…perhaps I'm spoiled). The accommodations were fine, the food on the odd riverboat was abundant and pleasantly Mediterranean, but it was a forced march, starting at 5:00am from one ancient site to another, which actually rendered the whole trip into a blurred expedition through piles of rock and beggars. Advice: Take a shorter cruise than I did.
What kind of vacation do you prefer, adventure, nature, backpacking, luxury getaways, shopping, relaxing, other?I enjoy renting apartments in major cities: ie: Paris, Madrid, London, Tel Aviv, Jerusalem, and exploring as a resident. In more exotic locales I prefer luxury getaways with access to tour guides to visit places of interest.
What's the best thing about traveling? What's the Worst?
Best

– Traveling gives one an opportunity to experience other cultures and broaden ones perspective on the human condition.

Worst

– The possibility of sudden political unrest.
When you've traveled internationally, did you prefer to do things that are familiar (American food/activities) or go outside of the tourists areas and see how the natives live?I prefer the foreign experience. What's the point of spending so much money and time on foreign travel only to seek out American things? Finding a way to interact the locals enhances a travel adventure, and shows you that things are not always what they appear to be on the surface.
Do you look for Americans when you travel? Also, do you try to 'blend in' or don't think about it.I don't exactly run away from Americans, nor do I seek them out. As a black American I find it would be impossible to "blend in" anywhere in the world, even in Africa. The French say that one should try and "integrate" into a society, not "assimilate". Integrate, to me, means getting along, respecting the local culture and people, not being condescening or making assumptions, understanding the limits of your knowledge and respecting the wisdom of the locals. Trying to "assimilate" or pass for something you're not, only makes you a second rate copy of the real thing. There is absolutely nothing wrong with being a foreign traveler.
Do you have any travel tips to share?Research the country you plan to visit. Carry a phrase book, people are generally more helpful when you try to communicate in their language, and then often you find that some will want to practice their English with you. Take precautions in what you consume, and plan an itinerary.
Any parting shots or Shout outs?Reach out and touch. It's fun!
Related Articles You Might Be Interested In: