Camping just feels 'real' – whether lying under the stars at night or the smell of charred firewood in the morning.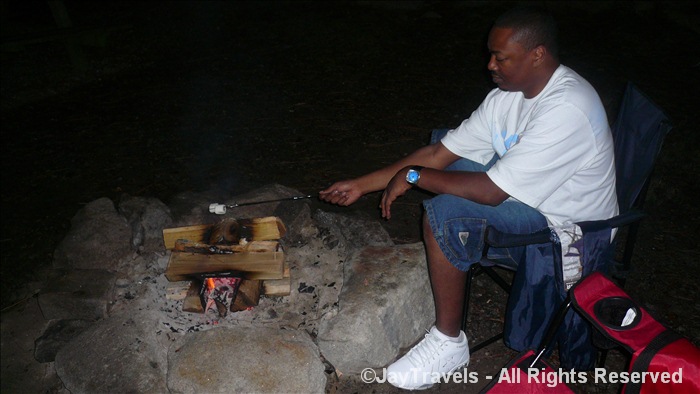 Destination at a Glance

Date of Trip
June 2008
Destination Good for
Outdoor Activities, Family Outings
Best Time to Go

Spring-Fall – many attractions closed in Winter
Currency/Conv. Rate
NA
Good Way to Get Around
Own Car: Yes
Tour: Yes
Taxi: No
Walking: Yes
Appox. Trip Cost
Free to Fairly Inexpensive
Speaks English?
NA
Entry Requirements
Possible Parking, campsite and attraction fees
Do it

Hike/Skylift to the top of Mountain
Lasershow
Ride the Ducks tour

Skip it
Didn't get to do
Not much
Would I Recommend
Yes
Overall Trip Rating
Trip Review
(Click Thumbnails to see Full-Sized Images)
Growing up in Chicago, IL, there weren't too many opportunities for me to go camping. Luckily, I was able to go camping on a number of occasions during my brief stint as a Boy Scout. Getting away from the 'Concrete Jungle' with my scout leader Mr. Wilson exposed me to a new way of life and new found skills such as CPR, sail boating, a survival techniques – skills I would have been unlikely to learn in the city.
Fast forward 20 years and a move to Atlanta, GA – I have an opportunity to do relive some of those good times camping right in my own backyard at Stone Mountain Park.
Stone Mountain Park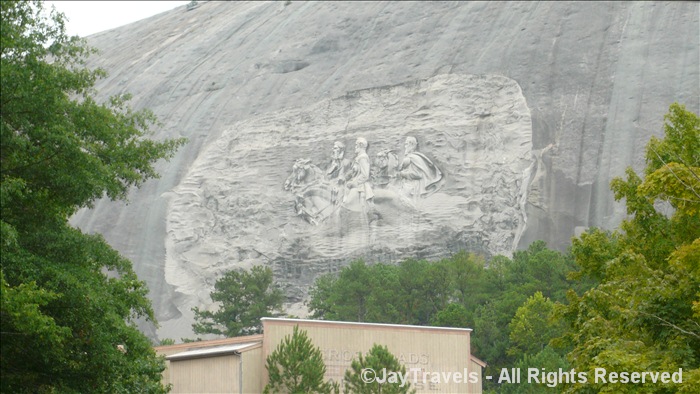 Just 16 miles (20min) from downtown Atlanta sits Stone Mountain Park – the five square mile plot of land that is Georgia's most visited attraction. The park gets its name from the world's largest piece of exposed granite – nearly 1000 feet high and 583 acres. Within this sprawling complex are several lakes, trails, activities and of course camp grounds.
In my mind, there are three types of camping the average 21st century Joe will participate in – RV Camping (sorta cheating), Tent Camping with water/electricity connections nearby (a little less cheating) or so called 'Primitive' campsites which are nothing but a few feet for cleared dirt (old school if you will). No matter what you choose, camping can be an excellent weekend activity no matter your economic or marital situation.
What better way to bond with the family than to spend time outdoors at a campsite? For the fellas who scoff at the idea – keep in mind camping one of the few "wife approved" excursions where you and the fellas can stay away all weekend getting drunk and otherwise just being 'men'. As for the ladies worried about bugs, bears, sleeping near the ground, whatever – just remember this is an opportunity for you to spend time with your man without the interruptions of phones, computers, and the like – plus it gets cold at night so you'll have to get close.
Let's Get to Camping
For a mere $30 a night, I reserved a campsite in the park that included water and electricity hookups on the site; site number "69" I believe it was. So Jay (aka Paul Bunyan) arrived at the site and immediately got to pitching the tent and starting the fire.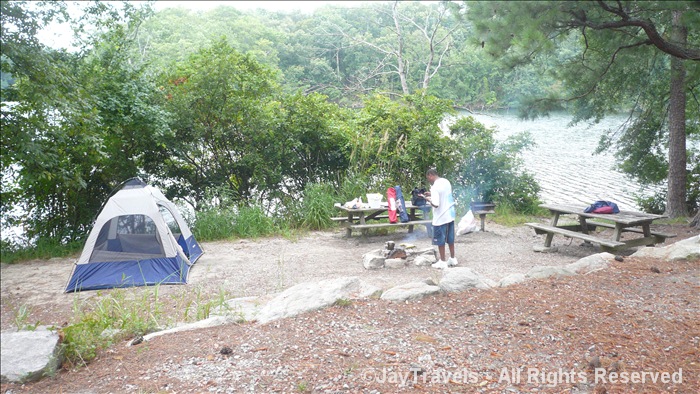 Clearing out a relatively even 6×9' space for the tent and setting up/moving the sleeping bags inside took all of 20-25 minutes. Next it was on to starting the campfire to replace the light source the setting sun had taken away from us and to get dinner started. Now I admit, most everything I learned while in the Boy Scouts some years ago came right back to me – except for starting a fire without matches. Not that I suggest wasting time on this as the sun is going down, it's just my ego would have loved to say I lit my fire with a flint & steel. Alas, that wasn't to be – so the lighter and a couple of ez-start sticks would have to suffice.
Fire started, now it's time for dinner. The first night the plan was to make dinner fast and simple due to me arriving so late in the evening. So, Day 1 dinner was dehydrated vacuum packed Beef Stroganoff and Chicken Stew. I know, I know – Paul Bunyan wouldn't approve – but he didn't have to work all day and brave Atlanta traffic on the way to his dinner either! Just because dinner is quick, doesn't mean it isn't tasty – and both of these were off the chain. Just add boiling water, shake for 2 minutes and presto – dinner in a bag (lol).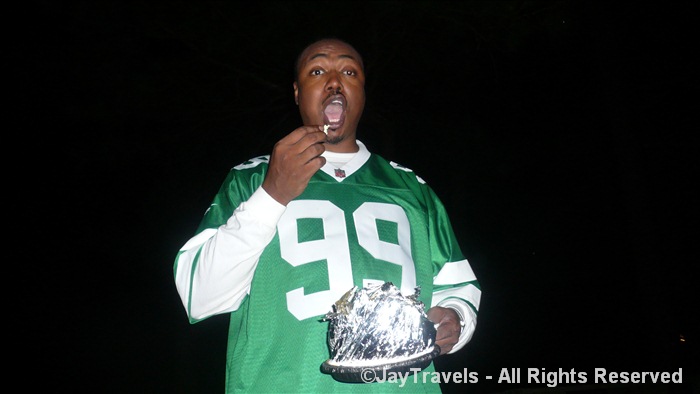 The rest of the time camping I actually cooked real food – so bacon, eggs and grits for breakfast, hot dogs for lunch and salmon, baked potato and grilled corn on the cob for dinner. Of course there was the obligatory marshmallow roasting but without a doubt, the most amazing cooking achievement of the entire weekend was the …… wait for it…. Jiffy Pop!!! Properly cooking a platter of Jiffy Pop on a campfire – how gangster is that???? Popcorn, a lil libation and good company around a campfire under the stars – priceless!
Stone Mountain Park Activities
What makes camping at Stone Mountain Park so nice is the number of activities available to fill up the day you aren't in the tent. The easiest (and cheapest) way to take advantage of everything the park has to offer is to purchase One-day Pass for $27. This allows you to go to all of the attractions (except for Ride the Ducks) without paying extra. Here are a few of the activities I was able to do during my weekend stay in the park:
Laser Show

– By far the most popular attraction at Stone Mountain Park, the Lasershow spectacular combines colorful lasers, surround sound and special effects into a 40 minute light show, precisely choreographed to music. The show is projected against the north side of the mountain and ends with a fireworks display. The show occurs nightly starting at 8 or 9pm depending on season. Cost is free.

Hiking the Mountain

– Guess the name says it all – but there's a little more to do in the park than just looking at the mountain from ground level. Once at the top of the mountain, you can learn more about the history of the rock and see all the way to downtown Atlanta using the stationary binoculars. The views from the top of the mountain on a clear day are nothing but stunning! There's also an added benefit of getting fit as you walk up/down the mountain (in fact many local athletes use the mountain as a training ground). In case you were wondering, the three men chiseled on the side of the mountain are Confederate heroes of the Civil War: Confederate President Jefferson Davis, General Robert E. Lee and Lt. General Thomas "Stonewall" Jackson

Ride the Ducks

– The "Duck" vehicles are 1940′s WWII era US Army amphibious vehicles, meaning they can drive on land like regular trucks but also speed through most any body of water. The park has converted the Ducks into open-air tourist vehicles that are captained by specially trained tours guides. Costs $14 and includes a goofy duck quacking whistle.

Old Car Museum & Crossroads

– The museum has about 50 classic and antique vehicles all donated/purchased from within the state of Georgia, including a Ford Model-T, an original Tucker and a first run convertible 1960s Mustang. The Crossroads is a mini-city that contains a number of arts & craft shops, restaurants and performing artists.

Sky Ride

– There are two ways up the mountain, walking it or taking the Summit Skyride. The Sky Ride is a high-speed Swiss cable car with windows on all four sides providing up-close views of the Confederate Memorial Carving. The trip to the observation tower on the top of the mountain takes about 2 minutes and costs $9.

Scenic Railroad

– A full sized locomotive from the 1940s with open-air cars takes you around the base of the mountain stopping at a replica 1900s Georgian town (complete with Hey-Haw performances) and half-way up the mountain at the Crossroads. Takes about 45 minutes to circle the mountain and costs $9.

4D Theater

– Pretty nice attraction which amounts to a 3D theater showing a customized 20 minute movie on some outdoor related theme (they switch the movie ever so often). The 4D comes into play when the seats move, you're sprayed with water, etc during the show. Not sold individually, must purchase a Day Pass to enter.

Lake Activities

– There are Paddle boats, a Riverboat and fishing available at one of the many lakes in the park (no jet skis). You can also hike through any part of the 10 miles worth of trails.
In Closing
While it's cool to stay at the Hilton and have everyone cater to your every need, it is just as awesome to have the feeling of accomplishment by roughing it yourself. Camping just feels 'real' – whether lying under the stars at night or the smell of charred firewood in the morning. Camping makes you remember how much we have become slaves to technology – as well as a feeling of accomplishment having survived without it. What's the best thing about camping; it's the complete 180 your lady friend does when she raves about how much fun she had after spending the month leading up to it worrying about bugs, bears and Bigfoot. I love it when a plan comes together.
Happy Travels!!
Related Articles You Might Be Interested In: