The Vatican and Religion
The Vatican

– Simultaneously a sovereign country and complex within the city of Rome, this 110 acre patch of land claims less than 800 full-time residents.  Although it is called "Vatican City' it is technically the smallest country in the world.  This walled off complex is where the Pope lives and can be seen for mass in the giant outdoor mass/prayer area.  The mass area – called St. Peter's Square – contains two giant 50ft television screens for those not close enough to see the Pope, as well as advertising billboards on the sides of each.  Kinda nice when product marketing infringes on religion huh?  Anyway, I'm not that much of a museum dude so I can't say I was awed by the Vatican; but I can still objectively point out the level of detail and craftsmanship on the inside of these buildings is nothing short of spectacular.  Be warned, many of the buildings do not allow photography.  Entry into St. Peters Square is free – the Vatican Tour is 15 Euros.

Sistine Chapel

– One of the chapel buildings on the Vatican complex, it is a relatively non-descript building from the outside.  Inside is where you'll find numerous works of art on the walls, on pedestals and most famously on the ceiling.  The problem I have with this is photography and videography is not allowed in most sections of the chapel.  Nowhere is this mentioned (like in the FAQs of their own site) until you get to the premises and are told of the 'rule'.  They will tell you the flash causes deterioration of the fine art.  Okay – I'll buy that for the flash – but they claim non-flash cameras and videos are prohibited for copyright reasons.  Translation: if you share your pictures less people will pay the 15 Euros to get inside.  Short cited and not worthy of my time – so I skipped it.

Capuchini Bone Chapel

– This has got to be the strangest museum I've ever seen in my life.  Thousands of museums display bones and skeletons; even more museums have collections of art.  Very very few museums combine the two using – Human Bones!!! That's right – this 'museum' (crypt really) contains the remains of thousands of Friars form the 16th century.  Their bones are carefully positioned around the museum to produce 'art'????  Frankly, there's really no way I can describe this; it's truly one of those things you just have to see for yourself.  How can one explain a chandelier made out of human bones and a fireplace out of skulls?  Simultaneously amazing and off-putting.  Admission is free, though donations are requested.  No camera/video allowed (I'm a bad boy)
Food
My lasting memory of Rome – more so than the sites, filth or beggars – was that I was starving the entire time I was there.  I was starving because I just couldn't get anything decent to eat before dinner.  As I said earlier, Rome feels more European than Italian and this is no more evident than in the food.
Take breakfast, it seems the staple of European cooking is the art of not cooking their food.  I grant you, this is a matter of preference; what Americans called 'cooked' many Europeans call 'burned'.  But this was extreme – the scrambled eggs were so runny it was like soup.  The bacon pork strips were so undone I could have sworn it yelled Oink.  On and on – no matter what the restaurant or hotel – this mess was inedible.  Lunch wasn't much better – seriously – how the hell do you undercook a pizza???  You'd think there would be good Italian food in – you know Italy.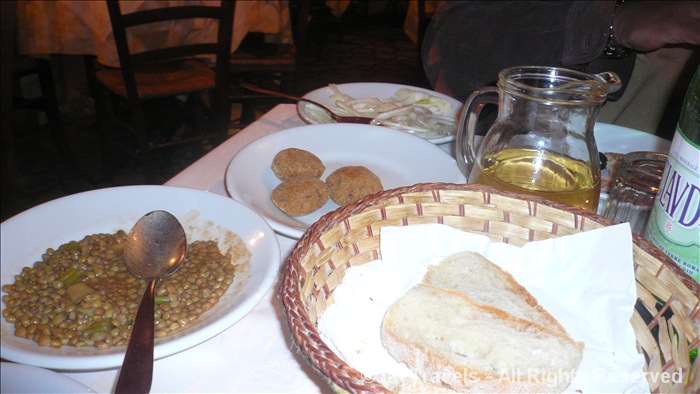 Anyway, I didn't eat a decent meal until dinner the entire time I was in Rome.  Luckily for me – dinner was always a pleasant experience – as many restaurants only opened after 5pm.  It was as if all of the real effort was put into making dinner excellent – as they didn't even try other times.  One place in particular, Ristorante del Pallaro provided me with one of the most wonderful culinary experiences in my life.  There is no menu at this establishment – it's whatever the chef-owner Paola Fazi wants to make for that day.  But for 25 Euros, you get a 7 course home cooked meal (family owned and run restaurant) that includes a carafe of wine.  This is how Italian food should be!
In Closing
My overall impression of Rome is – underwhelmed.  It's like the movie everyone tells you was so great (like any Tarentino flick) and you watch it wondering what all of the fuss was about.  That's Rome.  Dinner was excellent and the Bone Chapel was a sight to behold – but the rest of this relatively small city just doesn't warrant the fuss.  Don't get me wrong, I'll always value my experiences as each one provides something new; but if I had it to do over again, I'd take a Tour of Italy instead.  The country is small enough to drive to each of the major cities (Venice, Florence, Naples, Milan, Pompeii and Rome) in as little as 5 days.  This is good – because Rome by itself is pretty underwhelming – and dirty!
Happy Travels!!!
Related Articles You Might Be Interested In: