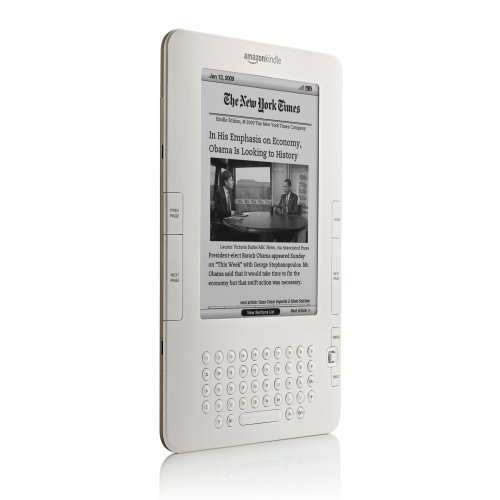 There's nothing worse than sitting on a 13 hour international flight with nothing to do. Some people can sleep on airplanes; unfortunately I am not one of those people. To keep myself from jumping out of the plane from boredom, I often try to read a book. The downside of traditional books is if I wanted to bring more than one they tend to get a little heavy, especially hard cover books.
eReaders solve the weight issue as well as enhance the entire process of reading books. eReaders (or Electronic Book Readers) is a hardware device designed to allow several hundred traditional books to be digitally stored and read on a single device. The most popular of these eReaders is the Amazon Kindle – which I have owned for over a year and is the focus of this product review.
Design
Although simply referred to by Amazon as the "Kindle", there are two models and several versions of each. In terms of models, there is the "Kindle" – the smaller model with a 6' screen and the "Kindle DX" – the larger model with a 9' screen. Other than the screen size and storage space, the internal software of both models are nearly identical (DX model includes auto-rotation between portrait to landscape modes). This article assumes the latest version that is available on Amazon's website as of the time of this writing.
Product Summary
---
The Good
Can store over 1,500 books at a time
Over 400,000 eBooks available plus hundreds more free Public Domain versions
Wirelessly download books in less than 60 seconds
Wireless network available in over 100 countries
The Bad
Web browser awful
No SD Card Slot
MP3 player very primitive
Proprietary USB connection
Made By
Amazon, Inc
Cost
$259 ($489 DX Version)
Warranty
1 year Limited
Website
www.amazon.com/kindle
Grade: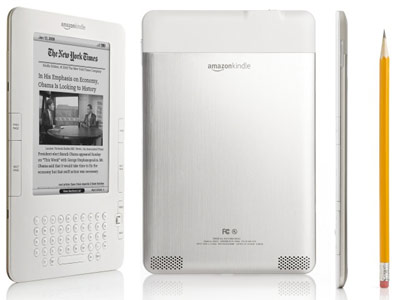 The basis of the Kindle design is the eInk technology – a method of displaying text on a screen without the drawbacks of traditional LCDs (like those found in laptops) – such as using much less battery power, reducing eye strain and virtually eliminating heat even after hours of use. In addition, using an eInk display allows Amazon to build an extremely lightweight device that weighs only 10 ounces. Included in the box is the Kindle device itself and a combination wall charger/USB cable. One thing I don't like about the included USB cable is the connector is proprietary – so if you lose the included cable, you won't be able to use one you already have – you'll have to purchase a replacement from Amazon.
When the Kindle was first introduced in 2007, it included a SD Card slot which allowed you to expand the storage capacity of the device. The SD card slot has been removed in the later versions of the Kindle. While you are unlikely to download 1,500 books to fill up the 2GB drive, storing MP3 files on the Kindle will quickly fill up the available space. The Kindle has a regular 3.5 mm headphone jack which is really cool because it does not require a special adapter to use regular headphones to listen to your music, Audiobooks, etc. Finally, the kindle is not backlit – meaning it does not have its own light source. This is a double-edged sword – eliminating the back-light reduces eye-fatigue – but it also means you can't use the Kindle in the dark.
Features
Here's a quick rundown of the Kindle's features:
6″ screen size (9.7″ for DX model)
6″ (2GB/1,500 eBooks) – 9″ DX (4GB/3,500 eBooks)
Up to 2 weeks battery life (1 week if wireless on)
Wirelessly purchase and download books directly from the Kindle
Can play MP3 music and Audiobooks and view Photos
Comes with built in dictionary and Web Browser
There are over 400,000 eBook versions of regular paperback/hard cover books available on Amazon. A quick look at Amazon's best seller list shows over 80% of the books on that list are also available in Kindle format. Most Kindle books are $9.99 – but prices range from free up to the full price of the traditional version. Downloaded books are tied to your Kindle account – which allows you to share books with up to 5 other Kindles on the same account (you cannot share books with other Kindles not associated with your account).
What the Kindle has over all other eReaders (except for the forthcoming Apple iPad) is a complete infrastructure to search, purchase, download and read eBooks. The Kindle does not require a computer to use – you can perform every action – even pay for the book directly on the device itself. The only caveat is you need to be in an area that has 3G/EDGE GSM coverage – which means AT&T in the US and various carriers overseas. If the 3G network isn't available, you can use your laptop to download the Kindle book directly from Amazon's site and manually transfer it to the Kindle via the USB cable.
Performance
When in a 3G coverage area, it takes around 60 seconds to completely download a book to the Kindle. I've had 1,000 page books download in less than 60 seconds – wicked fast. In terms of device performance, I would call it adequate. There is a slight lag as your turn the page, but nothing that is annoying over time. If the paper version of the book has pictures, the pictures are retained in the eBook version but are converted to grayscale. Again, because the kindle isn't backlit – you can read books on the device for hours without eye strain – which is much more difficult with LCD displays.
What doesn't work so well is the embedded web browser. The device doesn't display content in color – so that takes away from the interactivity in the website. Also, since the Kindle isn't recognized as a mobile browser, it attempts to download the full-fledged website – complete with images, JavaScript and other processor intensive components. Even with a relatively fast 3G connection, the rendering of the pages is downright awful – I mean excruciatingly slow. The Text-to-Speech functionality (called Read-to-Me by Amazon) works – but sounds like the Tron robot from 1983. If you prefer to listen to a book instead of reading it yourself – take a look at Audiobooks as a better option. Finally – though it looks like it – the Kindle is not a touch screen (like the Sony eReader). From my perspective, this is a good thing – as the touch interface would likely cause a number of inadvertent page turns. This may be a personal preference though.
A Few Other Options & Tips
In addition to the pretty cool features out of the box, there are a few ways to extend the Kindle's functionality.
Get Free eBooks

– $9.99 is pretty cheap – but you know what's better – Free! The Kindle's default proprietary format is .azw – but it also reads .pdf and .mobi files as well. Many Public Domain books can downloaded in native Kindle format from ManyBooks.net for free. Examples I've downloaded include The Count of Monte Cristo, The Curious Case of Benjamin Buttons, Karma Sutra and the Art of War.

Read RSS on your Kindle

– The Kindle's web browser stinks – but you can still read your favorite website's RSS feed – which has the benefit of getting the content without downloading all of the web controls that make the browser appear slow.

Use as a storage device

– Instead of carrying a separate USB drive, use the Kindle as a simple hard drive. Just plug in the included USB cable, open Windows Explorer and drag whatever files you want to store into the Kindle's directory.

Automatic Library Backup

– You don't actually have to 'do' anything to activate this – it is automatic for every book you purchase from Amazon. Even if you lose your Kindle or it gets damaged – all of your previously purchased books are automatically downloaded to your replacement Kindle once it is activated. Note: Only content purchased form Amazon is backed up – files you have manually added are not.

Avoid Overseas Download Charge

– If you're overseas and need to download a book, avoid the $1.99 charge by downloading directly from Amazon's website to your computer. Manually transfer your books to the Kindle via the included USB cable.

Kindle for iPhone app

– Don't have your Kindle with you? If you have an iPhone – you can download the Kindle for iPhone app to read your books on that device. While it eliminates carrying two devices, the size of the screen may be too small for some.
In Conclusion
Of all of the devices I take when traveling, the Kindle is one of my favorites. I used to take along 3-4 paperback books to read – but they were so cumbersome and heavy – it became too much of a hassle. The Kindle solved this problem and provided a few more features. It stinks the device doesn't come with any protective cover – the official Amazon version costs $30 bringing the actual cost of the device to $290 US. Still, worth it if you consistently take long flights or take the occasional road trip.
Happy Travels!!!
Related Articles You Might Be Interested In: