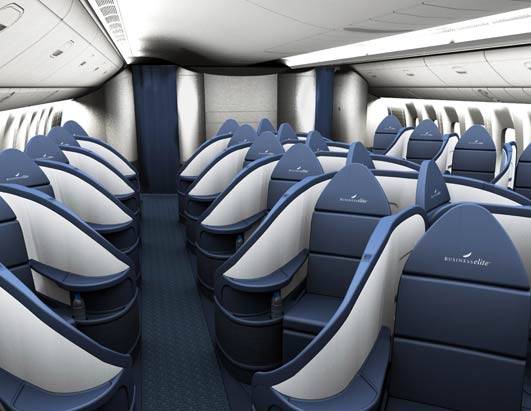 You've been planning your super cool vacation to some exotic paradise halfway across the globe. You can't wait to hit the beach, climb that mountain or whatever you've been waiting to get into. The most overlooked part of these trips is the actual getting there part – like sitting on an airplane for extended periods of time. My trip to Egypt sounds exciting – and it was – except for the 13 hour flight time it took to get there. Hong Kong was marvelous – but I wasn't looking forward to sitting in an airplane 15 hours to get there. Don't get me started with Sydney, Australia.
The unfortunately truth is, there isn't anything I can do to physically get you to your destination any faster. What I can do is to provide some information to help make the journey appear to go faster and feel like less of a hassle than it has to be.
Choosing an Airline
All airlines are not created equally – and this is no more true than when flying internationally. A long awful flight can ruin a trip. Assuming you aren't purchasing an air+hotel combined package, here are a few thoughts on choosing the right airline.
International Airlines are the Way to Go

– It's not even close really. Just about every foreign carrier that flies to the US offers vastly better seating, amenities and planes than their US counterparts. Some US carriers are making a big fuss about fully reclining seats in 1st class while Asian carriers have been offering onboard 'suites' – complete with a bed, sink and closet for years. Foreign carrier amenities, such as just food and entertainment options – are more diverse and are of better technology. Japan Airlines has had seatback LCD screens since 2000 – I just flew Delta last week and they still didn't have them on an 8 hour flight to Brussels (TV in the ceiling setup). This leads me to point #2……

US Carrier Planes are Old

– The average age of US carrier planes is 20–25 years old. Seriously, if your plane is so old it still has an ash tray built into the seats or rest rooms – then that son of a gun is ancient (smoking has been banned on US planes since the 70s). Because these planes are so old it is difficult to retrofit them with the electrical wiring necessary to support the latest technologies – such as in-seat LCDs. With the recent recession, US carriers put off buying new planes and will continue with these relics until they fall out of the sky or the economy turns around. I've personally experienced Japan Airlines, Air France and Cathay Pacific – all were excellent. I've heard Singapore Airlines is also marvelous – it has won International Airline of the Year for the last three years.

Fly a Codeshare

– Why not get the best of both worlds? A codeshare is an arrangement between two airlines to both sell tickets on the same physical plane. For example, Delta and Air France are codeshare partners – so even if you buy your ticket to Paris on Delta's website – you may end up actually flying on an Air France jet. The benefit to you is you retain Delta's member benefits (boarding priority, club access, etc.) and earn miles on the flight – but get to fly in Air France's better plane. I took advantage of this for my trip to Paris; Delta's international fleet and I mentioned earlier – by-in-large stinks. Air France's fleet doesn't. Booked on Air France for same price and earned miles – Brilliant!
Buying Your Ticket
Once you've decided on an airline, here are a few items to keep in mind when making your purchase. In fact, these items below may impact your choice of airline – which is fine.
'Fare Guarantees' are Bogus

– Period. Just like the losers who offer travel insurance, these 'guarantees' are riddled with exclusions and exceptions. The gist of it is – if you buy the exact same ticket – and I mean exact (date, time, class, farecode, position of moon) from 'another' site – plus about 10 other exclusions and you find the difference within 24hours – only then will they will match the price and in the form of a 'voucher'. To add insult to bullshit – I added emphasis to the word 'another' site because – wait for it… these exclusions don't apply to the airline's own fares. That's right folks – if you buy a non-refundable ticket today from Delta for $250 and a month from now – Delta lowers their own fare to $149 – you get jack. The reason is most all airlines charge a change fee (Delta's is $150) – so the price difference has to be greater than the change fee. In this case, Delta would have to lower their price to $99 in order for them to give you a refund of one dollar! Nice!

Membership Has Its Privileges

– Being a member in an airline's Loyalty (incentive) Program provides a number of benefits that can make the long haul flight much more pleasurable. First off, being a member means you aren't charged the luggage fees now being tacked onto some international flights. In addition, members get to choose so called 'premium' seats when purchasing tickets, e.g., those in the front of the plane or in the Exit Rows. Members also get to board the plane first (after 1st class), ensuring there is space for carryon luggage. Finally, if the flight is full, 'sometimes' the airline will upgrade these members into 1st class. Even if the flight isn't full, airlines generally offer to place members alone in a row of seats. On my flight back from Rome, the agent declined my 1st class upgrade request – but offered to give me the entire 4 seat row to myself – which allowed me to lay almost all of my 6ft 1in frame down. Slept like a baby.

If Possible – Fly Direct

– While this is my general policy for all flights – it is even more important for international flights. Who wants to deal with lost baggage, missed flights due to delays and ridiculously long layovers in a strange city's airport? Not to mention – it is downright tiring to fly for a couple hours, disembark the plane, wait and get back on another plane to continue your flight. Sometimes that extra $100 to fly direct is just worth it!
…Continued
Related Articles You Might Be Interested In: