Waterloo Area
For you history buffs, Waterloo is a small town just 10km south of Brussels that staged one of Europe's most famous battles.  It was where Napoleon's invading French army was crushed by the much smaller British and Belgian forces.  One of the things that confuses me is why the predominant language in Belgium is French – um, didn't the French lose this war??  Anyway, the city has gone through a good deal of work to ensure the primary battlefields remain unchanged from the way they looked in the 18th century – minus the dead bodies of course.  While this sounds good on paper, in reality it means you are looking at a field of weeds.  Stop me now if this is too exciting.
Nearby the fields is something called Butte du Lion (Lion Mound in English).  I have no idea what purpose this serves – but it obviously wasn't part of the Battle of Waterloo.  It's a manmade mound of dirt with a Lion on top. Riiiight!  Well, after walking the 250 steps to the top, I could see panoramic views of the entire battle area (weeds) and on a clear day, you can see as far as Antwerp.  You should know this climb is not for the not for the weak, tired, or handicapped; the mound is one set of stairs – no elevator – just a very steep walk.
Okay, now here's where this gets interesting – the curators of this exhibit perform a re-enactment of the battle daily during the summer (weekends only in the winter).  For about 12€, you can ride in a bus that circles the combatants as they take musket shots at each other.  Pretty interesting if the weather cooperates.
Atomium and Mini-Europe
Atomium

– the Atomium is a large structure built for the 1958 fair that resembles an Atom.  About a 15min train ride from the city center, it is the focal point of an area that includes the soccer stadium, convention center, and Mini-Europ.  For 9€, you can tour 5 of the 8 giant balls – including the top one.  In each lower ball, there is history about the discovery of the Atom, the advancements in science due to the discovery and why, how and who built the monument.  The top bubble includes a fine French/Belgian restaurant and exceptional panoramic views of the Brussels area.

Mini-Europe

– As the name implies, Mini-Europe is a miniaturized version of every European countries' most recognized landmarks.  Most every European country has contributed a landmark – some have as many as four.  Each landmark is about 3-7 feet high and 10-20 feet around – some even include waterways with boats or miniature bullet trains moving through the countryside.  Some of the most easily recognizable exhibits are England's 'Big Ben', France's 'Eifel Tower', and Italy's 'Leaning Tower of Pisa'.  Many of the less famous exhibits from other European countries were just as interesting – particularly the number of castles in many of these countries.  (How many kings were in Europe anyway – geez).  While somewhat corny, it's still an interesting museum of sorts and it allows you to take rather interesting pictures next to some miniature versions of the world's most recognized monuments.
Food
Belgium is famous around the word for three things – Waffles, Chocolate and Beer.  Though not as internationally known, the 4th item Belgians are passionate about is frites – or French Fries as we call them in the states.  With that in mind, it's no surprise the food section is the most detailed on this review.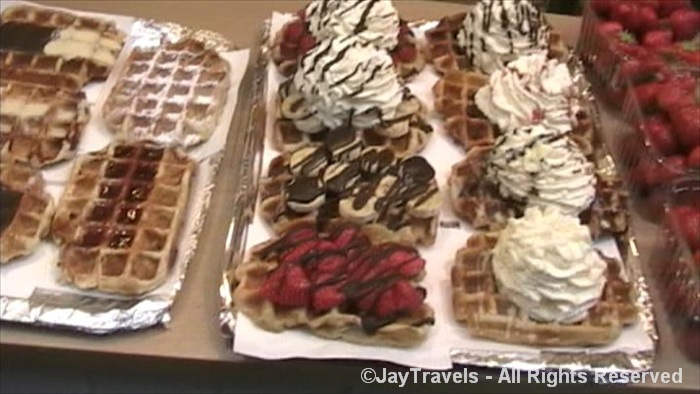 First up the Belgium Waffle.  Here in the US, Belgium Waffles are served with syrup for breakfast just like 'regular' waffles.   In Brussels, Waffles are only eaten as a desert.  And what a desert.  Anything you can think of that has sugar or is sweet – you will find it on a waffle in Brussels.  Fruit, nuts, whipped cream, syrup, chocolate, sugar, butter, soaked in juice – on and on and on.  Figured I can't travel to Belgium and not try the real deal – so I order one with Strawberries, whipped crème, and drizzled in chocolate – all on top of a hot waffle dipped in sugar.  Holy sheet – I still need an insulin shot from the sugar overload.  It was delicious – but I would have keeled over if I had eaten the entire desert.  I need a beer!!
Here in the states – when I drink beer, it tends to be Stella Artois – a fine Belgian beer – or so I thought.  Turns out folks in Belgium don't really drink this beer – they export it to other countries or give it to tourists.  While looking for it in several bars, some of the bartenders actually got a little nasty with me ("No Stella").  I finally found a few places that sold Stella of draft – right along side of the beers most Belgians actually drink.  Belgians favor 'Blonde' beers as opposed to dark beers.  To truly understand what all the fuss is about, I felt it was necessary to sample several varieties of beers – for 'research' purposes.  Here's my opinion on each:
Jupiler
Seems to be what the locals prefer – and for good reason.  Made by same company that produces Stella.
Hoegaarden
Wheat beer spiced with coriander and orange peel.  Like drinking spicy/sweet beer.  Yuck!!
Stella Artois
Not widely served in Belgium.  Similar to Jupiler, mainly exported to the US and UK.
Maes
Second most popular beer in Belgium.  So smooth you could drink all day – or at least until you fell over.
Leffe – Blonde
So-so tasting – a little on the sweet side.  Comes in 6 variations (they had a Christmas version while I was there.)
Vedett
Very smooth – better than Stella actually.  My new favorite.
One thing I noticed was the alcohol content of these beers – including Stella – seemed a lot higher than what is available in the US.  This was similar to the Heineken beers I sampled in Amsterdam.  In the US, beers cannot exceed 6% alcohol by volume – a restriction apparently the Europeans don't bother with.  All beers where draft, so there wasn't any label to confirm my feelings.  All I know is – after a few beers, I was lit!!
If you are a chocolate lover – Belgium is the place for you.  In central Brussels – there are more places that sell chocolate than sell food – seriously.  Seemed like every 20ft there was a store selling some version of chocolate – dark, milk, white – with nuts, caramel, yada yada.  I'm not really a chocolate dude – so I can't tell a connoisseur whether it meets some standard – chocolate is chocolate to me.  There were so many of them – it's hard to imagine they didn't have their stuff together.
Finally the Frites – fried potatoes just like French Fries are here in the US.  The main difference is what the Belgians put on top of the Frites – and ketchup ain't it.  In fact, it seems like everything but ketchup is placed on fries – mayonnaise, hollandaise, gravy, curry, cheese, and a whole bunch of yellow, red and green stuff I couldn't recognize.  If purchased by themselves (like at street vendor), they are placed into a funnel and topped with your choice of sauce and eaten with a fork.  If you are eating it with your meal, they are served plain (sauce on the side) – just like the French do.
In Closing
Brussels is a decent getaway – not as hectic as London or Paris – but still with a passion for their food.  While very easy to get around, there's not that much to actually 'see' in the city – it's more of a 'do' kind of place.  So long as what you want to 'do' is eat and drink beer – you'll have a blast of a time in Brussels.  Although the weather wasn't that great during my trip, it didn't significantly impact the experience as most of the good stuff was indoors.
Happy Travels
Related Articles You Might Be Interested In: