This is the first installment of the Traveler Spotlight series from Jay Travels. I would like to introduce Shena – a Technology Manager in the Dallas Area who enjoys spending time with friends and family and is a die-hard Kansas City Chiefs fan.
What was your favorite destination and why?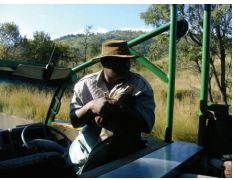 I have two favorites actually, the first was my trip to South Africa. It was my first experience outside of the US beyond North America. I experienced almost every thinkable emotion – from the pain of Apartheid, the thrill of the amazing views from Table Mountain, the joy of the people in Soweto, seeing a lion in the wild, to talk to a real political prisoner and visit Mandela actual prison cell, and on and on. This was a dream vacation.

The second was my trip to the 2009 NFL Hall of Fame ceremonies in Canton, Ohio. I am a HUGE Kansas City Chiefs fan and one of my favorite players and close personal friend was Derrick Thomas – who passed away in 2000. To see him inducted (posthumously) into the Hall of Fame in person was a thrill. It brought is life full circle.
Where have you traveled Internationally and in a single word/phrase, how would you describe each destination?
What are the Top 3 destinations on your Bucket List?
| | | |
| --- | --- | --- |
| Tour of Italy | US Virgin Islands | Puerto Rico |
Has any trip changed the way you think or act – whether politically, socially or otherwise?My trip to South Africa really opened my eyes. Prior to that trip, I was under the impression from Tv and the news that international travel was somehow dangerous or in some way not as advanced as in the US. I was worried about getting into some sort of bind with no way to get help. Fortunately, this is not the case. Most every comfort that is available here is available in even the poorest countries.
In addition, seeing the effects of Apartheid in person changed my perspective and also made me realize I should have known more. Not only the fact that these atrocities were going on during my adult lifetime, but that I should have know more – what happened, to whom and why. Whether the general media reported it appropriately or not, I blame myself for not paying more attention. You hear the 'word' Apartheid – but you don't know that translated into hangings and Shanty Towns.
What's the strangest thing you've eaten when traveling?Ostridge while in South Africa.
What was your least favorite travel experience and why?Toronto, Canada in January – enough said. Felt like 28 below zero and snowing. As Toronto has a big city feel (skyscrapers), the wind just freezes you to your bones as you walk across the corner.
When you've traveled internationally, did you prefer to do things that are familiar (American food/activities) or go outside of the tourists areas an see how the natives live?I have done both. But it is more fun to get away from the standard tourism sites, and venture into the native areas.
What kind of vacation do you prefer, adventure, nature, backpacking, luxury getaways, shopping, relaxing, other?Not that into pampering and spa things, but I like to shop though. Not necessarily the touristy things. Sometimes I like to just go out an get lost (not literally) in a destination.
What's the best thing about traveling? What's the Worst?
Best:

Getting out and doing fun stuff. Just being away from home.

Worst:

How much it costs and what it takes to get there. Costs is the natural drawback of having a good time.
Do you have any travel tips to share?Not to scare anyone, but be aware of your surroundings. That's a good and bad thing – good for the obvious safety reasons, but you'll likely enjoy your experience more if you can pickup the nuances around you.
Any parting shots or Shout outs?I have a suggestion to change holiday gatherings – whether it be Christmas, Mother's day, Easter, etc. Instead of redoing the same turkey dinner, my family and I pick a location from across the globe and fix a dish specific to that country. You could have each family member bring something from a single culture, e.g., Thailand or each person can bring something from a culture of their choice – like Japanese Sushi appetizers, Argentinean Beef a main course, Italian Gelato for desert. It gives us a opportunity to learn about other cultures and adds spice to the family gatherings!