Bio for Kiratiana
---

Current City
Chicago, IL
How Often Do I Travel
Whether in college, when I lived in Paris for a year or as a journalist – I have tended to travel 3-5 times a year.
Where to Next?
Riviera Maya, Mexico
Favorite Travel Gadget
My Blackberry
Last Trip?
Last domestic trip was to Austin, TX for the SXSW Interactive festival. My last international trip was Vancouver, Canada for the Winter Olympic Games.
Ever Hitchhiked?
Nope and don't plan on doing it either.
Go to Outer Space if You Could?
I would go if there was another planet out there. I'm really into meeting new people and learning new cultures. So if we discovered a new planet with an entirely different civilization, I would be the first person there.
Favorite Pastime?
My favorite pastime is cooking food from all over the world. When ever I visit a destination, I always come back with a great recipe and cook for friends and family! In the past I have cooked feijoada, thieboudien, Curry Chicken, Tarte aux Pommes. Right now I'm on this Mexican kick. I've been making Mexican lasagna, and tacos of course.
Connect with Kiratiana
Kiratiana Travels

What was your favorite destination and why?Paris and Mali I became an adult in Paris, France. When I lived there, it was my first time being on my own, working and living in my own apartment. I went through a lot to become accustomed to the culture of French people. But in the end I wrote a book out of it!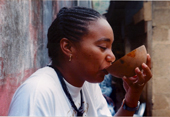 Mali, West Africa is a very close second. I spent nearly three weeks in this country in 2002. During that time, I kicked it in Bamako (the dusty African capital known for great live music) and chilled in Mopti (a town made entirely of MUD). Then I sailed up the Niger river on a Peniche, stopping in little villages on the way. We sailed all the way to Timbuktu (yes I have really been to Timbuktu). Though Timbuktu is no longer the center of education and civilization (as it was in the 13th century) I found the people to be so wise and smart.
Where have you traveled Internationally?I've been to 5 out of the seven continents including the following countries:
Europe: England, France, Italy, Czech Republic, Germany and Finland
North/South America: Brazil, Mexico and Canada
Asia: China
Africa: Senegal, Gambia, Burkina Faso, Ghana, Mali and Guinee-Conakry
Caribbean: Bahamas, Barbados and Martinique
If you could describe your favorite international locations in a single word or phrase, what would it be?
What are the Top 3 destinations on your Bucket List? (I'll fill in the pictures)
| | | |
| --- | --- | --- |
| Oceania | South Africa | Southeast Asia |
Has any trip changed the way you think or act – whether politically, socially or otherwise?My study abroad in Munich, Germany 9 years ago might have had the most impact on me. I had been studying German for seven years, but I was bummed to be studying in Germany – I wanted to go to Paris! Turns out I met the coolest people in Germany and we ended up traveling all around the country visiting Hip-Hop, Reggae and African Festivals. My experience in Germany was truly an introduction to the world and made me realize that black people are EVERYWHERE!
In some ways it was the genesis of the Travel Guide to Black Paris. I won't be doing a guide to Black Germany any time soon….but there are tons of us there!!
Have you ever experienced a problem when traveling (passport, victim of crime, etc.)?Yes I have, in Brazil actually. While I was in Salvador, Brazil I was using a public telephone at 3 in the morning in a not so safe place. Four guys jumped and tried to rob me, but in the end I didn't get hurt. I'm sure I worried my mother to near death.
What's the strangest thing you've eaten when traveling?I've never eaten any strange bugs or animals, but I'm always up for trying anything.
What was your least favorite travel experience and why?The Bahamas. At the time that I visited the Bahamas, I was not a big beach person and I couldn't swim so what's the point of the Bahamas. It also just felt like an extension of the US. When I travel I LOVE a cultural adventure; I love it when I don't speak the same language as the natives. I love seeing different architecture, whether it be a mud house or a Louis IV palace. You just don't get that in the Bahamas.
What kind of vacation do you prefer, adventure, nature, backpacking, luxury getaways, shopping, relaxing, other?I like Adventure, Culture, and backpacking. I also like experiencing cities with great nightlife. I probably won't be able to afford the shopping and luxury getaways until five years from now.
What's the best thing about traveling? What's the Worst?
Best

– Meeting people from all over the world.

Worst

–

Paying for it

.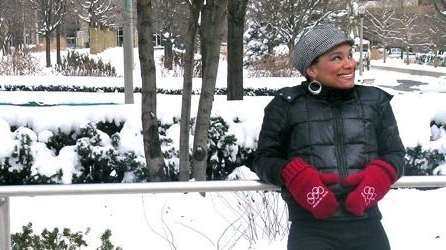 When you've traveled internationally, did you prefer to do things that are familiar (American food/activities) or go outside of the tourists areas and see how the natives live?I try to always buy a travel guide to the destination I'm visiting. In addition, I try to find friends to live in or know someone who lives in the destination via Facebook/Twitter so I can obtain a great host. I don't like to do tons of organized tours, I prefer to do things on my own so when I leave I will know how to navigate the city. I also try to stay at least 10 days at each location so I can really learn about the city.
Do you look for Americans when you travel? Also, do you try to 'blend in' or don't think about it.Yes, I do look for Americans when I travel. I look for them because I figure since we are in the same destination, we will have some similar likes. But I also always try to connect with some locals before I get to a destination. This also depends on the destination. When traveling to Europe, I can always connect with friends or friends of friends. As for Mexico, I haven't quite figured it out.
Do you have any travel tips to share?If you are going to a destination where you do not speak the language, take a class before you go. Your experience will be soo much better since you can communicate with people on a basic level. Always buy a guidebook for any destination that you travel to.
Any parting shots or Shout outs?Buy Kiratiana's Travel Guide to Black Paris when it comes out this summer!