Another installment of Traveler's Spotlight on Jay Travels. This spotlight features Cylia. A native New Yorker who has been traveling internationally since she was 6 months old! Both of her parents emigrated to America from Jamaica and are avid travelers as well. In fact the entire family (Mom, Dad, baby sister Jessica, & Cylia) have exhausted their passports over and over again! As an active member of Alpha Kappa Alpha Sorority, Inc. and an employment lawyer she gets a lot of domestic & international mileage in as well related to those obligations. A true Win/Win!
Quick Info on Cylia
---

Current City
Baltimore, Maryland
How Often Do I Travel
5-6 times year
Where to Next?
Jamaica
Favorite Travel Gadget
My Sony Cybershot digital camera
Last Trip?
Domestic- New Orleans for The Essence Music Festival / Overseas- Trinidad & Tobago
Ever Hitchhiked?
Nope never
Go to Outer Space if You Could?
Yes indeed! It was my dream job until Challenger then I went for the law! I am saving up to visit New Earth; it's out there!!
Favorite Pastime?
Working out & playing the game of Scattergories!
Connect with Cylia
Cylia Fit & Fab

What was your favorite destination and why?
Jamaica
is my favorite destination not only because is it beautiful but I have a lot of family members that live there. I can also see investing in an apartment in Panama in the near future! Love the city and the people!
Where have you traveled Internationally? If you describe that location in a single word or phrase, what would it be?
Scotland (Aberdeen, Lochness, & Edinburgh)

– Hip, Historic, & Lush

Panama City/Panama Canal

– Diverse, Amazing & Ingenuous

Trinidad (for J'Ouvert & Carnival)

– The best show on Earth! Sorry Rio!

Tobago

– Paradise!!!!

Jamaica

– Fun in the sun

Paris

– Romantic

Amsterdam

– Intoxicating & educational (Anne Frank House!)

London

– Rainy

Atlantis, Paradise Island (Bahamas)

– Daring & Fun

Grand Cayman

– Fantastic & CLEAN
What are the Top 3 destinations on your Bucket List?
Has any trip changed the way you think or act – whether politically, socially or otherwise?Well I went to summer school after my first year in law school at the University of Aberdeen. I remember how intense the airport was in Scotland with armed police officers with huge guns and we had to go through "pat downs" and I remember saying "I can't wait to get back to MY country we would never be treated like this!" A year later 9/11 happened and well travel in the US reminds me of that experience. Never say never.
Have you ever experienced a problem when traveling (passport, victim of crime, etc.)?No I have been fortunate. When in Paris my girlfriends stayed in a different hotel and had a man break into their hotel room at night while they were sleeping but he didn't get anything and they scared him off!
What's the strangest thing you've eaten when traveling?While in Edinburgh, Scotland they served us Haggis it is made from sheep's stuff like their windpipe, lungs, heart and liver of the sheep are boiled and then minced. Then this mixture is placed inside the sheep's stomach lining, which is sewn closed the boiled. Yeah I know. It actually wasn't bad though.
What was your least favorite travel experience and why?Getting back and forth from Trinidad to Tobago. You can take a huge cargo ship in the morning very pretty but it is very rough because you are crossing two different oceans. A lot of people get very very sick from the choppy water. Then flight only take 30 minutes and is about $30 US dollars well worth it but trying to go back the flights are always sold out so you have to pay someone to slip you on or you wait forever. Tobago is totally worth the hassle though!
What kind of vacation do you prefer, adventure, nature, backpacking, luxury getaways, shopping, relaxing, other?I like to mix it up. Some of my travels are for work (like South Dakota) so that was mainly sightseeing (The Crazy Horse Memorial is Amazing and Mt. Rushmore), while others are for my sorority's business or leadership meetings so going to The Atlantis in the Bahamas, St. Louis, MO or Anchorage, Alaska in July is a treat because I get a lot of shopping and sightseeing in as well as taking care of sorority business!
Other times I need a nice getaway closer to home. To get some culture in I may do a weekend trip to New York City for a Broadway Show (I saw Denzel Washington & Viola Davis in Fences this summer) or just a day trip to do High Tea at the Waldorf Astoria Hotel and an afternoon at the museum (last time I went with a friend to High Tea, then to see Madeline Albright's Read My Pins collection and enjoyed Central Park in the fall and topped it off with my Christmas list to Santa at Macy's on 34th St its electronic now!). Other times when I can really getaway I catch a flight to Sedona, AZ. I love Sedona it's amazing! It's excellent for some great hiking around Bell Rock and papering at the spa! My goal is to visit all 50 states by the time I am 50 years old! I have 10 more on the list and I am just 35 so I can pace myself! Not likely lol Arkansas in January for my sorority's Founders Day in little Rock. 9 more to go!
What's the best thing about traveling? What's the Worst?
Best

– Seeing, tasting, feeling, and experiencing something new.

Worst

– Paying for it!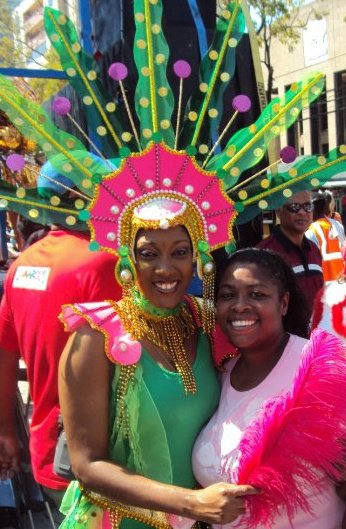 When you've traveled internationally, did you prefer to do things that are familiar (American food/activities) or go outside of the tourists areas and see how the natives live?It depends on where I am. I tend to be a cautious person but every now and again I'll do something out of character. In London I went off the beaten path to Brixton for the fun of it. But I am not too keen on doing that in the Islands unless I am with my family. In terms of food & activities I'll at least try some new things and most times they are great like Shark & Bake in Trinidad! Who know shark could taste so good?!
Do you look for Americans when you travel? Also, do you try to 'blend in' or don't think about it.I don't tend to look for other Americans when I travel nor do I blend in so I guess I don't think about it!
Do you have any travel tips to share?Don't be afraid to travel alone! I wanted to go to Trinidad & Tobago for Carnival this year and the flight I was taking allowed me to lay over in Panama for the night, my girlfriend was going to come with me but she took too long to book the flight so the ticket price doubled and I had to go it alone and it was fantastic! I was a nuisance asking people to take my pictures all the time but people indulged me anyhow lol
I lost about 87 pounds over the last 16 months and just finished my first Iron Girl Triathlon in August! In the past nine months I have traveled seven times! And the year isn't over yet! So keeping up with my workouts was important to me while I was on the road. Maintaining healthier habits while traveling can be a challenge but traveling is what I love to do so I had to make it work. So if you are embarking on, in the midst of, or thinking about a healthier lifestyle, do your best to stick to your workout routine! I tend to pick hotels with a gym and always leave room for workout clothing in my luggage!
Any parting shots or Shout outs?I want just one of Rachel Ray's jobs! Get paid to travel & eat? Sheer bliss!
Related Articles You Might Be Interested In: