Another installment of Traveler's Spotlight on Jay Travels. I would like to introduce Alishia – a native of the South Side of Chicago. Alishia is an avid motorcycle rider and enjoys a good time.
What was your favorite destination and why?
Jamaica
–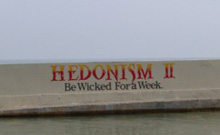 I really liked the sand, beach atmosphere and the way people received us. Furthermore – Hedonism was the most shocking thing I'd seen to that point. It was nasty and raunchy – but in a civilized and good way. People just having sex anywhere – lol! Only singles and swingers need apply – this is definitely not a place for non-swinging couples. As long as you understand what you are getting into – it can be a great time.
Where have you traveled Internationally and in a single word/phrase, how would you describe each destination?
Negril, Jamaica

– Hot, in more ways than one.

Belize

– Felt like home

Cozumel, Mexico

– A lot of fun!

Roatan, Honduras

– Beautiful
What are the Top 3 destinations on your Bucket List?
Has any trip changed the way you think or act – whether politically, socially or otherwise?Jamaica – it changed the way I think in terms of being comfortable with yourself. Made me realize people from other countries are not as conservative as most Americans.
What's the strangest thing you've eaten when traveling?Conch (cooked)
What was your least favorite travel experience and why?I can't really say I had bad experiences on my trips, I've been extremely lucky. My worst experience was traveling back from Atlantic City. After a really good time, I ended up having double delays to my flight. On top of that, I was sick and my luggage was lost with all the brand new stuff I had purchased on my trip. To add insult to injury, my car keys were in the bag so I was stuck at the airport; so I had to leave my car at the airport, get a ride home, and pay for an extra day of parking. I was supposed to get home by 8 p.m but didn't get in until 1 a.m. It was my worse experience ever and a horrible way to end an otherwise good trip.
When you've traveled internationally, did you prefer to do things that are familiar (American food/activities) or go outside of the tourists areas an see how the natives live?I like to do both. As it related to hotels, I prefer Americanized versions – no desire to sleep in a shack. On the other hand, I will at least 'try' to eat what the locals eat – "when in Rome…".
What kind of vacation do you prefer, adventure, nature, backpacking, luxury getaways, shopping, relaxing, other?Adventure, I'm not into spas or camping. I also really like partying and having a lot of fun.
What's the best thing about traveling? What's the Worst?
Best:

Gaining new experiences

Worst:

I always seem to be tired when I get home. Sorta need a vacation from from my vacation.
Do you look for Americans when you travel? Also, do you try to 'blend in' or don't think about it.I pay attention, but it doesn't alter my plans – I just get down with whomever is around. I'm a people person. I enjoy speaking and interacting with non-American individuals whenever I travel.
Do you have any travel tips to share?Yes, don't travel with people you don't know very well. The middle of your vacation is not the best time to find out there are personality conflicts and/or others don't share your idea of the itinerary. This can ruin a vacation.
Also, put together an itinerary but don't make it so rigid that you can't accommodate unforeseen circumstances (weather, better party, etc.) Over planning can take all of the fun out of the vacation.
Any parting shots or Shout outs? Tropicana Hotel & Casino in Atlantic city – Playa Mia Beach in Cozumel