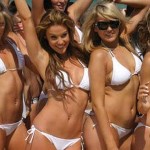 Hooray – it's spring time again!!  After a long winter stuck in the house, spring is here and it's time to get out and see the world.  The US experienced one of the most severe winters in recent history with 49 of the 50 states getting snow – Washington, DC getting 56 inches in a week.  Yikes!!!
Now that all of the freezing weather is a distant memory, it's go time baby!!!  Luckily, the current economic conditions and its effect on the travel industry means there are still plenty of spring travel deals available.
Here are a few suggestions to get away and recharge your batteries after such a devastating winter.
Spring Break – Partying
Spring Break – Family
Beach
Romance
Singles
Out of the Ordinary
Safety Warning – With all of the recent violence in Mexico, I cannot recommend many of the popular destinations – including Acapulco, Tijuana, or Mexico City.  Drug gang related killings are rampant and have begun to affect tourists (an American couple was recently murdered while putting their 1-year old in the back seat).  Because of this, the US State Department has issued a Travel Warning for the entire country.  My suggestion is to confine your travels to Cancun or nearby Playa de Carmen if you have a desire to go to Mexico.
Let us know if you have some Spring Break Ideas.
Happy Travels!!
Related Articles You Might Be Interested In: