Rio de Janeiro was the first stop on my first South American adventure that took me through 5 cities in 3 countries. Over the course of nine days, I hit Rio and Iguazu Falls on the borders of both Brazil/Argentina, Colonia del Sacramento in Uruguay and finished off with Buenos Aires in Argentina.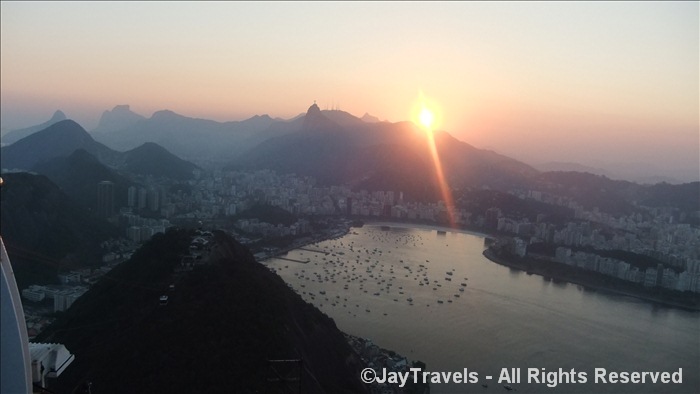 Destination at a Glance

Date of Trip
September 2010
Destination Good for
Beach, Party, Picture Taking
Best Time to Go
Always hot – though winter (Dec-Feb) is most comfortable
Currency/Conv. Rate
Brazilian Real / 1 BRL = .60 USD – Favorable
Good Way to Get Around
Rent Car: No
Public: Yes
Taxi: Yes
Walking: Yes
Appox. Trip Cost
Moderately Expensive
Speaks English?
Some, tourist areas mainly
Entry Requirements
Passport – $140 Visa fee for Americans
Do it

The Beaches – Copacabana, Ipanema and Leblon
Sugarloaf
Christ the Redeemer/Tijuca National Park
Hang Gliding off of Corcovado Mountain

Skip it

Walking around with expensive jewelry/electronics

Didn't get to do

Wasn't able to attend my first in-person Soccer (Futbol) match.
Party with the locals
Samba school / Carnival rehearsal

Would I Recommend
Yes
Overall Trip Rating
Trip Review
(Click Thumbnails to see Full-Sized Images)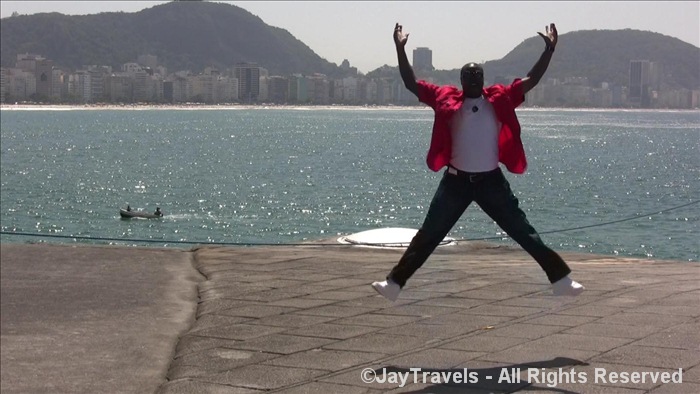 If you are a US citizen, unfortunately you will have to go through a somewhat laborious and expensive Brazilian visa process. The expense is mostly due to the US State Department's insistence on charging Brazilian citizens the equivalent of $140 US for visa/entry fees to visit this country. The Brazilians (and many other South American countries) have imposed a 'Reciprocal Fee' in response. To make matters worse, the Brazilian tourist visas are controlled by regional agencies, e.g., the Boston consulate handles parts of the northeast, Los Angeles would handle Southern California and I'm stuck with the Atlanta consulate – which to be kind – has the worst website ever. Half of the content is in Portuguese the other in English with no conversion utility, some content lives on Brazilian servers (which some browsers deem as a security threat) and no way to telephone anyone if you have a question. Assuming you can navigate this mess of a portal; you complete the application online, schedule a face-2-face visit, turn over your passport photos, current passport and 160 bucks and return in a few hours to pick-up your visa. The most important thing to understand is that unlike many other countries, you cannot get the Brazilian visa on arrival; you will be turned away and put back on a US bound flight at your own expense (most airlines won't even let you board the plane without the visa).
Getting In and Around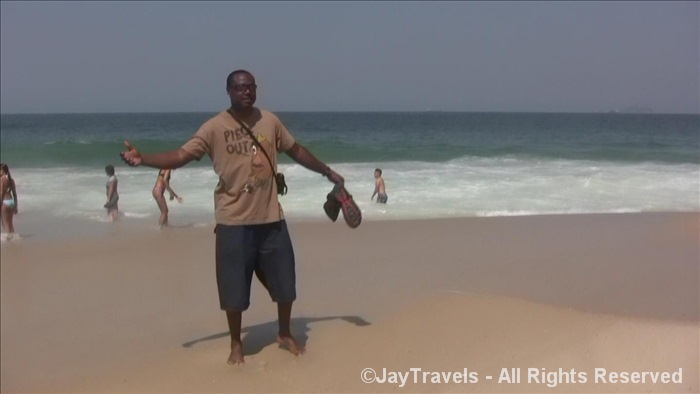 To me, the best season to visit Rio is during its winter (June through August) where the average temperature is around the 80s F. Summer temperatures (90s-100s F) along with the humidity may be a little unbearable for some – especially if you are in a crowded area like during Carnival celebrations. Rio is a fairly large city of 6 million residents within over 450sq miles – though most visitors will stay downtown (if traveling for business) or in the Zona Sul (South Zone) if you are doing the tourist thing. Unfortunately, there isn't a train from Rio's Galeão International Airport (GIG) into Zona Sul so you'll either need to take a bus/shuttle, taxi (expensive) or rent a car – all of which will take you 45min to an hour depending on traffic. 'Depending on traffic' is really a misnomer – traffic is always bad in Rio from what I can tell and what the locals have said. If you intend on visiting the city during any of the upcoming large events (Carnival, Olympics, etc.) – keep in mind the traffic is likely to be exponentially worse than normal since there are only 2 train stops for the entire Copacabana and Ipanema beach areas – limiting the ability for the city to accommodate the extra crowds.
In terms of navigating the city once in from the airport, Rio's train system will drop you within walking distance of most attractions or within a short bus ride (Rio has an excellent public transportation system). Interestingly, many/most of the buses don't have automatic card readers or cash acceptors – they have human cashiers. They literally have one person to drive the bus and another who sits at a cashier's desk next to a turnstile that takes your money. Wow – now that's a jobs plan! There are tons of taxis in Zona Sul should you need them, just beware they can turn out to be expensive due to the time just sitting in traffic.
My suggestion is not to worry about staying in a beachfront property. You won't be able to step out of your hotel's door and onto the sand; the beaches are separated by 4 lane avenues (almost expressways) – so there's really no reason to pay more for a beachfront hotel unless you are dying to have an ocean view from your room. Even if your hotel is 10 blocks from the beachfront – we are talking about a 5-10 minute walk at the most. Officials say don't drink the tap water and most locals have filters in their home faucets or drink bottled water (something to do with the sewer system).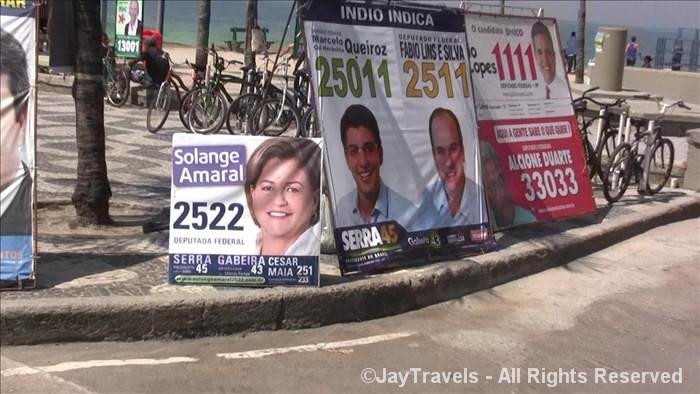 One last note, it was election season while I was in Brazil and I learned it is compulsory (required) for every eligible citizen to vote. In fact, Brazilian citizens cannot renew their passports, get a job, leave the country and a host of other things if they do not prove they have voted in the last election. Imagine how the US political system would be different if everyone was required to vote. Ponder than for a moment. In any case, it was fairly interesting to witness that politicians are the same no matter where you go.
The Sites
Next Page: Things To Do
Things To Do
Upcoming Events
Here are the major events planned over the next couple of years in Rio. Obviously I've never experienced any of them; most of the information has been taken from publically available information.
New Years Eve (Every December 31st) – They say over 2.5 million people gather at Copacabana Beach to celebrate New Year's Eve in Rio. The crowd is mostly dressed in white usually with a colored accessory (belt, bandana, etc.) that represents a mood, such as Red to attract romance, Yellow for prosperity or Green for good health.
Carnival (Every year before Lent) – According to Wikipedia, "Carnival is the most famous holiday in Brazil and has become an event of huge proportions. The country stops completely for almost a week and festivities are intense, day and night, mainly in coastal cities. The consumption of beer accounts for 80% of annual consumption and tourism receives 70% of annual visitors. The government distributes condoms and launches awareness campaigns at this time to prevent the spread of AIDS".
2014 World Cup (June-13th through July-13th) – Though not technically confined to Rio, the largest stadium in the country is in Rio so the most popular and championship rounds will likely be held in the city. As soccer is the world's most popular sport and the Brazilians have been the perennial favorites for almost 50 years – expect an extremely wild and passionate environment.
2016 Summer Olympics (August-5th through August-21st) – One of the biggest multi-day events in the world, the Summer Olympics brings together countries from across the globe to compete in 28 official sporting events. The Summer Paralympics games will also be held in Rio approximately a month after the summer Olympics end.
Please keep in mind what I said earlier about traffic. You'll need to allow a good deal of time if taking a taxi (do yourself a favor and take the train). Also, expect prices for hotels, flights and everything else to skyrocket during these events.
The Beautiful People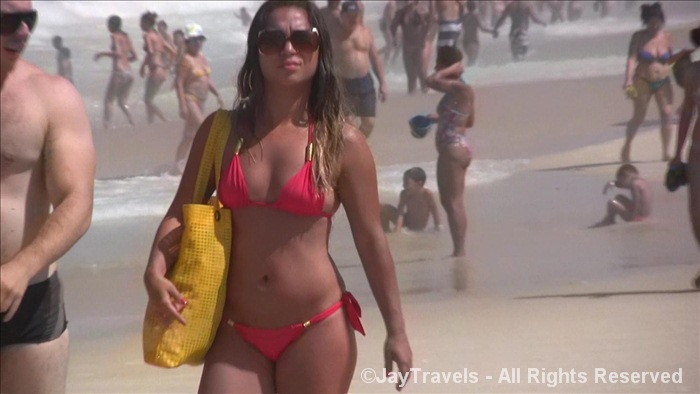 A lot has been made of the beautiful bodies of Rio – from songs, to movies and just general American male fantasy. If you say the words "I'm going to Rio" to the average American male (and I suspect many other nationalities), you'll get something in-between jealousy and flat out envy. What seems to get us hot and bothered is the so called "Perfect Mix" of beauty – European hair and facial features (most folks in the US mistake it for Spanish) mixed with, caramelized skin and amazing bodies from the African heritage. Throw in the preverbal Latin American dress code (there's only one size – tight) along with the fact that Brazil is the de facto plastic surgery capital of the world and you have some of the most physically beautiful people on earth. Or so we are told. Are there a ton of beautiful people in Rio? Yes – you better believe it. For all of the above reasons plus the no less than 50 workout stations right on Copacabana/Ipanema beaches and it's pretty clear how dedicated the Brazilians are to their physical appearance. But is there an overwhelmingly larger percentage of beautiful people in Rio meaning – is there something in the water that makes them more physically attractive than anywhere else in the world? In a word – No.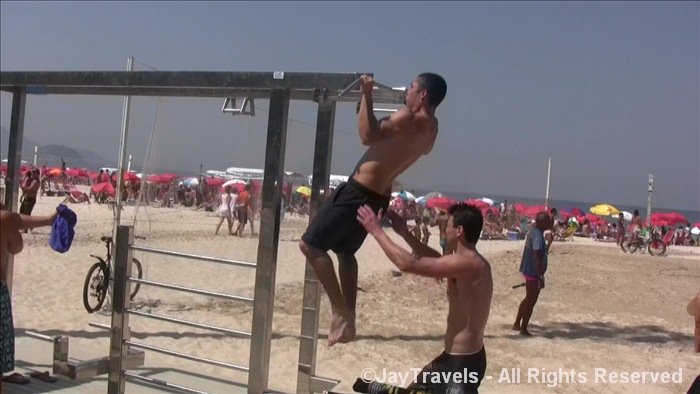 In my opinion, the people in Rio as a whole aren't any more physically attractive than the folks in New Orleans or New York City – two rich Mulato populations (using the before mentioned Perfect Mix criteria). Trust me, there's nothing in the water that makes Brazilian women/men any more attractive than anywhere else. What is different is the Brazilians (at least in this region) celebrate their bodies and sexuality in a way most Americans don't. In America, women with nice bodies and phat booties walk on the beach in swimsuits – with a jacket/sarong covering their backsides (yes, even in Miami). Why? Revealing one's body in the US has a connotation of wanting to have sex. In Rio, revealing one's body has nothing to do with sex – it's about worshiping one's body – their temple if you will. It's a level of freedom common in many places around the globe – specifically Europe; but something scoffed at by the prudish American culture. This freedom is a state of mind.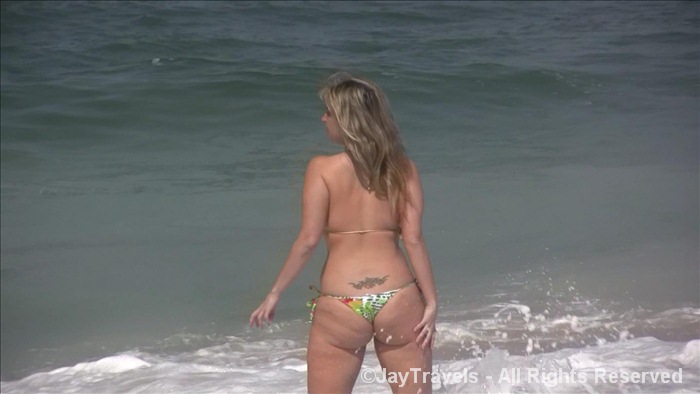 Now this freedom cuts both ways; for every hottie you see in a string bikini, you'll see just as many big girls with their stomachs hanging over their bikini, pot belly men with hairy backs stuffed into 2 size too small Speedos or 82 year old grandmas whose skin looks like leather from countless years under the Brazilian sun. No matter the age, race or economic background, in Rio the celebration starts with being free with your body. In short, the body is celebrated in Rio, not for the purposes of sex – but for the temple that it is and from that perspective – I love it.
The Other Side of Rio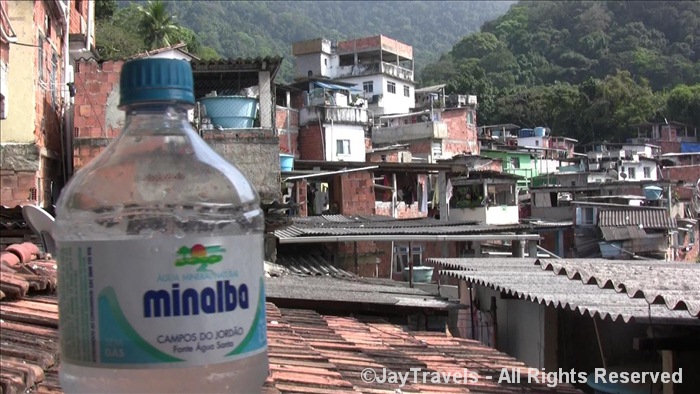 What the beautiful ads don't tell you about Rio is the very dark 'other side'. The fact is Rio is one of the most violent large cities in this hemisphere with much of that violence occurring in the "Favelas" (Portuguese for Slums). From a distance, these Favelas are actually quite pretty and they add color and contrast to the sides of the city's mountains. Up close is an entirely different story. As slums would indicate, many Favela residents are on the lower end of the economic scale and such environments are magnets for crime. As is the case, many if not most Favelas are ruled by drug kingpins. One of the more famous – and dangerous Favelas is Cidade de Deus as depicted in the movie City of God. Now, this particular Favela is nowhere near the Zona Sul and not all Favelas resemble it, but more often than not similar levels of violence are the case in Favelas. I mean seriously, even the Brothas in Compton never shot down a police helicopter like they did in one of Rio's Favelas in 2009. Just keep this in mind when visiting a Favela, the police do not generally patrol these areas and frankly will not come to save you if you get into trouble. Most Favelas have their own rules and codes of justice; you'd be wise to understand them before going or avoid the areas entirely.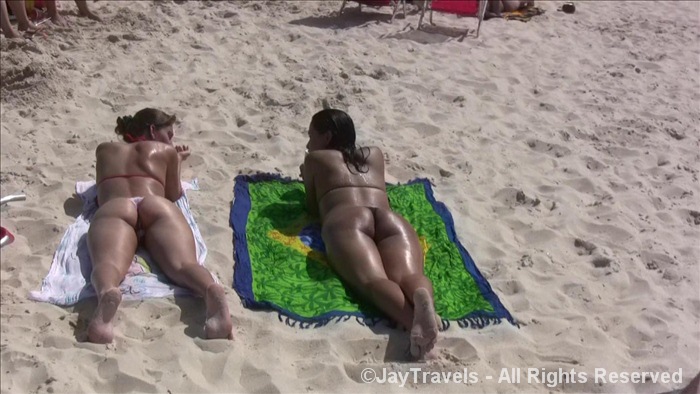 Unfortunately, the violence isn't always confined to the Favelas – it sometimes comes right down to the Zona Sul. It is not unheard of for tourists to be robbed in broad daylight on one of the popular beaches – not common, but it has happened. In addition, men are prime robbery targets in nightclubs. The mark is the cocky foreigner who arrives without knowing any Portuguese (or worse, thinking Brazilians speak Spanish) hoping to lure a couple of women back to the hotel for a history making moment. Fact is, they've seen this movie before and you are more likely to be asked for payment (good day) or flat out drugged/robbed (a really bad day). Now, game recognizes game – I'm certainly not gonna tell anyone they can't meet a girl(s) and let nature take its course if you have the gift – it happens every day. I'm just saying you need to be extremely careful; if women don't generally approach you for a good time wherever you are from – why would you expect that to be the case in Rio???
To be clear, Rio is hardly alone as the only large metropolitan area with its share of violence; let's not forget the US Capital was once the murder capital of the country. Not to say you will get hurt or something will happen while in a Favela or Rio in general – plenty of people visit all of the time without incident. How you are dressed (lose the expensive jewelry & electronics), who you are with (there is strength in numbers) and how you conduct yourself (drunk fools are the easiest targets) will ultimately increase/decrease your chances of encountering a situation. I can't think of a city that has gotten a mental pass on the extreme violence like Rio has. With tourism expected to explode for the events I listed above, it is important that you remain vigilant and understand it's not all sunshine & tan lines – don't be a easy mark. Take a look at the US State Departments very detailed warnings about visiting Rio should you decide to go.
Closing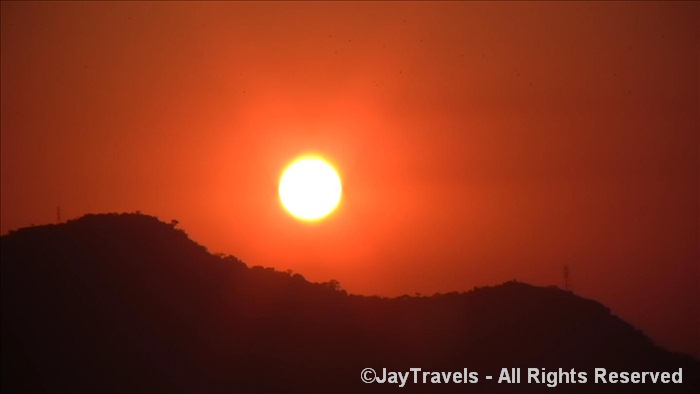 Rio de Janeiro is one of the more beautiful urban cities I've yet to visit. While Egypt is certainly on the same level as a whole, its beauty is spread out between a number of regions. Rio manages to pack a staggering amount of beauty into a relatively small area – whether Sugarloaf, Christ the Redeemer, the Corcovado Mountains and certainly the beaches. Even the Favelas that line the sides of the mountains are picturesque – from a distance. Last but certainly not least the people – often beautiful, always passionate.
While it's unfair to say its beauty is only skin deep, visitors must be aware of their surroundings and take the necessary precautions not to become a victim of the other side of Rio. Even though I didn't get a chance to see soccer game or meet up with the Fly Brother who is currently doing it big in Brazil's largest city São Paulo, I still had an interesting time. I think it would be hella interesting to come back for New Years Eve and/or Carnival; until then I say farewell to the dangerously beautifully Rio de Janeiro.
Now it's off to Iguazu Falls, the true 7th Wonders of Brazil!!!!