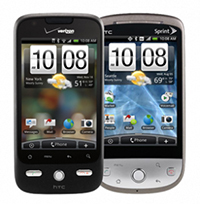 If you ask 100 people in the US what piece of equipment they could not live without, my guess is a good many would say their phone.  More than their car, computer or TV, the phone – particularly the mobile phone – has taken over as the most important tool in our everyday lives.  Our phones have become the primary method of communicating with the world – whether that is via the 'old school' conversation or the current social media based text, Twitter, and Instant Messaging. Even the cheapest free phones include basic lifestyle functionality, such as calendars, alarm clocks and cameras.
'Smartphones' perform increasingly sophisticated functions beyond just making calls, including built-in multimedia functions, GPS Navigation and connectivity into corporate networks.  The attachment to the BlackBerry series of Smartphones has grown so strong that a new term 'Crackberry' has been introduced into the lexicon due to its owners inability to be away from the device for extended periods.  The point here is our mobile phones are no longer just for conversations – they hold our lives inside of them; so we demand more from these devices.  This review will focus on the HTC Hero/Droid Eris Smartphones offered by Sprint and Verizon Wireless respectively.
Product Summary
---
The Good
Large screen and plenty of connectivity options
Android Apps market
Can be Rooted/Admin rights
3mm standard head phone jack
The Bad
Battery life pretty poor
Performance can be sluggish after prolonged use
Many apps seem to unnecessarily require network access
Does not come with holster or case
No SIM card slot for International usage
Made By
HTC Corporation
Cost
$79-$150 via carriers website
Warranty
1 year
Website
Sprint Hero
Verizon Droid Eris
Grade:






Design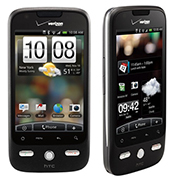 The Taiwanese HTC Corporation produces the Hero and Droid Eris for the wireless carriers Sprint and Verizon Wireless respectively.  The reason I'm reviewing these two phones together is because they are essentially the same phone – with only minor aesthetic and hardware differences.    Both devices have a huge 3.2 inch 320×480 TFT LCD Touchscreen and except for the volume rocker, screen off/on, trackball, Back and Menu buttons – control of all other functions are performed via that touchscreen.  Whether this is a good thing or not is a matter of personal taste – some folks just prefer a physical keyboard to type certain messages.  To aid in typing, the phone vibrates every time the onscreen keyboard is pressed to let you know the press registered.  This is a nice usability feature, but it drains the battery faster and causes lags between when the key is pressed and when you see the command/letter on the screen.
It's about time a phone manufacturer has listened to customers and stopped making phones that require special adapters to listen to the sounds from the phone.  Both devices include a standard 3.5mm headphone jack so you can use whatever headphones you already own – whether ear buds or full fledged noise canceling headsets.  Presumably to keep costs down, no carrying case or holster is included in the box; so you'll need to shell out another $15-$20 to get a decent pouch or holster.  You can certainly carry the device in your pocket or purse, but the huge screen is a magnet for scratches and smudges.  In terms of functionality, both devices contain the standard feature set included with every Google Android phone – including access to the Google Marketplace, built in music/video player and web browser.
Both devices run Google's Android Smartphone operating system, as well as, HTC's SenseUI customized interface.  Because the Android OS is open source, owners of either device can customize the entire phone (such as removing carrier specific apps) if they choose – but risk voiding the warranty provided by the carrier.  Customizing the OS requires special administrative access to the phone's operating system called "Root Access".  Rooting is not something the average user has the ability to do – but it is a must have for many super geeks.  Generally speaking, owners root their phones in order to upgrade the version of the Android OS that comes preloaded on the device (both come with Android 1.6 – the latest version is 2.1).  Upgrading the OS generally adds new features, fixes bugs and increases device performance.
Finally, each device has a standard mini-USB connector for charging and/or transferring data between your PC/Mac.  Standardization means if you ever lose the cable that came with the device, you can use an existing mini-USB cable you already own or borrow one from a friend; no need to spend money for a replacement proprietary connector (are you listening Nokia??).
Features
Here is a quick rundown of the Hero and Droid Eris major features:
3.2″ 320×480 TFT LCD Touchscreen
3G EVDO RevA connectivity
5 Megapixel camera with auto–focus and video capture
Up to 32GB microSD cards supported
GPS and Visual Voice Mail Enabled
Bluetooth® v2.0 + EDR and Wi-Fi 802.11 B/G
Up to 3.5 hours of usage or 2 days of standby time
All of these features and specifications sound good on paper, but they also have several practical applications.  At a minimum, it eliminates the need to carry multiple devices when traveling.  Why carry a separate GPS, MP3 Player or eBook Reader when the Hero/Droid Eris can perform all three of these functions?
For example, say you are on a business trip in Seattle and need to get to a client's site from the airport.  Simply turn on the GPS module in the Hero/Droid Eris and the included navigation software will give you turn-by-turn directions.  Say you will be flying to Houston for the weekend and needed to know the local weather and the best Thai Restaurant?  Both phones allow you to display a 3-Day forecast for almost any US city and several free apps from the Android market provide reviews and directions to restaurants by category.  If you are traveling overseas – the Hero/Droid Eris can serve as your MP3 player while in the air and assist as a language assistant, currency convertor and primary camera when you land.  Not trying to compare the Hero versus the iPhone or the Droid Eris versus the iPhone – but all of the features you see in the Apple commercials can easily be accomplished using either of these two devices.
Performance
In a sense, call quality and data performance is closely tied to the carrier's signal strength in the area in which you are using the device.  As this is not a review of the Sprint or Verizon networks – the performance section of this review assumes a strong signal while in the US and in Airplane Mode outside of the US.  This brings me to my first gripe about these devices – neither of them includes a SIM Card slot for International usage.  Since almost no country in the world uses Sprint/Verizon's CDMA network band/frequency, you'll have to pursue other options for using your phone while abroad.   For some unknown reason, many apps from the app store incorrectly require or assume that network access is available on the device at all times.  I've tried to use several apps from the app store while overseas and they either wouldn't start or work incorrectly while in Airplane Mode.
While both cameras include a 5mp camera, they do not include a flash – so pictures in dim or dark light are a waste of time.  Also, since the trackball serves as the snap picture button, its placement seems to make the camera to wiggle when pressed – causing somewhat blurry pictures.  Assuming you can hold the camera steady and have good lighting – the devices take excellent pictures.  The built-in GPS receiver locks on to a signal in less than 20 seconds if using in the same geographical location and less than 60 seconds if you have traveled greater than 100 miles from the location of its last use.  I found the Sprint Navtec Navigation software as easy to use and accurate as any stand-alone Garmin GPS model I've used.  Verizon does not offer its GPS service free as part of the device; however, the free Google Maps application is included as part of the Android OS.
I've found that the battery life on these devices is pretty poor – I cannot go a day without the battery becoming close to empty.  This is because even if you are not talking on the phone – it is always in 'use'.  When you associate a contact to their Facebook account, set it up to receive the latest Tweets or pull your email from your POP3/Gmail accounts – the phone must connect to the network throughout the day to receive this data.  Add in any Wi-Fi or web browsing on the device via the carrier's 3G network – and you can see why battery life is an issue.
The big screen is nice, but like I said above – it is a magnet for scratches and smudges.  Both devices can connect to corporate networks – but an onscreen keyboard somewhat impairs typing long email messages.  For some reason there's no way to automatically connect and poll Yahoo, AOL, or Hotmail email accounts on these devices – only Gmail, POP3 and Exchange Server are supported.  To view email from these other accounts, you'll need to use the embedded HTML browser.  Finally, the speed of the devices could be improved.  Too many open apps and or network connections will cause the responsiveness of the devices to slow considerably.
In Closing
The Hero/Droid Eris are beautiful looking phones which can eliminate carrying around a separate GPS, Camera and Music/Video player making traveling less of a burden.  The large screen is easy on the eyes and the access to the Android market provides thousands of free or cheap applications to add functionality to the phones.  Both devices include the full suite of connectivity options, including 3G & 1X data, Wi-Fi, Bluetooth, and GPS.  So long as you bring a mini-USB cable to charge the phone while on the plane or in your hotel room, the battery life issue should not be too much of a problem.  In the end, the HTC Hero/Droid Eris are technologically sound devices that can be an excellent addition to your travel arsenal.
Happy Travels!!
Related Articles You Might Be Interested In: