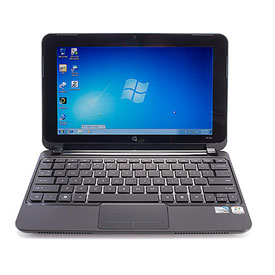 After my trip to Thailand, I'd come to two conclusions. First, checking bags takes way too much time to get in/out of baggage claim and is a hassle (if not more costly) going from city to city. Secondly, it became painfully obvious that lugging a full-sized laptop can be a painful experience. Size does matter – and bigger isn't necessarily better in this case. Not only does my 17 inch Toshiba laptop make it difficult to fit into smallish bags, such a large laptop tends to get rather heavy after a few hours of carrying. Furthermore, the more powerful the laptop, the less its battery will last; which is something you don't want on a 13 hour flight. Issues like these are what led to the birth of the "Netbook" class of portable computers.
Netbooks are significantly smaller, lighter and generally have much better battery life than their larger cousin the Laptop. The tradeoff for the increased portability is the lack of processing power. The difference between a good Netbook and a bad one is how well it balances the portability requirements with the need to have a computer that's fairly responsive. This review will focus on how well the HP Mini 210 series of Netbooks successfully manages these two seemingly contradictory requirements.
Product Summary
---
The Good
6-7 hour battery life
Four color options available
Windows 7 Starter
QuickWeb functionality
The Bad
Extremely poor keyboard layout
Heavy and oddly sized battery; makes the Mini feel like a small brick
Combo headset/ microphone jack is just about useless. Separate USB soundcard needed to Skype
Preloaded with a ton of Crapware
No way to turn off the extremely bright blue standby light
Made By
Hewlett-Packard
Cost
$250-$300 US street
Warranty
1 year parts & labor
Website
HP Mini Store
Grade:
Design
The premise computer manufacturers use is some customers are willing to trade the larger screen and faster processor of a Laptop for less weight and longer battery life generally found in a Netbook. All Netbooks have similar configurations; less than 3lbs., at least 2 USB ports, Wi-Fi B/G connectivity, VGA output, SD card reader, integrated Webcam and mini-qwerty keyboards. On the positive side, the HP Mini 210 comes in 4 colors (matte black, silver, blue and red) which isn't something you see very often in a line of Netbooks. HP also decided to use Windows 7 Starter instead of Windows XP Home as the operating system, something I consider a small plus. While it is true Windows XP runs much faster on 1gig of RAM than does Windows 7, the better battery management, much improved UI, Homegroup connectivity and the fact that Microsoft no longer supports XP are compelling reasons to use the latest OS.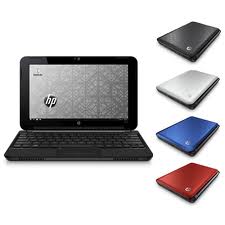 Unfortunately, all Netbooks are not created equally and that's about where the positives end for the HP Mini 210. Once you pick up the Netbook, it becomes pretty obvious how HP is attempting to achieve the claimed 8 hour battery life – I giant 6-cell battery literally hanging off the back of the Netbook. This very strange design makes for some rather difficult packing in your suitcase/pack. While the extra 2 inches on the back of the device is somewhat helpful when typing, it is so large and dense that it adds another 2-3 pounds to the Netbook. This extra weight means the HP Mini 210 fails at one of its supposed basic benefits – being lightweight.
The next of the poor design decisions is the mini-qwerty keyboard HP has decided to install on the Mini 210 series of Netbooks. Unlike other manufacturers, HP has decided to omit the Page-Up/Down, Home and End keys entirely – making it impossible to edit large Word documents without using the small track pad. In addition, primary function keys are reversed, so you have to press the special blue FN key to get a function key to work. Simple things like F1 (Help), F5 (Page Refresh), Alt+F4 (Close App), etc. are amazingly and unnecessarily difficult. You shouldn't need two hands to press a hot key.
Probably the most bizarre design decision is the combo Microphone/Headset jack HP implemented on the HP Mini 210. A combo jack forces the user to find a headset that combines the microphone jack and the headset jack into a single wire; which is fine except that they don't appear to exist – not even on HP's own site!! In order to use any program that requires you to talk and listen simultaneously (like Skype) you'll need to purchase a rather expensive USB headset or a USB soundcard. That's just dumb!
Features
HP's QuickWeb functionality is one of the few shining points on the HP Mini 210. The QuickWeb tool allows you to use the device almost instantaneously without waiting for Windows to boot. Though the claim is dubious that Windows Starter takes so long to load this type of program is even necessary, it is never the less a neat feature. Turning on the power to the HP Mini 210 displays the QuickWeb dashboard that lets you launch Skype, Pidgin (multi-platform IM client), configure Wi-Fi, use Firefox to browse the Internet, read your email, play your music and more all without booting to Windows. The interface is clean and easy to understand – but there are two drawbacks. The first is battery management isn't as good in QuickWeb mode as it is if you booted to Windows. The supposed time you saved not booting to Windows is squandered by decreased overall battery life. Secondly, QuickWeb is fairly slow. The interface runs on a small Linux kernel and is written in Flash – something not known for being speedy.
Intel Atom N455 single core processor
10.1 LCD screen with integrated Webcam/Microphone
160gb Hard Drive and combo SD card reader
Up to 8 hours battery life
Integrated Wi-Fi B/G adapter
HP Quickweb & QuickSync applications
HP's QuickSync application allows you to wirelessly sync files between two computers. While the other computer does not have to be made by HP, you can only sync two computers. If you want to sync more than two (like a Netbook, Laptop and Desktop), you'll need to purchase a full $60 license from HP. Kinda lame and frankly unnecessary – as all versions of Windows 7 include HomeGroup connectivity and the free Microsoft SyncToy can sync as many computers as you wish. If you need to sync Windows XP/Vista machines or you only need to sync two computers, HP QuickSync is a decent if not slow way to get the task done.
Performance
Like I said earlier, the tradeoff of using a smaller device with greater battery life is you lose processing power. The weak Intel Atom processors excel at limiting power consumption not achieving great processing power. As most new Netbooks come with the somewhat bloated Windows 7 and only 1gig of RAM, they are really intended for email, web surfing and light document editing. That said, HP has seemed to go out of its way to make this the slowest Netbook on the planet. The list of utter garbage pre-installed on this already limited Netbook borders on criminal. Playing video from both my Drift x170 (standard def) and my Liquid Image Scuba camera (HD) exhibited choppiness and dropped frames – especially the 720p video.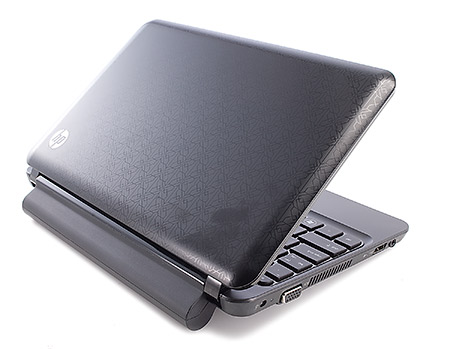 Although HP claims the Mini 210 will get over 8 hours of battery life on a charge – I was never able to get over 61/2 hours in my own tests. Much better than a standard laptop, but almost 20% less than advertised. Another annoying thing about the HP Mini 210′s configuration is the battery life meter only shows the percentage remaining while most other vendors display the percentage, as well as the time remaining in hours and minutes. Not a big deal, but it's somewhat annoying when you have to gues-timate how long in minutes "26% remaining" means.
I couldn't find any dual-combo jack in Microcenter, Frys, Best Buy, Brandsmart or online, so I settled on a mini-USB sound card adapter from Amazon for $8. That worked well but I shouldn't have to purchase an adapter to use the headset of a Netbook. The lack of page-up/down and home/end keys really made working with large word processing documents a pain in the ass. The integrated Webcam took pretty good video without excessive pixilation or dropped frames. Though Skype consistently claimed the Netbook was too slow to run the program, I found it worked just fine with minimal stuttering or out of sync conditions as long as a decent internet connection was used.
The last annoyance worth mentioning was the stupid blue standby light. I prefer to place my computer in Standby instead of turning it off as it allows me quicker access to my documents. HP decided to implement an extremely bright blue LED light that indicates the Netbook is in standby mode. This stupid flashing blue light is actually bright enough to light up an entire room; I literally had to place it under the hotel bed so it wouldn't keep me up all night. It was like sleeping in a discotheque.
Conclusion
Small and underpowered is something you have to deal with when working with Netbooks, but heavy and poorly designed goes against its very purpose. This has to be one of the most frustrating computers I've ever used – and I've used a few. The goofy combo mic/headset jack, terrible keyboard layout and overall weight are just a few of the reasons I cannot recommend the HP Mini 210 under most any circumstances. I eventually had enough with the unit and sold it to someone who thought "it looks sooooo cute" when they first laid eyes on it. Hope they never actually have to – you know – use it!!