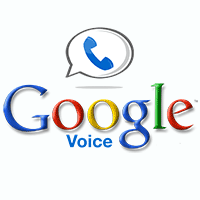 Ever changed your phone number had to spend an inordinate amount of time calling/emailing/texting everyone your new number?  Ever been out of the country and couldn't reach someone because they weren't logged into Skype?   Ever wished you didn't have to hang-up and call someone back just because you walked from your home/office to your car?  How long do you spend giving someone your home, office desk, work cell and personal cell phone numbers?  If any of these scenarios sound familiar to you then the Google Voice service may be the solution you never knew you needed.
Google Voice is a service that attempts to simplify your life by providing "One Number, Online Voicemail and Enhanced Phone Services".  Originally launched as GrandCentral, Google Voice provides you with a single number that rings all of your phones, e.g., office, cell and home simultaneously.  With Google Voice, there's no need to give out 4 different numbers or check 4 different voicemail systems – everything in managed in a single location.
Product Summary
---
The Good
Single number/voicemail for life. Can support up to 6 phones and VOIP Google Talk
Excellent call quality; can call/text with Google Voice number as caller id
Free US & Canada calling; cheap International service
Best in class Enhanced Calling Features
Native Android, iPhone & BlackBerry apps available
The Bad
Convoluted integration with Gmail & Google Chat
Some GrandCentral features don't exist in Google Voice
Voicemail transcription pretty poor
US users only; can't port existing numbers into Google Voice
Call Phone feature blocked outside of North America
Made By
Google (formerly GrandCentral)
Cost
Free
Warranty
NA
Website
Google Voice
Grade:






Design
The Google Voice signup process is relatively straight forward, though you must already have a Google account to get started.  Simply navigate to http://www.google.com/voice, enter a zip code to get a list of phone numbers to choose from, select a voicemail pin and enter up to 6 phones you want to ring.  The good thing about Google Voice is you can get a number based anywhere in the US; just because you don't live in Chicago doesn't mean you can't get a Chicago based local number.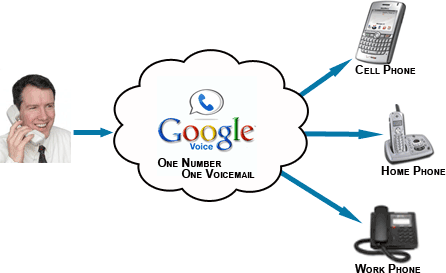 Receiving an inbound call is exceptionally simple.  When you answer one of the phones associated with Google Voice, the system states – "Call From <Name>" followed by prompts to "press 1 to answer", "2 to send to voicemail", "3 to screen the call" (listen in like your 1980s answering machine) or "4 to answer and record the call".  As soon as you answer one of the phones the others automatically stop ringing.
There are three options for making outbound calls.  The easiest way is to use a mobile phone that has the Google Voice app installed.  The Google Voice app, available for iPhone, Android and BlackBerry devices, essentially takes over the inbound/outbound calling services of your phone/carrier.  With the native app, all outbound text messages will show your Google Voice number and the voicemail key on your phone will go to Google Voice's voicemail instead of your mobile carrier's.  The second method is to go to the Google Voice website and place the call from there.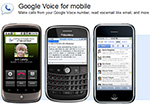 Google will call your phone and after you answer – connect you to the number you wish to dial.  This is the method you would use if you wanted to make the call from your home/work phone or from an unsupported mobile OS (like Palm, Windows mobile, etc.) and have your Google Voice number appear on the outbound caller id.  Finally, you can make a VOIP (Voice Over Internet Protocol – voice calls over the Internet in laymen's terms) calls directly from your computer to another person – whether mobile, landline or gChat.  Obviously, the computer you are using will need a microphone/speaker combo, as well as, a decent Internet connection.
Where it gets somewhat convoluted is trying to figure out which Google tool to use for communicating with others.  For example, if you log into Google Voice, you cannot call someone using your computer – you have to use Gmail to complete that process.  In Gmail, you cannot have Google ring your home phone to place a call – you must sign back into Google Voice.  But if you want to add Video to your voice call – gChat is the app you must use.  There definitely needs to be some tightening up of the UI for these services; it's simply unclear where one service ends and the other begins.
Features
Beyond the ability to have a single number ring into multiple phones, Google Voice also includes a few enhanced features to make communicating even easier.  Caller Groups allows you to designate your contacts into specific groups such as Personal, Business, Homies, etc.  Each group can have a unique greeting, e.g. the Business group would hear something entirely different than say – the Homies.  You can control what time of day the each of your phones rings, such as setting your work phone to only ring weekdays 9am-6pm.  Another cool feature is the ability to permanently block callers by sending them to a disconnected message (same one your local phone company uses when they take your line out of service).   The Conference Calling feature allows you to conference up to 4 people on a call by selecting the conference option during the call waiting process.  In addition, you can record any incoming call by pressing "4" at anytime (both parties are notified), as well as, transfer calls from one of your phones to the other by pressing "*".  Here are a few other more of Google Voice's enhanced features:
Forward voicemails in MP3 format to any email/mobile device
International calls for as low as 2 cent a minute
Automatically have voicemails transcribed and texted to your mobile phone
Make calls from anywhere in North America (Caribbean, Central America and Canada) to any phone in the US for free using VOIP
Temporarily transfer calls to any phone (like vacation rental) or use the "Do Not Disturb" setting to send all calls to voicemail.
Unfortunately, the enhanced feature set is not perfect.  A few features which were staples prior to Google acquiring GrandCentral are no longer included in Google Voice.  The top three missed features are Incoming Caller Ringtones (music the caller hears as they wait for you to answer); the ability to send all Private Numbers or Caller ID Unavailable calls directly to Voicemail and the mapping utility that showed the city/state the incoming caller id is registered to.  Hopefully, Google will see fit to add these features back into the product.   In addition, the Call Record and Call Transfer features only work on incoming calls; these features aren't available when you place outbound calls from your GV number.
Performance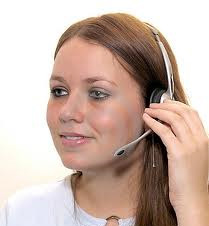 It doesn't matter how many features a calling service claims to offer, if you can't complete a call or the call quality is awful – the service is not worth the effort.  Luckily, Google Voice passes both tests with flying colors – so long as you meet some minimum requirements.  In short, the product is only as good as the platform it's attached to.  If you are using the native mobile app, call quality and connection is only as good as your mobile carrier's coverage in the area you are making the call.  Same thing applies if using Wi-Fi or a wired Internet connection; crappy connection equals crappy call quality.
Assuming you have a decent connection, call quality on both ends of the line is exceptional – no static, delays or hollowness.  In fact, call quality was slightly better than Skype in my informal tests.  This brings me to a few reasons I prefer Google Voice over Skype for making non-video calls.  First, Skype's installation and memory requirements tend to slow your computer down (especially most Netbooks) – which may be the cause of the deteriorated call quality in my tests.  Google Voice only requires your browser and a 500k plug-in to make VOIP calls.  Second, the person you want to talk to must be logged into Skype; Google Voice allows you to call their cell phone directly (at least from anywhere in North American – including Caribbean, Canada and Central America).
Most of the features work well, though there are a few misses.  The Voicemail transcription service is pretty poor – especially when it attempts to transcribe women/high pitched voices.  Here's an example of Google's transcription service results:
| | |
| --- | --- |
| Actual Voicemail | Yo, what's goin on man – Happy Birthday.  I just missed your call.  So hit me back when you get a chance. |
| Google's Transcription | Telephone number, happy birthday.  Hey, I just missed your call.  So and I think is that's where. |
As you can see, the transcription service is not nearly ready for primetime.  Another miss is not being able to transfer calls or record a conversation during outbound calls made from Google Voice (the two features only work with inbound calls).   Perhaps the biggest gap is the Blocked Call service – you can only block callers who's number is passed in the caller id.  In GrandCentral – you could set it so that anyone calling from a 'Private', 'Unavailable', 'Restricted', 'Unknown' or 'Anonymous' number could be sent to voicemail or given disconnected message.  In Google Voice, if a telemarketer, crazy ex, or bill collector decides to dial *67 when they call you – all of your phones will ring and you can't block them from calling you in the future.  That's just lame Google!!!
Summary
Google's goal is to provide you with a single number and an integrated mailbox to manage all of your mobile, landline and VOIP needs; and for the most part it succeeds.  Google Voice gives you the freedom to change mobile carriers and/or home phone numbers without having to distribute your new number to everyone you know.   
Excellent call quality, enhanced calling features, native Smartphone apps and free domestic calling to mobile and landline phones are just a few of the excellent features.  Throw in free international calling back to the US from anywhere in North America and you've got a worthy replacement for Skype.  While it's missing key features like caller ringtones, blocking private numbers and the ability to transfer/record outbound calls, the improvements Google has made in other areas of the service more than warrant giving Google Voice a try.
Related Articles You Might Be Interested In: