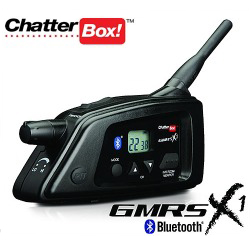 As you may have learned from my other product reviews, I like to get into physical activities when I travel.  I figure, I'm only going to be able to do most of these things for a few more years anyway – might as well create some memories I can tell the grandkids err young cutie pies when I'm doing my "old man in the club" routine.  Anyway, one of those things I enjoy is riding motorcycles – not the daredevil kind of riding, but not your Grandpa's 700lb cruiser riding either.  My "Crutch Rocket" as is sometimes referred to, lets me experience the highway in a manner not possible via any other means of transportation.  Add to the experience a passenger who will squeeze her arms and legs around you when you hit a curve – my goodness!  Seriously, is there anything better than a beautiful woman on the back of a sportsbike?
But I digress, the point here is many things in life are best done with others and riding a motorcycle is no exception.  One of the more difficult things to do while riding motorcycles in a group is talking to other riders.  It's not that much easier to talk to your passenger who is only 6 inches behind your head due to the noise from the engine/exhaust.  It gets a little old having to lift your helmet off of your head just to say – "turn left at the next light".  Wireless communications devices designed specifically for motorcycle riders solve this problem by providing a hands-free method of communication with other riders and your passenger.  This review will focus on one such system – the Chatterbox Helmet Communication System.
Product Summary
---
The Good
Talk to other bikers up to 5 mile range
Auto-activating microphone technology
Supports Full Faced and Open Helmet designs
Passengers can Talk and listen to music
X1 Bluetooth model can connect to Music, Phone & GPS devices
Water-Resistant design
The Bad
Ni-cad battery instead of Lithium ion
Kinda expensive, so not enough people have them
Passenger communication kit $80 extra
3rd iteration product still very large
Full-duplex a little iffy, often clip each other
Made By
Chatterbox Usa
Cost
X1 -$329
X1 with Bluetooth – $399
Warranty
1 year
Website
Chatterbox USA
Grade:






Design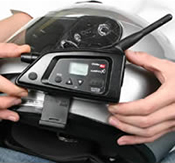 The Chatterbox is designed for either full faced or open faced motorcycle helmets.  The installation for either model is about the same – the unit is attached to the outside of the helmet, speakers are wrapped around the inside of the helmet under the padding and the microphone is placed on the front-side of the full-faced helmet or attached directly to the Chatterbox for the open-faced model (sorta boom mic style).  Once the Chatterbox is attached, it does not feel much heavier than without it – though it certainly 'looks' pretty bulky.  Still, the Chatterbox is definitely a head turner and a conversation starter.
Once the unit is installed on your helmet, the next step is to select one of the 22 channels you'd like to communicate with other riders.  Since you are communicating over radio signals, you cannot have a truly 'private' conversation with another rider; however, changing the default frequency and the fact that not everyone has the device provides some level of privacy (not that you generally trade spy secrets while riding a bike anyway).  If you prefer to randomly meet people as you ride, you can keep the default frequency setting.  Note: All riders have to be on the same frequency to communicate with each other.  Once the frequency is set, you'll need to 'tune' the device using the VOX Sensitively adjustment knob (also serves as On/Off switch).  In short, the higher you turn the dial, the more sensitive the microphone is in-terms of auto-activation.  This dial is useful because it prevents the microphone from activating automatically due to wind noise at higher speeds.
If you have the X1 Bluetooth model, you can link your cell phone, MP3 Player or motorcycle GPS; otherwise, you can connect a $3 mini-stereo cable from your MP3 player's headphone jack into the Chatterbox's audio input jack.  If you attach the optional $80 passenger kit, your passenger will be able to talk and/or listen to music during the ride.
The Chatterbox is also water-resistant – which comes in handy during any unforeseen rain showers.  There is a large LCD display which shows battery strength, current channel, the mode and more.   Finally, though this must seem obvious – the Chatterbox requires a helmet!  You nuts rolling without a lid in Florida (or any non helmet law state) will need to actually put on a DOT helmet to participate in this goodness.
Features
Here are some of the noteworthy features of the Chatterbox Helmet system:
22 channel hi-fi noise reducing headset with coverage up to 5 miles
Automatic voice activation and manual push to talk modes
Bluetooth wireless connection (X1 Bluetooth model)
Supports Full Faced and Open Helmet designs
Supports passenger communication via optional kit
Water resistant design
That fact that the microphone system is auto-activating is absolutely imperative – the last thing you want to be doing on a motorcycle is fumbling around with buttons or knobs.  Simply speak into the microphone and the system automatically activates – muting any music coming from the AUX/Bluetooth.  I've ridden with a number of female friends who have either never been on the back of a sportsbike or were apprehensive about the riding on one.  In every case, being able to comfort and talk them through what is happening on the bike make it a safer and more enjoyable experience for everyone involved.  The Chatterbox also includes a wired handlebar voice activation contraction that allows you to manually turn off/on the microphone system.
The X1 Bluetooth model adds wireless connectivity which lets you connect your cell phone, MP3 player or motorcycle navigation system.  Not so sure talking on your cell phone is the wisest thing to do while riding a motorcycle, but one less wire for your MP3 player while riding is a good thing.  Note that there isn't Bluetooth connectivity to your passenger – they will still need to be connected via the wired $80 passenger kit.
Performance
One of the selling points of the Chatterbox is the ability to communicate up to 5 miles with another rider.  While I will admit I haven't tested the 5 mile claim, I have tested the product in the 3-5 block range while moving and without line-of-sight.  Under these conditions, the Chatterbox worked flawlessly – no interference, dropping of connection or static (though wind-noise from the other person's microphone is possible).
This brings me to one of the items that require a bit of practice to get right – the VOX dial and controlling auto-activation.  Since the microphone is noise activated, excessive wind noise coming through your helmet can activate the microphone and cause very loud whooshing sounds in your ears.  The stronger the wind noise, the more you'll need to decrease the microphone's sensitivity using the VOX dial.  In the beginning, it can be tedious to continually turn the VOX dial up/down while you are riding; but as you become used to the device and what it takes to activate it using your own voice – you'll settle on a setting that doesn't need to be changed beyond extreme conditions.  One other thing in terms of voice activation; I've noticed the microphone does not always work well with female voices, particularly those with squeaky or soft voices.
Although the device is full-duplex, there can be some clipping when speaking to other riders or even your passenger.  Although unlikely, a few times I've ridden past a supermarket and heard "cleanup on aisle 7" or similar blasting through my helmet (many commercial PA systems use the frequency your Chatterbox may be tuned to).  This really isn't an issue since it happens fairly infrequently and only lasts for as long as it takes you to speed past the store.  I've also gotten caught in the rain on several occasions and didn't have a single problem with the unit because it is water-resistant.
The Chatterbox comes with a Ni-MH battery, though I'd prefer the increased battery life of a Lithium-ion battery due to the strain talking/music/Bluetooth has on the system. Using Bluetooth to listen to music definitely drains the battery faster than using a wired mini-stereo jack.  The only other complaint I have is not enough riders have a Chatterbox – so you'll rarely get to talk to anyone other than your own crew or passenger.  This may or may not be an issue and it's certainly not the fault of Chatterbox (though the unit is quite expensive).  Again, being able to talk to your passenger while riding is a worthwhile feature all by itself.
In Closing
Aesthetics aside – the product works as advertised.  While it may take some time to dial into the correct auto-activation setting, once you get it down the unit is pretty much no maintenance.  While the lack of a Lithium-ion battery, the size and the steep price can be a little off-putting, what you get in return makes up for it in my opinion.  I can listen to music or talk on my cell phone (not that I'd want to) while riding solo.  The fact that I can communicate with my passenger – who can also hear the music is even better.  Talking to my buddies while riding with the Chatterbox eliminates the need to remove my lid making us all safer and more productive riders.  Oh – and it's just damn cool!!!
Note – The manufacturer makes smaller versions of the Chatterbox systems pictured in this review; however those models lack the LCD display, a few features and range of communication.
Related Articles You Might Be Interested In: