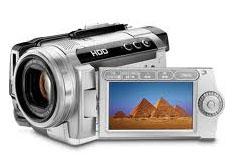 I like gadgets – pure and simple.  Stereos with all the features, remote controls that speak to me, helmet cams with wrist controls, scuba masks with built in video cameras, tricked out cell phones, Netbooks and eReaders are just a few of the long list of gadgets I like playing with.  So it's a surprise when folks see me out and about doing my 'travlin thing' that I'm not using the latest and greatest video camera to document my adventures.  My current Canon zr930 is a standard definition camera that uses MiniDV tape.  That's right – tape, the must go to the store and purchase a tape for every hour you want to record tape.  While constantly buying tapes, carrying them around and swapping them out during the trip is a hassle, my trusty zr930 produces excellent video quality and is a breeze to edit.  I wanted to see whether the convenience and better recording quality of the Canon's HG10 HDV camcorder is enough to make me ditch something that has worked well for me in the past.
Product Summary
---
The Good
Over 5 hours worth of video storage on best quality setting
Hard drive based recording – no more Mini-DV tapes
Works with legacy Canon accessories, e.g, batteries, straps, etc.
One of few remaining consumer camcorders with a viewfinder
The Bad
Not truly 1080i – actual video stored to disk as 1440 x 1080. Some choppiness in quick pans/action footage
Cannot record in any standard definition
Only 10x optical zoom
Hard drive makes the unit heavy, as well as kills the battery in under an hour
Made By
Canon USA, Inc.
Cost
$350-$500 US street
Warranty
1 year parts & labor
Website
Canon HG10 Store
Grade:






Design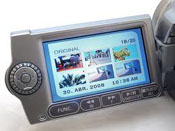 This was actually one of Canon's first High-Definition camcorders available in the US and I believe the first based on hard drive technology.  You might be asking yourself why am I reviewing a 3 year old camera and the answer would be I got it off of overstock.com for $300 instead of the $1,200 list price.  More importantly, this review will touch on some of the pros/cons of hard drive based camcorders that may be helpful with any upcoming camcorder purchase.  The first thing that drew me to the HG10 was it had a color viewfinder – something that's nearly extinct in Consumer camcorders these days.  Using the color viewfinder instead of the pull out LCD screen saves battery life – sometimes up to 20%.  Unfortunately, the weirdly shaped viewfinder eye socket prevents my eye from getting close enough to the viewing pane to see images properly.
The big selling point of this camera is it is a "Full-HD" camcorder – a term that means absolutely nothing.  The HG10 has a 1080i sensor – meaning the lens can capture 1920×1080 pixels at 30 frames per second.  Unfortunately, HG10 doesn't actually record the footage in 1080i; in fact it only records to 1440×1080.  This is something to keep in mind if you intend on producing HD video (whether online or Blu-ray discs) as your editing program will need to correctly stretch the footage to mimic a true 1080i display.
The second selling point of the HG10 is 40gb hard-drive that stores recorded AVCHD formatted video in one of 4 quality/compression settings on the right.

| | | |
| --- | --- | --- |
| Mode | Bitrate | Recording Time |
| HXP | 15mbps | 5hrs 30min |
| XP | 9mbps | 9hrs 30min |
| SP | 7mbps | 11hrs 30min |
| LP | 5mbps | 15hrs |
While eliminating the need to swap tapes is definitely a good thing, there are a few cons to the HG10's hard drive.  First, although the HG10 is not large it feels like a small brick in your hand due to the extra weight of the hard-drive.  Also, if you damage the HG10 in some way, all X hours of your footage may be lost forever.  With tape based cameras, the most you can lose is the video recorded on that single tape.  The HG10 does have an auto-drop sensor which disengages the hard drive from the unit when its sensors detect a fall.  This means you might damage the case but you won't lose your video.  Lastly, if you run out of tape during your trip, you just put in another one; whereas running out of hard drive space necessitates deleting or copying files to your computer.
The HG10 comes with a USB cable for transferring video to your computer, composite video cable for connecting to a TV and a remote control.   Note that the AC adapter must be used when transferring video to a computer making it impractical to transfer video to a friend's laptop when out and about.
Features
The HG10 includes all of the connections you'd expect to find in a high-end consumer camcorder including composite video connectors, headset/microphone jacks and a Mini HDMI port (cable not included) that allows you to connect it directly to any HD television.  Each recorded scene (a scene is every time you start and stop recording) is saved as a separate two-channel stereo AVCHD *.mts formatted file.  This means I no longer had to have my video editing software determine where one scene stops and the next one begins.  In addition, transferring video from tape takes as long as the source video; 1 hour's worth of tape takes 1 hour to transfer to the computer.  Since every scene is already its own file, coping video from the HG10 is as easy as dragging the .mts files over to your computer – about 10x faster.  mts files can be played by default in Windows Media Player 12 and can be edited by just about every current HD video editing program.  Finally, YouTube now supports directly uploading HD videos in .mts format eliminating the need to resize/convert the video prior to uploading – a real time saver.  Managing recorded scenes is also much simpler with a hard drive based camera than tape since you can jump back to watch yesterdays video in seconds – while you need to swap and 'rewind' the tape based cameras.  The HG10 also allows you to easily delete individual clips, an entire day or the entire hard drive should you begin to run out of space.
1080i HD AVCHD Format
40GB drive stores over 5 hours of footage at highest setting
Optical image Stabilization and 10x Zoom
24p Cinema Mode
2.7″ Multi-Angle Widescreen LCD
The HG10 can also take still pictures like a regular camera by pressing the Photo button.  The 2.9 megapixel still pictures are stored on the included 40gb hard drive or on a separate MiniSD card. In terms of quality, they are in line with the video taken by the HG10 – but well below what even the cheapest dedicated camera can produce.  My preference is to use my video editing software to extract still frames from the video because it allows me to carry one less item and I have a better chance catching that 'right' moment if the camera is always rolling (how many pictures of closed eyes have you taken???).   Rounding out the HG10's feature set is a hot accessory shoe, meaning it will power most external accessories such as a larger flash or a dedicated microphone.  The accessory shoe cover is not permanently attached, so there is a distinct possibility of losing it during normal use.
Performance
The first thing you notice when you turn on the HG10 is how long it takes to 'boot', e.g., get ready to record.  It takes about 5 seconds after you hit the Power On switch to begin recording; which may not seem like a long time but when you are on safari and a Zebra jumps out of nowhere, 5 seconds is all it takes for it to scamper out of frame.  Even more maddening is if you push the record button before it's ready, you'll get an error message for 2 seconds and have to wait another 3-4 seconds to begin shooting.  The point here is this camera is not good for quick or unplanned shooting if isn't already turned on.  This brings me to my second gripe about the HG10 – the poor battery life.  The HG10 is a battery sucking fiend.  The hard drive requires more power than with a tape based system so the battery only lasts for about an hour (the same battery lasted 1hr 45min in my old camera). What good will being able to record 5 ½ hours worth of footage if the battery only last 60 minutes?  The HG10's standby mode allows you to somewhat save the battery life while also being able to record in less than a second.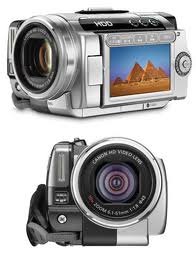 In terms of video quality, the HG10 produces awfully good results if your subject isn't moving.  The colors and contrast are great for scenes where the camera is relatively still; however quickly panning can display a good deal of choppiness (likely due to the AVCHD format's compression)  For that reason only the top two quality settings are worth using; the bottom two are basically unwatchable.  In addition, the 24p film mode produces extremely choppy video so I can't recommend its usage either.  Say what you want, recording to tape can give superior performance over hard drive/flash based recorders because the content is not as compressed.  The resulting video is also easier to edit once you get it on your computer.  On my 64-bit Windows 7 machine with an Intel i7 processor and 6gigs of ram, I often experience periods of slowness while editing and rendering the AVCHD video.  How painful an experience you have will greatly depend on your editing software (whether it supports shadow files) and the speed of your computer.
Another area of annoyance was the HG10 optical zoom.  My old zr930 camera had a 25x optical zoom while the HG10 only has a 10x zoom.  This lack of zoom really impacted me during my African safari where animals were sometimes over 100 yards away.  The HG10's 10x optical zoom just couldn't get close enough to make out any detail or properly get the animal in frame.  Having to turn on the HG10's 40x digital zoom meant the video wasn't as sharp while zoomed in and the optical stabilization turns off in while in digital zoom – making the video extremely wobbly.  Finally, most hard-drive based camcorders will not work in high elevations (8,000ft and up) and the HG10 is no exception.
Conclusion
The HG10 is very much a 1st generation product, hard drive recorders have gotten smaller and lighter since the HG10 was introduced in 2008.  The real benefit to me is the ability to spend an entire vacation filming without having to worry abound swapping tapes. I got tired of going to the store to stock up on $15 packages of DV tapes, carrying them around and swapping them in and out during my trips.  Yes, the HG10 usually takes better video than my old Canon zr930, but much of the detail is lost when the video is down converted for the web so this is a non-issue.  Since I'm not creating HD discs, the fake 1080i formatting issue isn't that much of an issue for me – but is something you should be aware of if you will be producing high definition content.  The fact that I can use the same accessories from my old zr930 camera also makes the switch a win for me.  That said, the Canon HG10 is really just an okay camera, it works for based on how I use it. Your mileage may vary.
Related Articles You Might Be Interested In: