Watersports, fresh seafood and some of the best partying around – Panama City is no longer the "Red-Neck Riviera"!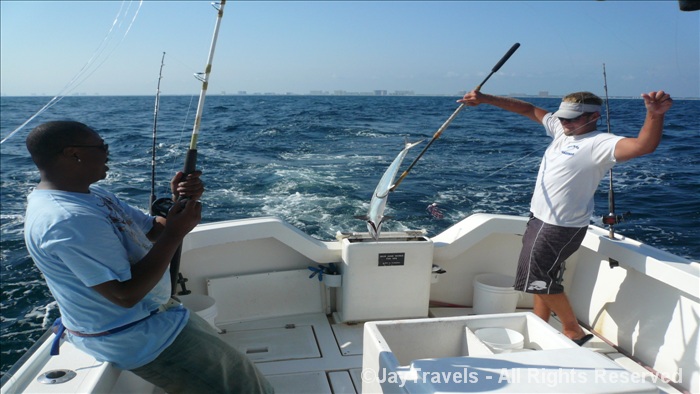 Destination at a Glance

Date of Trip
June 2009
Destination Good for
Watersports, Partying, Eating (seafood)
Best Time to Go

Anytime – though Summers are Hot/Hurricane season
Currency/Conv. Rate
NA
Good Way to Get Around
Own Car: Yes
Public: No
Taxi: No
Walking: Yes
Appox. Trip Cost
Moderate to Expensive
Speaks English?
NA
Entry Requirements
NA
Do it

PADI Discover Scuba
Fresh Seafood
Dolphin Jet Ski Tour
The Beach

Skip it

Traffic
Pineapple Willy's Ribs

Didn't get to do
Shipwreck Water Park
Would I Recommend
Yes
Overall Trip Rating
Trip Review
What used to be called the "Red Neck Riviera", Panama City has transformed into a serious beach getaway in less than a decade.  The 'strip' used to be lined with shady rundown Waffle-House looking restaurants; these days – you'll be hard pressed to find any restaurant on the strip – just miles of condos and hotels.
Panama City is located on what is called Florida's panhandle – or Northwest corner of the state in the Gulf of Mexico.  Though it has a growing airport, it's not the most efficient method of getting there if you live beyond the neighboring Southern states (few airlines offer direct flights from locations outside of the Southeast).  Even within the Southeast region, flights into Panama City can be quite expensive.  Luckily, Panama City is less than a six hour drive from a number of southern destinations, including New Orleans, Atlanta and Birmingham.
Panama City is similar to Miami in that they are almost always confused with their neighboring cities – Panama City Beach and Miami Beach respectively.  When you hear people talk about what a great time they had in "Miami" – 99% of the time they are really talking about "Miami Beach" – a completely separate city across a water channel.  There is actually very little to do (for a tourist at least) in Miami.  This is the same for Panama City.  For the remainder of this review – assume I really mean Panama City Beach.
Big Time Water Sports
Panama City has an abundance of two things – beaches and water related activities.  There are several water related activities to get into, including:
…Continued
Food
Located on the Gulf of Mexico, Panama City has a good deal of fresh local seafood available on a daily basis.  While there are certainly a few below average buffet establishments, Captain Andersons, Pompanos and Bayou on the Beach are real standouts serving local seafood.  Bayou on the Beach even cleaned and cooked my fresh King Mackerel catch from my Deep Sea Fishing expedition.  One place to skip is Pineapple Willies – at least for the ribs.  This is the worst overpriced, oven baked, itty-bitty container having junk I've ever tasted.  Nice location on the beach and plenty of people in swim suits – but the food is no better than the standard Applebee's fair.
A Little More About Panama City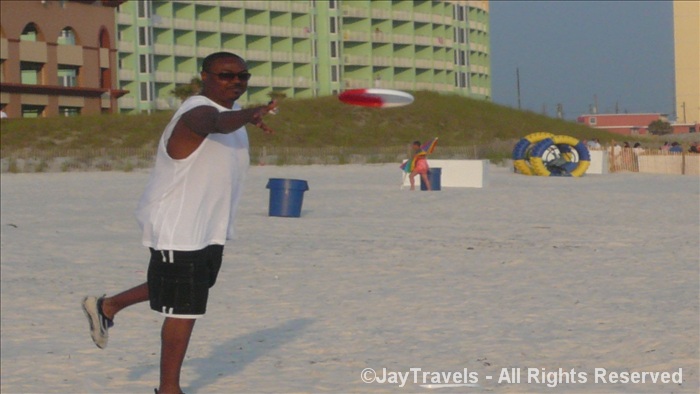 While there are miles and miles of beaches, the ability to actually see the water is becoming increasingly difficult.  The byproduct of growing from an old hick town to a truly worthwhile destination is the increase in condos/hotels directly on the beachfront.  While this is nice if you need a place to stay, it's not so nice if you aren't staying in one the beachfront properties.  Each property on the beach can designate the sand directly in front of their property as private: translation – you need to pay to get a chair, use the volleyball net, etc.  There are public sections of the beach; however they just aren't the most conveniently located.
Speaking of places to stay, there aren't many 'name brand' hotel chains on the beach.  While they is a Holiday Inn, Marriott and Hilton in the area – only the Holiday Inn is actually on the beachfront.  Most of the 'hotels' aren't actually hotels – they are really condos renting the units until they can actually sell all of the units in the building.  This isn't necessarily a negative – as condo units tend to be better furnished and often have kitchens/kitchenettes.
Another thing to keep in mind with Panama City is the traffic.  In a word – it's Awful!!!  The street infrastructure – particularly in the beachfront area – has not kept up with the amazing growth of the area.  Front Beach Road (or the 'strip') runs along the beachfront and is the primary access route to most hotels.  Problem is Front Beach Rd. is only a single lane in each direction.  This means any accident or delay (such as a carload of guys/girls yelling at a carload of guys/girls in the opposite lane) just kills traffic.  It used to be traffic was only bad in the evenings when the partying started – now it's all day every day.  Expect frequent 3-5 mph trips down this street.  If you need to get from one side of the strip to the other, try Hutchinson or US98 instead.
One of the reasons traffic is getting exponentially worse is the new Pier Park mall on the far East end of the strip. This huge mall takes up at least a couple square miles and includes an outdoor amusement park and several outdoor restaurants/businesses.  It's a great place to hang out, but since one of the entrances is on Front Beach Rd, traffic jams getting in/out of the mall affects the entire strip.  Use the north entrance to the mall on US98.
Finally, I've never been to an environment that had so many bathing suit stores.  There are at least 100 bathing suit stores in Panama City – with at least 20 or so being the $9.99 or less variety.  Another thing to be aware of is really, I mean really gets crowded during the Spring Break (March) and during the annual Thunder Beach bike rally (March-April).  It will be very crowded, hotels will charge 30% extra and it will be very loud.  You have been warned.
Non-Water Related Fun
You may not know this, but Panama City claims to have the largest club in the country – Club La Vela.  This large venue is situated right on the sandy beach and has 10 separate rooms each with a different theme, e.g., Rock-n-Roll, Hip-Hop, Top-40, etc.  This is where many of the MTV Spring Break festivities are held.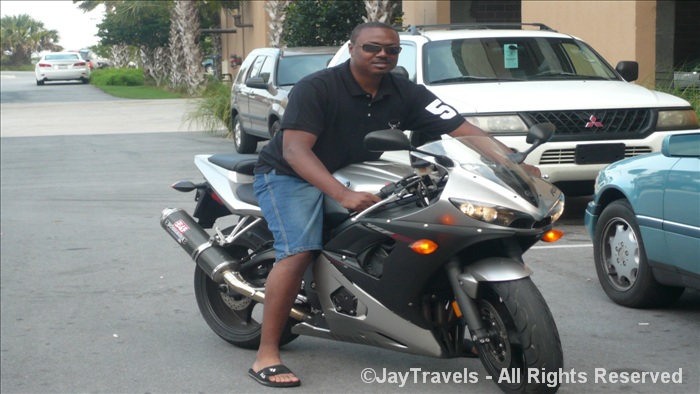 In the old days, you could trailer down your motorcycle and enjoy the sun as you jumped from spot to spot.  With no helmet laws in Florida, you could jump right out of the water and onto your bike for a cool ride.  With the traffic these days – riding a motorcycle is a complete waste of time – at least on the strip.  On the off chance there isn't traffic on the strip or you are going inland, there are several scooter rental outfits if you don't have your own bike.
Finally, there used to be there was a carnival smack dab in the middle of the strip – complete with bungee jumping and a Ferris wheel.  Most of these activities have been moved to the Pier Park mall.
In Closing
Panama City has come a long way in a very short time.  While Miami may be a better place to 'watch' the people, cars and mansions – Panama City is where you actually 'do' something – specifically if it's water related.  In addition, the beach itself isn't as nasty as those in Miami tend to get.  The new Pier Place mall and the million dollar condos along the strip has really transformed this quiet little hick town into a very appealing beach getaway.  Just watch out for the traffic!
Happy Travels!!