Bourbon Street, Skydiving, Airboating with the Gators, Voodoo and the most wonderful Food.  Doesn't get much better than that!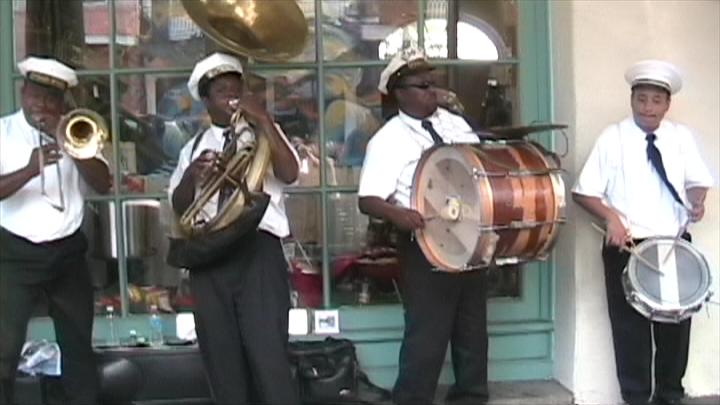 Destination at a Glance

Date of Trip
May 2007
Destination Good for
Party, History & Culture, Food
Best Time to Go

Fall & Winter – extremely humid in summer
Currency/Conv. Rate
US Dollar / NA
Good Way to Get Around
Rent Car: Yes
Public: No
Taxi: Yes
Walking: Yes
Appox. Trip Cost
Cheap to Moderate
Speaks English?
Everyone
Entry Requirements
NA
Do it

Airboat/Gator Tour
Authentic Cajun/Creole Food

Skip it

Bourbon Street before 11am

Didn't get to do
Tabbaso Factory Tour
Would I Recommend
Absolutely
Overall Trip Rating
Trip Review
Ahhh the "Big Easy" – the land of hot music, lovely women, corruption, swamp land and last but not least – exceptional food.  Altogether they make a pot of Gumbo as diverse as the population itself.  New Orleans is a city unlike most others in the United States – full of contradictions; Big Oil all around – but very little visible suit & tie crown; famous for all night partying – with a community that is very religious; known for great Jazz & Blues – but strip clubs out number them almost 2-1; well deserved reputation for friendliness as many Southern states enjoy – with a ticking time-bomb of social and financial inequalities just beneath the surface.
Nothing is black and white in New Orleans – but it is always interesting.  My time spent extended beyond the city and into Cajun country.
Bourbon Street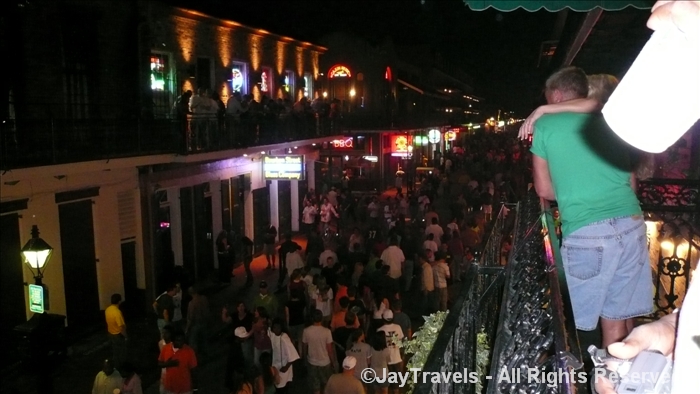 I guess no visit to New Orleans would be any good without spending a little time in the famous Bourbon Street.  About a 4 block stretch in downtown, Bourbon Street has a number of restaurants, clubs (both music and exotic), and street performers.  During holidays or special events (especially Mardi Gras) – thousands of people descend on this little stretch of the city to enjoy everything New Orleans has to offer.  With fairly lax public drinking laws (at least in this area), partiers can move from one establishment to the next.  If large crowds and/or public drunkenness are not your thing – you'd probably be best served with visiting the Bourbon Street during the day.
On the other hand, if drinking and acting/watching people act silly is your thing – you're gonna be in hog heaven.  Not surprisingly, the area skews towards the 18-25 demographic – which isn't to say you can't have fun – you just need to understand what you are signing up for.
In terms of actual things to do on Bourbon Street, the options are pretty diverse.  So long as you get there before 10pm, there are a few full service restaurants on the strip.  These places are ok, but as most of their clientele are tourists, the food isn't what I'd call "authentic" New Orleans.   Other options on the strip are at least 15 different strip clubs – including Larry Flint's Hustlers.  If strip clubs aren't your thing, you can visit the numerous dance or music clubs that play everything from live Jazz, Blues, Rock & Roll, and Rap to a regular DJ based dance clubs.  Finally, there is somewhere to get a drink if you walk 15 steps in any direction – whether restaurant, bar or kiosk looking liquor stands.
People watching on Bourbon Street is almost as old as the street itself.  There's little chance you can spend an hour during the evening and not have at least one visual image burned into your brain (I'll let your imagination take it from here).  One of the more unique ways of people watching is renting a balcony above the string for a couple hundred dollars for 3-4 hours.  (Suckers!!).
Finally, I'd suggest visiting Bourbon Street at least once during the afternoon.  For one, you'll get a better perspective of the surrounding areas and it is likely to be less crowded.  Warning – try to go after 11am – New Orleans is below sea level and surrounded by the Mississippi River and Lake Pontchartrain.  These two facts – along with the extremely hot and humid weather – just cooks the garbage, vomit, urine and everything else from last night's 'party' that was left in the street.  The smell is just flat out AWFUL.  11am is when the city's cleaning crew finishes removing the trash and water jetting the streets/sidewalks.  You've been warned.
Airboating with the Gators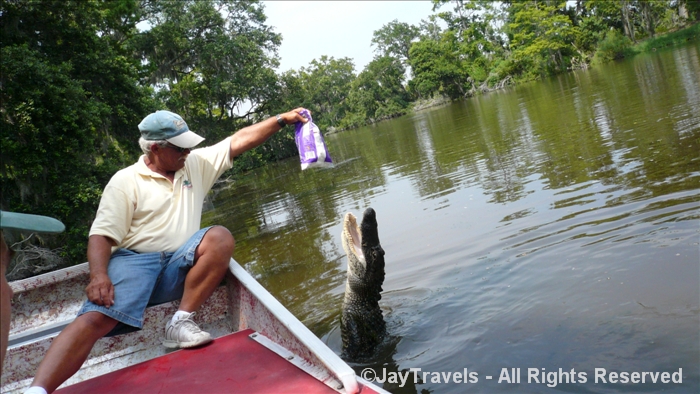 Now that I've gotten the touristy Bourbon Street out of the way, it was time to see the rest of what New Orleans has to offer.  First on my list was to get out to the Bayou and maybe see a gator or two.  Best way to do both is to go on an Airboat.  An Airboat is a flat bottom boat – about 10-15 ft long that is powered by a large fan on the back.  It essentially skips across the top of the water as opposed to moving through the water like a normal boat.  This has two advantages; first – it allows you to navigate into water that is very shallow (parts of the Bayou are only a foot deep!) and second – doesn't disturb the underwater habitats of local animal life.  Oh yea – they are really cool to ride!
So off we go on a high-speed run through Bayou country and we pull up on Bill the Alligator (name has been changed to protect the innocent).  Apparently – Bill likes marshmallows – who knew?  Throughout this trip we ran into a couple of gators, fed a few and even held a baby gator (awwwww).
A few useless facts about Gators:
Alligators are found in Fresh Water – Crocodiles are in Salt Water
Alligator meat tastes just like Pork Chops
Alligator's brains are not big enough to train, so they cannot be pets.  They will eat their owners if they get hungry enough.
…Continued
Skydiving
I can honestly say there are few experiences on this planet that give you the feeling of Skydiving.  While I'd actually gone skydiving in Atlanta back in 2002, I was still a little nervous about jumping out of a perfectly good airplane.  The reason I initially went skydiving was to get over my fear of heights.  Turns out I was never scared of heights – I was scared of falling. Why not put this theory to the test again?
Anyway, I hop in the car and head 20min outside of New Orleans to Skydive N'Aawlins.  These folks provide tandem sky jumps – e.g., you are attached to an instructor during the jump.  The process was pretty straight forward – sign your life away, decide whether you want them to film you during the dive, pay your $180 and off you go to the plane.
Since you are flying in a propeller airplane as opposed to a jet – it takes a good 15-20 minutes for you to circle around until you reach your 10,000ft planned altitude.  This gives you more time to think about what you are doing and ask yourself – "why the F am I doing this???"  Depending on how scared the instructors perceive you to be (the more scared you look, the less they will mess with you), they may crack; "wait, did I sew that hole in this chute or the other one" or "it's okay to be scared – it's my first time too".  Nice.
The worst part of Skydiving is when the door is first opened once you reach 10,000ft.  WTF!!  No matter if it's 95 degrees outside on the ground – it's like 60 degrees at 10,000ft.   In the winter, 60 degrees is shorts weather – in the dead of New Orleans summer – it's F'in freezing!  Add to this your brain starts to realize that you are so far up you can't even distinguish cars from buildings – and there's nothing between you and hitting the top of said building but some nylon and rubber bands – well, it tends to be a little unsettling.  I got over it over and jumped!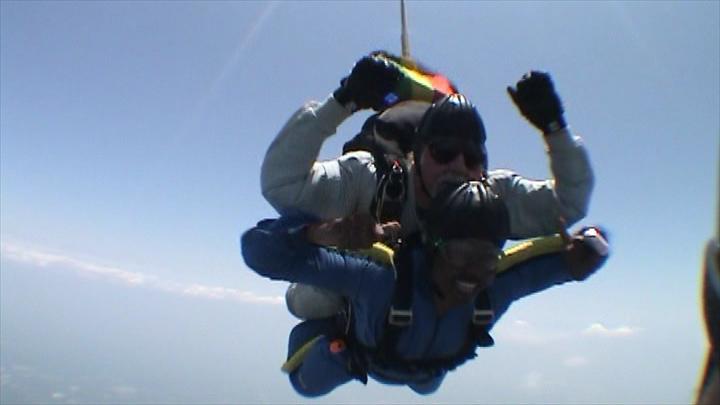 Here's the best part of skydiving – floating.  The terminal velocity of most humans is about 120mph – and we are going about 105mph.   The difference is depth perception. When you drive 105mph on the expressway – you are passing objects, such as other cars, trees, road signs, etc.  This helps your brain understand relative speed without looking at the speedometer.  In the sky – you aren't a passing anything – so your brain can't register the actual speed.  This has a sensation of floating – not falling as you would experience in a roller coaster or bungee jumping.  It literally feels like you aren't moving – a feeling of weightlessness.  Only bad thing is that it's over pretty fast – but hey, you could always jump again!
Voodoo Museum & Game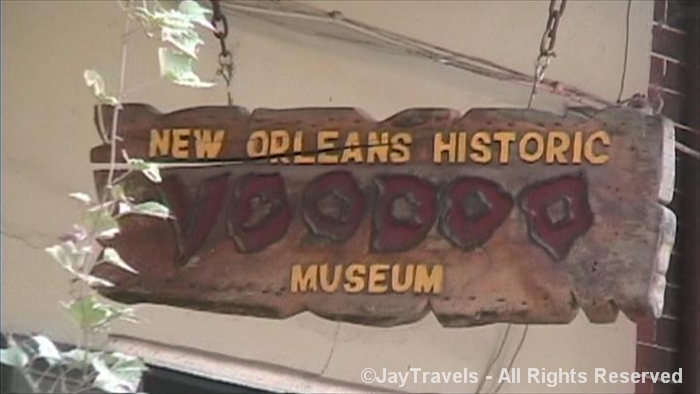 The term "Voodoo" conjures extreme thoughts for those whose knowledge is limited to popular culture – which typically portrays it as some sort of black magic.  I figured I take a tour of the official Voodoo museum in the French Market area to get a better idea about this mystical following.  It would be nice if after my visit I could have shed some light on the subject, unfortunately that wasn't the case.  Frankly, I really didn't learn a lot after visiting the museum.  That isn't to say it wasn't an enjoyable experience – there were plenty of interesting artifacts in the somewhat smallish facility – just nothing that gave me a greater insight into the religion.
The other "Voodoo" in New Orleans is the Arena Football League team.  If you've never been to an AFL game – you are really missing the action.  While these high scoring games look exciting on TV – they are twice as intense in person because you have the sounds (hard hits) to go along with it.  On the particular day I went, the Voodoo didn't do too well – but I didn't care after watching a 45-36 game.  Note: The Arena Football League has shut down as of the summer of 2009.
Food
I could write a seven page article about food in New Orleans.  Seems like no matter how long you visit, you never get to go everywhere you'd planned.  While the quality of food in this region has earned its well deserved reputation, I was a little surprised there were relatively few places to eat 'real food' during the late hours.  When 'Krystals' is the only thing open at 1am on Bourbon Street – there is seriously a problem. (Insiders know there are a few decent places nearby – but the fact you need to be "in the know" is a problem itself).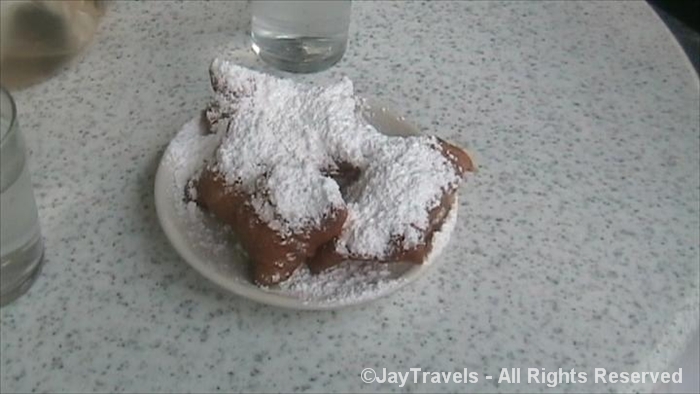 In general, food on Bourbon Street is either of the fast food variety or just barely authentic (translation – nasty).  That said, there are two places on or near the strip I would recommend.  The first is Landry's Seafood in the French Market.  The second – and the best Cajun food I've had in a restaurant – is Mulates in downtown New Orleans.  Neither is far from the French Quarter – so do yourself a favor and get some real food.
Finally, a short walk to the French Market (Decatur street) will take care of your sweet tooth with some Beignets from the world famous Café du Monde.
Seaplane
For those of you old enough to remember Fantasy Island – I had me a "Da Plane, Da Plane" moment.  In my quest to find something new and different to do each vacation, I figured – why not take a Seaplane adventure.  A Seaplane is an airplane that can take off and land from a regular runway or a stretch of water.  Southern Seaplane is about a 20min drive outside of New Orleans that will take you on a 30-40 minute tours across the region – even landing in the Louisiana Bayou.  What was really interesting was the ability to see the post-Katrina landscape from a different perspective than you can at street level.  All in all, a pretty decent experience
Cemeteries & Post-Katrina Neighborhoods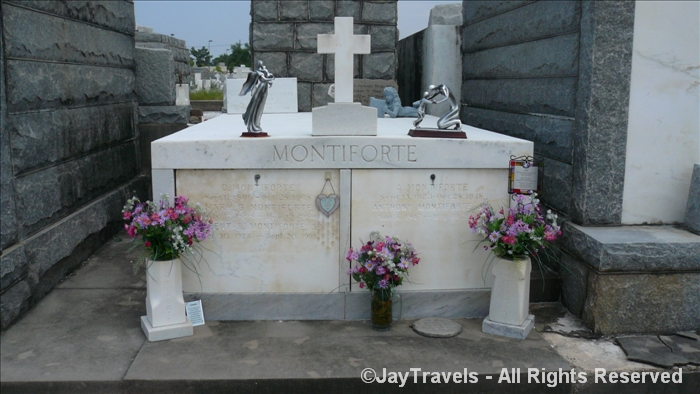 Ordinarily, I would never suggest someone visit a cemetery during a vacation.  What makes New Orleans a little different is the method in which the departed are buried and the unique demonstration of a Louisiana funeral.  Because New Orleans is below sea level, burying the dead 6ft below ground is generally not a good idea.  To account for this, cemeteries in New Orleans are filled with above ground Crypts – some over twenty feet high.  Most of these plots are designated for a family – meaning an entire generation of 'Jones' cold be buried in a large crypt.  In addition, since the crypts are above ground they tend to be extremely decretive.  Although I didn't get to see one on the day I visited, a New Orleans funeral (particularly a black funeral) is a sight to behold.  It's more like a parade – complete with music, dancing and a conductor than a burial.  If planning to visit – I'd suggest the Lafayette No. 1 Cemetery or St. Louis #3.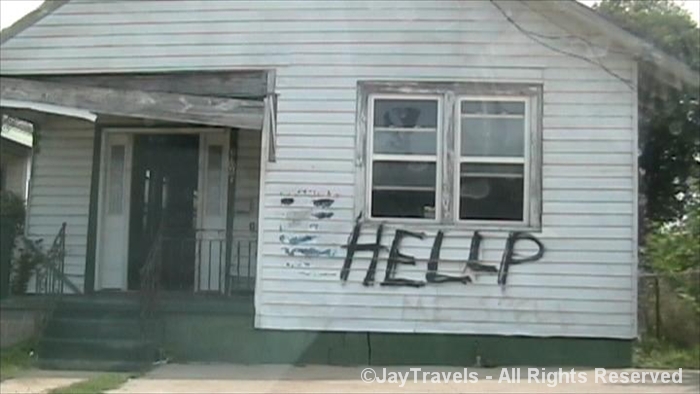 After visiting the cemeteries, I took a ride of to the 9th Ward to see any if there was any remnants of Hurricane Katrina and to see firsthand how the cleanup was coming.  In short, the answers are 'Yes' and 'not so fast'.  As you fly into New Orleans, a sea of Blue tarps is clearly visible on the tops of many homes in this area.  These tarps usually point to homes that perhaps should be condemned – but people are still living in for a variety of reasons.  Since Katrina blew away most of the roof shingles on these properties, the tarp is the only thing keeping water from coming inside.  In addition, some of the images broadcast around the world some two years earlier – still exist – like the "Help" sign spray painted on a house.  On a positive note, the levies have been completely rebuilt and most of the garbage has finally been removed from the streets by the city.  Still, the community has not fully rebounded and there are still pockets of despair.  Hopefully, both the federal government and the city/state can continue to push forward with the progress so desperately needed.
In Closing
All told, my trip to New Orleans was one of my most enjoyable vacations ever.  A ton to see and do, it completely changed my idea of what the Big Gumbo had to offer – which before this trip – didn't seem like a lot beyond getting drunk on Bourbon Street.  But now I know New Orleans has a great deal more to offer.  I hope this review has provided you with some thoughts about putting together an itinerary to New Orleans.  I'd certainly go back – and add a tour of the Tabasco factory, Essence Festival and Mardi Gras to my itinerary.
Happy Travels