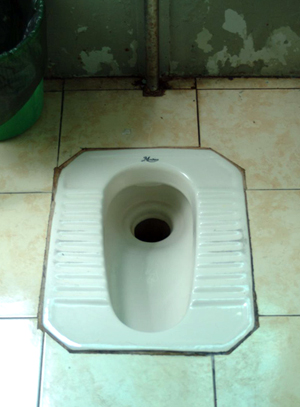 So you think going to the rest room is the same across the globe? Think again! In many countries – particularly in Asia and parts of Africa – there is no concept of the American and European plumbing version. The Squat Toilet (also referred to as Natural Position Toilet) is both an indoor and outdoor lavatory device. The first time I encountered this in Tokyo, I was stunned – "…umm, uhh – what the hell is this"? More to the point I thought – "WHY would I use this"?
There are a few good advantages of the squat toilet over the US version:
Healthier – No more lining the toilet seat with toilet paper or risk catching anything from the toilet seat itself. Also, there's no chance of water splashing up on your backside while doing #2.
Better Position – The term 'Natural Position' refers to the alignment of your colon during the process – which helps you 'finish' faster and more completely.
It's a good workout (smile) – Take a look at the video below – takes a little athleticism.
Advantages noted, it does take some 'talent' to use one of these – both for men and women. Take a look at this hilarious YouTube video on how to properly use one of these.
Get the Flash Player to see this content.
Tips to Keep in Mind
When traveling to a country that may utilize these toilets, keep the following thoughts in mind:
BYOT – Bring Your Own Toilet Paper.

In many public restrooms in Asia (more so outside of areas where foreigners visit) toilet paper is not common. So what do the locals use – well, a) some "don't", b) sometimes use a 'shared' towel c) some use their hands (WTF) or d) they BYOT. Don't get caught out there – always carry a small package of napkins.

Stay in tourist areas.

Former European or American colonies, such as Hong Kong (Great Britain), Tokyo (US Occupied) and South Africa (Dutch/English) all generally adhere to Euro-American conventions – with toilets being one. Stray too far outside of the major cities in these countries – and remember to follow to #1.

It's just different – not wrong!

– Just because you are not familiar with the practice doesn't make it wrong. Like when people say "…they drive on the wrong side of the street in England". Also, many women I know never sit on public toilet seats in the US anyway – so this really won't be much of a change for them.
The reality is – you are very unlikely to see one of these contraptions – but if you do, now you know what to do-do.
Happy Travels!!