Hong Kong is a marvelous but very expensive city. The ease in which English visitors can communicate, the excellent public transit system and abundance of seafood makes Hong Kong a must see for those who get the opportunity.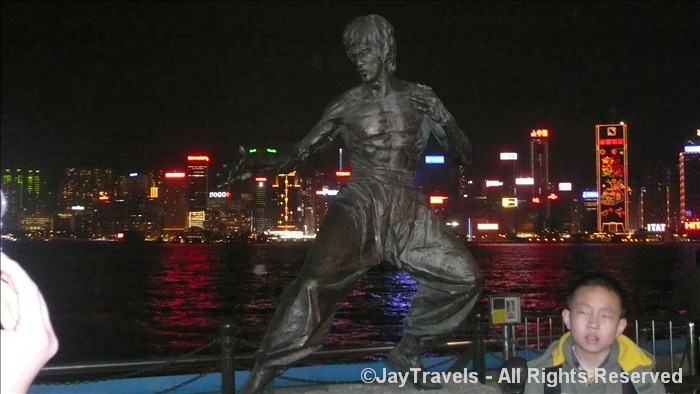 Destination at a Glance

Date of Trip
January 2009
Destination Good for
Shopping, Culture/History, Eating
Best Time to Go

Year round – Summers can be muggy
Currency/Conv. Rate
HK Dollar/ 1 USD equaled 7.78 HK Dollar- Unfavorable
Good Way to Get Around
Rent Car: No
Public: Yes
Taxi: Yes
Walking: Yes
Appox. Trip Cost
Very Expensive
Speaks English?
Many – most signs in English
Entry Requirements
Passport Only – Visa if going to mainland
Do it

Ocean Park
Victoria Peak
The Giant Buddha
Symphony of Lights/Avenue of Stars

Skip it

Beware – 90% of anything "real" is fake

Didn't get to do
Hong Kong Disneyland
Would I Recommend
Yes
Overall Trip Rating
Trip Review
As former British colony, Hong Kong has the feel of a technologically advanced Asian society with the familiarity of English culture.  Hong Kong is a Special Administrative Region (SAR) – which means while it is technically part of the "People's Republic of China" – the economic, political and governmental systems are separate from the mainland.  The most notable difference is its embrace of Capitalism instead of the mainland's Communism.
This environment has a number of practical benefits.  The first of which is the British influence; almost all street signs, menus, etc. are in English along with Mandarin Chinese.  In addition, visitors aren't required to go through the expensive and lengthy visa process to visit Hong Kong (so long as you don't enter mainland China).  Furthermore, the Chinese in Hong Kong practice Capitalism in its purist form – Bartering.  Whether in a high class department store or a corner street market – locals do not pay sticker price.  The culture is to continue to negotiate until there is an acceptable price.  Nothing makes a Hong Kong shop owner happier than a foreigner shopping in the store – especially someone from the US.  They will hustle you in a second – with a smile on their face.  If it helps – think of every transaction in Hong Kong as a purchase of a used car.
A Little Bit About Hong Kong
Hong Kong is a sub-tropical environment and even in the dead of winter; it rarely gets below 60 degrees.    Unfortunately for me, I happened to arrive during a period of unusual cold and fog.  One of the first things I noticed after my 15 hour flight from New York was how densely populated the city is.  The city itself is not very large in terms a square mileage – likely because outward expansion is limited by the Pacific Ocean and several mountains.  When extra space is needed, everything goes up.  There are hundreds – if not thousands of high-rises in Hong Kong.  Even the projects are 80 story high-rises!
With so many people cramped into such a small space, it's amazing the traffic in this place isn't like Freaknik 1992 in Atlanta.  Luckily, Hong Kong has one of the most extensive and impressive public transit systems I've seen.  No matter which train station you are in, you had access to other trains in the system and could time their arrival within 30 seconds.  These trains were so efficient that as one train line arrived at a connecting station, the connecting train would arrive at the same time.  This way, each train would simply exchange passengers.  It was amazing to watch hundreds of people swap trains so efficiently in a matter of seconds.  With this efficiency, it's no wonder the only automobiles on the street tended to be cabs and buses.
Because the city is so small and basically a self-supporting island – natural resources are scarce.  There aren't many cattle ranches; vegetable farms or natural ore mines in Hong Kong; these items have to be imported from other countries or from mainland China.  This makes almost everything in Hong Kong very expensive – with the notable exception of seafood.    One thing that really surprised me was the number of Basketball courts throughout in the city.  You literally could not walk 5 blocks in any direction without finding a basketball court with kids playing on them to the wee hours of the morning.  Mark my words, in 10 years the Chinese will dominate the sport of Basketball.
Like other Asian cities, the gadget technology (phones, music players, etc.) are far more advanced than what you would find in the US.  There are a number of reasons for this – including there aren't competing standards (like GSM vs. CDMA in the US), Asian companies regularly clone (some say steal) and enhance good ideas from competitors and most importantly – the Asian culture values features/functionality over a cheaper price.  For example, I witnessed a kid on the subway conducting a video call on a Chinese iPhone clone.  Let me repeat – a video call on a moving subway train.  How long before we can do this in the US???  Finally, in case you were wondering, there are plenty of Squat Toilets throughout Hong Kong.
…Continued
Chinese New Year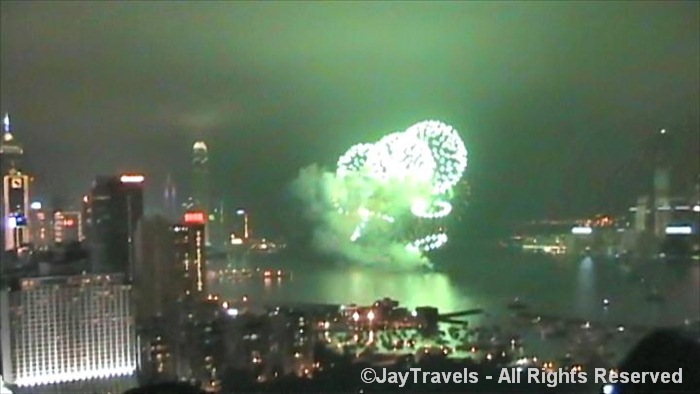 My trip to Hong Kong occurred during the Chinese New Year – excellent timing on my part or so I thought.  Watching television in the US, Chinese New Year celebrations are usually depicted as massive street parties complete with firecrackers and dragon heads.  Errr – not so much.  Seems this 'used' to be the case – but as many Asian countries banned firecrackers for private use due to safety concerns – the ole street fest thing became a thing of the past.
In addition, unlike here in the US – the Chinese New Year's celebration lasts several days (usually seven).  The multi-day celebration is a double-edged sword.  On one hand, there are plenty of celebrations to participate in; as well as very little traffic because most people are off work.  On the other hand, everyone is off work – so expect very long lines at tourist attractions (if they are even open) and businesses and government services to be closed for the duration of the holiday.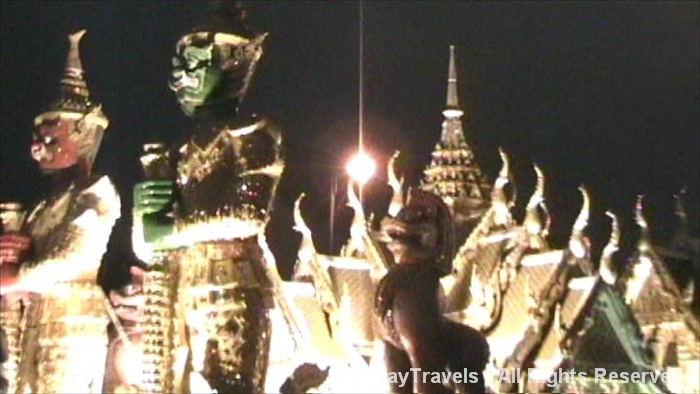 This isn't to say there isn't much to do during the Chinese – there is.  I'm simply saying you should understand that some services may not be available.  Of what is available, the government run Chinese New Year's Parade draws nearly a quarter of a million people a year.  The parade features cultures from around the globe (the Washington Redskins cheerleaders represented the US??????).  In the parade, some of the Asian country participants re-enacted the customary street festival celebrations using lanterns instead of firecrackers.  Also, the city of Hong Kong puts on a spectacular fireworks show over Victoria Harbor on the 3rd day of the celebration.  And of course, many of the clubs and bars work overtime to accommodate all of the party goers.
The Tourist Spots
Even though Hong Kong is a sprawling metropolis, there are still a number of activities for tourist.  Here are a few I did:
The Giant Buddha

– One of the most recognizable monuments in the East, the Giant Buddha is located on the top of a mountain in Ngong Ping, a suburb of Hong Kong.  The monument along with several other temples and shrines are maintained by the Buddhist of the Po Lin Monastery.  To get to the monument, you can take an hour long bus ride up the mountain or a 20 minute cable car ride.  In addition to being faster, the scenic cable car option allows you to see the entire countryside with some fairly breath-taking views.  Unfortunately for me, it was unusually foggy and raining when I went to the monument – I couldn't even see 20ft outside of the cable car.  Even worse, there was so much fog I wasn't able to take good pictures of the Giant Buddha.  Nevertheless, I would highly recommend the experience.

Victoria Peak

– Is the tip of Mount Austin on the western half of Hong Kong that offers the best place to capture panoramic views of the city.  On a clear day, you can see almost the entire island including Kowloon and Victoria Harbour.  The night views are even more spectacular – especially during the nightly Symphony of Lights event.  There are two ways up the mountain – driving (whether your own, taxi or bus) or the easiest and picture friendly method – the tram.  In addition to several ledges designed for easy picture taking – the top of the peak offers 3 restaurants, a full mall and a small hotel.

Ocean Park

– Ocean Park is a giant outdoor wonderland smack in the middle of Hong Kong.  In this single park, there is a fully fledged Amusement Park, Aquarium, Zoo and Botanical Garden.  Some of the highlights were the cable cars which took you from one section of the park to the other, the Manta Rays and Nurse Sharks in the aquarium, the 3 giant Pandas in the Zoo and roller coasters and other rides in the amusement park.  You could spend an entire day in Ocean Park if you wanted.

Hong Kong Disneyland

– Similar to other international Disneyland locations (like Paris), the park uses the local language (Mandarin) along with English for every exhibit.  The four primary themes are Main Street, U.S.A., Fantasyland, Adventureland and Tomorrowland.  (Note:  I did not get to go to Disneyland)
More Really Cool Spots
Symphony of Lights

– A synchronized light and laser show that occurs every night in Hong Kong.  The show occurs on the top of 44 buildings on both sides of the Victoria Harbour and is accompanied with music.  Though many operators offer cruises to see the show – there's no need to pay anyone to see something that is free.  Simply walk to any of the waterfront locations (Tsim Sha Tsui waterfront is the best location) and get your camera ready.  During the Chinese New Year's celebration, the city adds fireworks to the show.

Avenue of Stars

– If you are viewing the Symphony of Lights show from the Tsim Sha Tsui waterfront, you will be about 5 minutes from the Chinese version of Hollywood's Walk of Fame.  Similar to the Hollywood version, many of the Hong Kong's most notable film stars plaques contain their names, handprints and autographs.  Notable Hong Kong stars on the strip include director John Woo and martial arts star Bruce Lee (who also has a statue on the strip).

Lei Yue Mun Seafood Bazaar

– Lei Yue Mun is a water passage that separates Hong Kong Island and Kowloon.  There's very little to see here from a tourist perspective – except view and eat from of the most marvelous fresh seafood you can imagine.  When I say fresh, I really mean fresh – literally out of the water that morning.  This is where a majority of the restaurants in the city get their daily seafood.  Prawns the size of my arm, fish the size of my chest and several other creatures I can't even begin to describe.  The process is simple – see something you like weigh it – and if there is a restaurant attached to the viewing area (most are) – they will clean and cook it for you on the spot.  Warning – be sure to agree to the price before they start to cook it for you – and be sure to barter with them – don't just accept the price they give you.

Star Ferry Ride

– While Victoria Peak gives you excellent aerial views of Hong Kong, experiencing Victoria Harbor up-close and personal from the water is an excellent way to frame wide angle shots of the high-rise buildings lining the channel.  The Star Ferry costs about $8 US and takes you from the Hong Kong side to the Kowloon side in about 20 minutes as it passes by some really amazing shots.

Street Vendors (Swap Meet)

– Littered throughout downtown are several night markets offering sometimes real – but most always knock off products.  Everything from golf clubs, purses, clothing, watches – anything you can think of.  The two keys to remember are 1) if it sounds too good to be true –

it is

and 2) barter, barter, barter!  These folks have no problem taking advantage of you and will do so with a smile on their face.  One of the more famous swap meets is the Stanley Market.

Stanley Beaches

– Although surrounded by water, there are relatively few sandy beaches in Hong Kong.  As you may have guessed, Stanley Beach is around Stanley Market – both in the town of Stanley.  Like most beaches in Hong Kong, the two main beaches in Stanley are netted to protect swimmers from sharks.  The area supports several restaurants, barbeque areas for swimmers, a mall and the Murray House – former officer's quarters turned museum.
The Food
Though I'd heard that the Chinese have no problems eating most any kind of animal (even those we consider pets here in the US), I did not see any of this when I visited.  In fact, everything I could see didn't look any different than Chinatown in San Francisco.  I grant you – I may not be in the "know" – but there was nothing out-of-bounds from what I could see.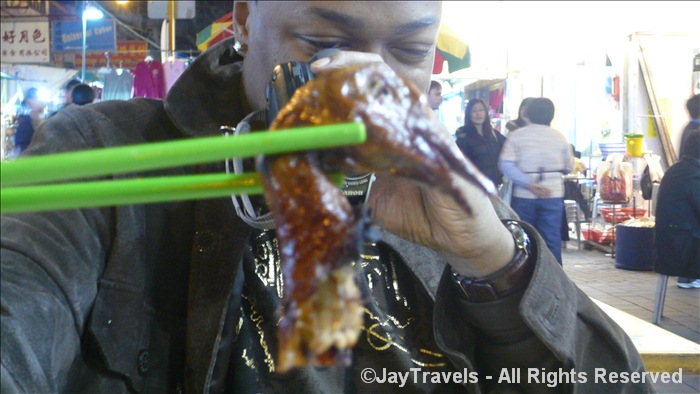 If anything, the strangeness is not so much the food itself but in the preparation. In this region, almost every part of the animal is eaten. Poultry that is quartered here in the states are served with every part – including the head. Most fish is served hole – not filleted. New food I tried were Cuddlefish, Monkfish, Oyster Pancakes, whole Quail, Fish Ball Soup and several fish I don't remember the name.
Being on the Pacific Ocean, Hong Kong has access to some of the most diverse seafood in the world.  What was strange was the variety of sea creatures that were for sale.  There were so many fish with so many different names that looked like nothing I'd ever seen in my life.  Again, all of this seafood was fresh – as in – still living until right before they put it on your table fresh.
In addition to authentic Cantonese cuisine, I also ate at Thai, Japanese and Vietnamese restaurants – each exquisite in their own ways.  If seafood isn't your thing, there are good selections of ducks and chickens and imported Kobe Beef and pork – they just may cost you a little bit more – which is saying something in already expensive Hong Kong.
In Closing
Hong Kong has been one of the places on my Bucket List I've wanted to visit for years – and I'm glad I got the opportunity to go.  Although anytime is a good time to go, I just got unlucky arriving during unusually cold and foggy weather.  If I had it to do over, I would have planned my trip in a way that only part of it was during the Chinese New Year's celebration.  I highly recommend the Giant Buddha, Victoria Peak, Symphony of Lights and Ocean Park experiences for first time visitors.
All in all – I found Hong Kong a marvelous – if not very expensive city.  The ease in which English visitors can communicate, the excellent public transit system and abundance of seafood makes Hong Kong a must see for those who get the opportunity.
Happy Travels!!!