This is the third and final part of my traveling to Cuba series. Part One of the series focused on the history of the embargo, how the embargo is portrayed in the US and my opinions on why every American should visit the island. Part Two detailed how a US citizen can qualify/travel to Cuba and a few tips on what to expect once they arrive. Part Three is about my personal experiences in Cuba's capital city of Havana including the usual pictures and video.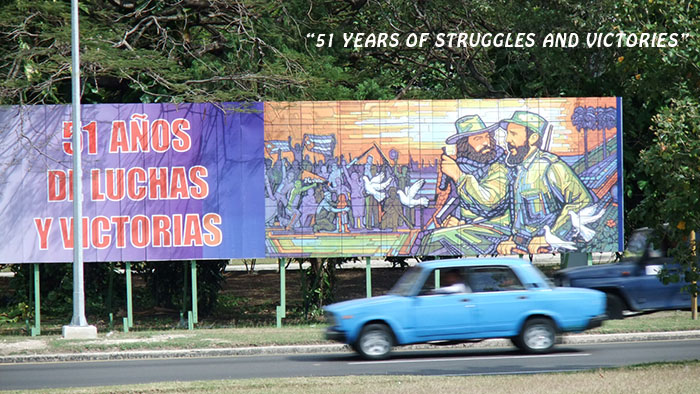 Destination at a Glance

Date of Trip
April 2010
Destination Good for
Culture, Learning
Best Time to Go
Always hot – though hurricane season is June-November
Currency/Conv. Rate
Cuban Convertible Currency / 1 CUC = 1.20 USD – Unfavorable
Good Way to Get Around
Rent Car: No
Public: No
Taxi: Yes
Walking: Yes
Appox. Trip Cost
Fairly Expensive
Speaks English?
Some
Entry Requirements
Passport & Medical insurance. 25 CUC departure tax
Do it

Havana Club Rum Tour
Stay in a Casa Particular
Catch a show at the Tropicana
Smoke a fine Cuban cigar!

Skip it

Coco taxis – at least more than once

Didn't get to do

Lack of Spanish prevented in-depth conversations with Afro-Cubans
Party with the locals

Would I Recommend
Strongly Yes
Overall Trip Rating
Trip Review
(Click Thumbnails to see Full-Sized Images)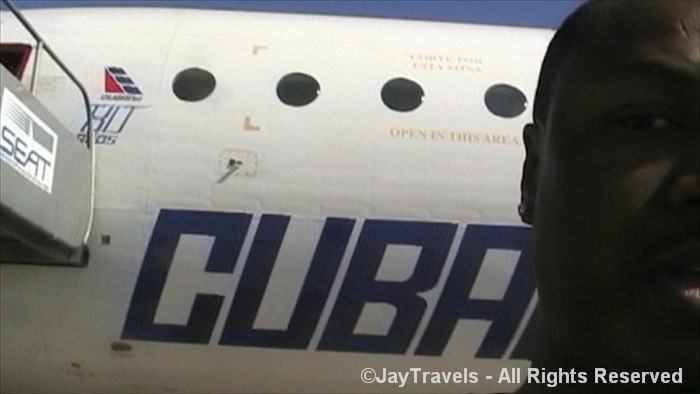 As I discussed in Part 2, getting to Cuba from the US is best done via a 3rd party country – even if you have a license. Since I live in Atlanta, the easiest (and cheapest) method for me was to fly to Cancun then directly to Havana on Cuba's national carrier – Cubana Airlines. I'd already purchased my airline tickets and tourist visa when I was in Cancun a few months earlier. The way some folks talk about Cuba, everything is tied together with duct tape and wires. While that's a serious exaggeration, there has been an issue with supplies/spare parts ever since the collapse of the Soviet Union. Why do I bring this up – the Cubana Airlines plane I flew on from Cancun was a 1970s Soviet made jet – which is over 40 years old. I wasn't worried so much about the safety of the plane itself (both inside and out appeared extremely well maintained); I was more concerned about a maintenance issue delaying or canceling the flight to Havana or returning to Cancun causing me to miss my connecting flight back to the US. Arriving at Havana's airport was a breeze; the Cuban customs officials processed me through in a matter of minutes. Off to the currency exchange to get some money and catch a cab to my Casa Particular.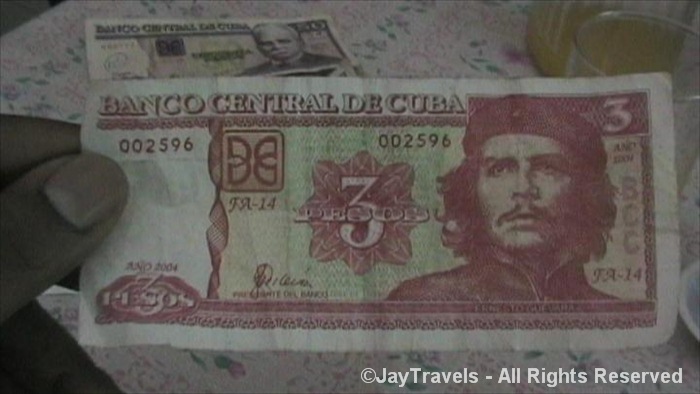 Unlike most countries you'll travel to, Cuba actually has a dual currency system. The Cuban Peso (CUP) is the original government tender and what locals are paid in from their government jobs. The Cuban Convertible Peso (CUC) is what all foreigners are issued to make purchases in Cuba that is artificially pegged to the US Dollar at $1.08 plus a 10% conversion tax when converting from US Dollars. To avoid this 10% tax, I ordered a bunch of Euros from Bank of America before I left Atlanta and converted those to CUC in the Havana airport. Keep in mind – the CUC cannot be converted back any currency once you leave Cuba – so be sure to spend it all or convert them back at the airport when you leave. The fact that the CUC is artificially pegged to the dollar and Americans cannot use credit/debit cards makes traveling to Cuba very expensive. Get a least 5 CUC worth of CUP (1 CUP equals .03 CUC or 3.3 cents USD) to save a little when purchasing from street vendors or if you plan to take a local bus.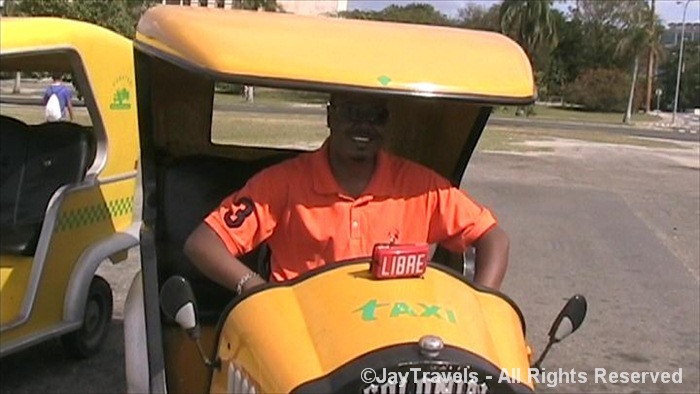 Once I got my cash, it was time to obtain transportation into the city. Buses are the cheapest option and catching a taxi is the easiest. If you decide to go the taxi route, you should know you will encounter three types during your stay in Havana – official metered, unmetered and Coco Taxis. The CubaTaxi is the official metered taxi in Cuba. Metered taxi rates are very cheap in Havana – but you must make sure the driver uses the meter (he may just quote a price that is usually higher than what the meter rate would have been). Coco Taxis are 3 wheeled open air scooter looking contraptions similar to the Tuk Tuk Taxis I used while in Bangkok. Coco Taxis can be fun to ride around town for very short distances and/or just to experience the ride, but they are fairly expensive when compared to a metered taxi. Unmetered taxis are popular with locals and are frequently the 1950s era cars you see in pictures. Understand it is common for locals to share a taxi – 3-4 different groups heading to multiple destinations is not uncommon. Unmetered taxis also take CUP so I'll likely save even more (not sure if they also accept CUC).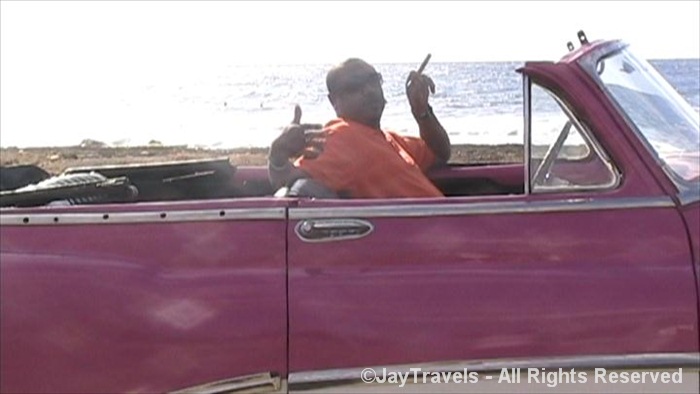 Speaking of cars, you may have heard there are a ton of 1950s American cars roaming around Havana; which is true, but it's isn't like those are the only cars in the country. Although US companies and its foreign subsidiaries are prevented from doing business in Cuba, the Chinese have no such problem – thus Havana's streets are filled with late-model Chinese imports. As for the 1950s era vehicles, they are very cool to look at and a wonderful experience to ride in the first few times; but that quickly wears off in the heat & humidity as they generally don't have air conditioning.
Like I talked about in Part Two, I decided to stay in a Casa Particular instead of a hotel. Using WikiTravel's Havana page, I reached out to a number of Casa owners with questions about per night fees, room/property pictures, additional fees for breakfast/dinner and if anyone spoke English. I settled on a casa in the Vedado neighborhood and we agreed on the price of 35 CUC per night and an arrival and departure date via email. Whichever Casa/hotel you choose, be sure to write/print the address to provide to the taxi driver. Old Havana, Vedado and Playa/Miramar are the best areas to find either a Casa or a Hotel – Frommers has a pretty good 'Neighborhoods in Brief' explaining each.
The Impact of the Embargo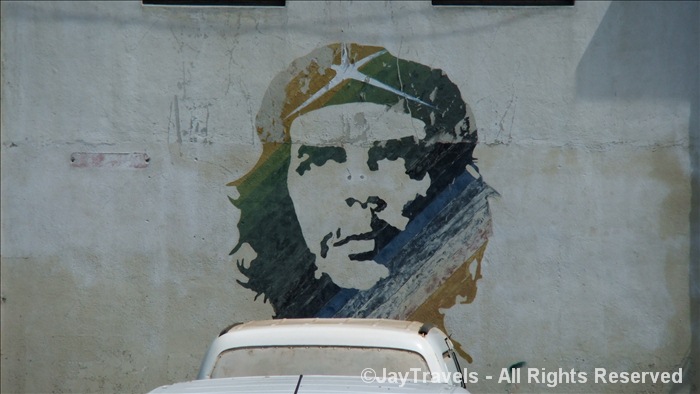 It's not fair to compare Cuba in terms of economic status and the wellbeing of its citizens to the United States – very few countries in the world compare favorably to the US. The more accurate comparison is to neighboring countries in the Caribbean and Central America. Under that light, in many ways Cuba is most prosperous country in the region. As I alluded to earlier, unemployment is under 2%, homelessness is almost non-existent, all citizens are guaranteed healthcare, a literacy rate that is 2nd highest in the world and a GDP higher than Costa Rica, Jamaica and the Bahamas – combined. Whether you'd benefit in Cuba is directly based on your economic status elsewhere; I have a job & live in the US – so there's no place I'd rather be. On the other hand, if I was jobless, homeless and/or without healthcare in almost any US city (particularly during the brutal winter season) – I would clearly be better off in Cuba.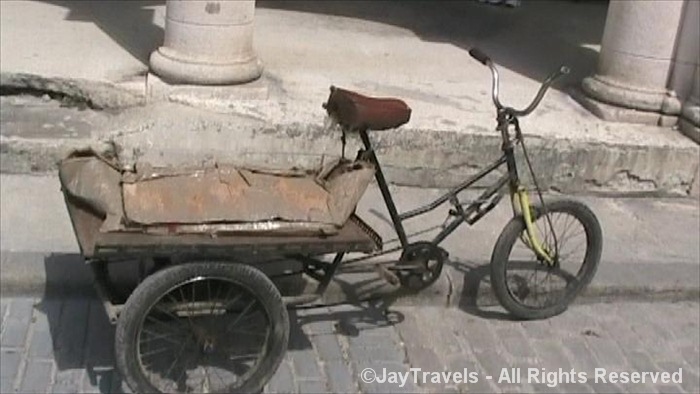 That said, Cuba has to deal with circumstances no other country in North America has to deal with – namely the economic embargo imposed by the 800lb gorilla 90 miles from its border. This manifests itself in a number of ways – the most glaring of which are shortages. Shortages of food, medicine, mechanical parts, and supplies – you name it. Those 1950s era cars aren't all over Cuba because they have an affinity for 60 year old gas guzzlers with no AC; they are there because until China's very recent global presence in the automobile industry, no one else would trade with them. Lack of agricultural trade with the largest economy in the world further impacts the supply chain. It's not uncommon for restaurants to simply run out of menu items (2 restaurants I tried to eat at ran out of chicken!) or pass on the increased cost of importing rice all the way from Vietnam on to the general public. Finally, Cuba can't fall back on US tourism when global import costs rise as the other Caribbean nations can. Yes Canadians, Europeans or those from neighboring Latin American countries do visit Cuba – but who are we kidding; that revenue stream doesn't begin to compare to the opportunity lost from restricted US tourism.
Since I was staying in a Casa Particular, I figured I'd query Marie and her husband Jose (names changed to avoid any reprisals against them) on their thoughts on the embargo, the US and the Castros.
What do you think of the Embargo?
Jose - It needs to end!
Me - But doesn't Castro have something to do with that – can he do anything?
Jose - Why would he; using the US as an enemy makes him strong.
What do you think of America and Americans?
Jose – We don't have any problems with Americans – we appreciate you visiting and staying with us – it helps us tremendously.
Marie – No problems with America visitors, but the way things are (the embargo) just makes things difficult for everyone.
What do you think of Castros?
Jose – I don't personally have a problem with the Castros. I really don't care who's in power, I just don't want everything to be so expensive. Things our visitors take for granted are very expensive here as many Cubans are paid in Pesos – but most everything is priced in CUC. So, embargo, no embargo, Castro, no Castro, whatever – I just don't want everything to be so expensive.
Marie – Things were bad under Batista. I remember when I was a child my neighbor was dragged into the middle of the street and executed. The Revolución changed that – things were much better for everyone for years. Then in the 90s, everything started to go bad. (Jay's Note: The Soviet Union collapsed in the 90s and with it its subsidies of Cuban industry).
I would be remise not to point out that Marie & Jose have it relatively 'good'. They are fortunate enough to own their own house and be able to rent it out for additional income. In fact, they were well off enough to hire a maid!! A little Capitalism within the Socialist model if you will.
Sex tourism (aka Prostitution) is a big problem in Cuba. Conceptually, I don't have a problem with consenting adults selling their bodies if that's what they want to do; so long as they are not forced or coerced. Unless the prostitute is part of some slavery ring – there is a consensual and equal exchange. They choose the life – you chose to pay and both agree to services to be rendered before the event. In Cuba – the person you are dealing with isn't on equal footing. In the US, one has freedom of movement to locate better opportunities, there is a correlation between better education and a better standard of living, and it is possible for you to win the lottery. None of that is true in Cuba – the lack of choice eliminates the ability of an equal exchange. It is not uncommon to hear of a doctor, engineer or lawyer who is also a prostitute – both men and women. When I was in Miami, a friend of mine mentioned on his trip to Cuba he paid $20 US to be with two women for the entire evening. Now, I'm not the paying for naa-naa type, but even if I were I can't imagine taking advantage of someone in this way (now that I'm better educated on the Cuban plight). If you Google the issue, I'm clearly in the minority. If you really want to help someone without degrading them in the process, I suggest bringing clothing or everyday household items – such things are in great need and will be greatly appreciated.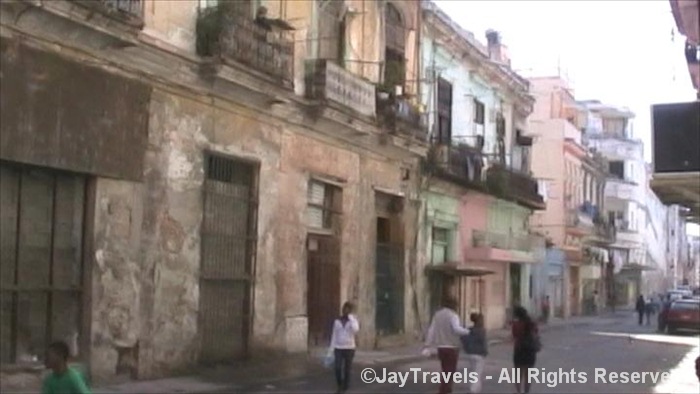 These are just a few examples of the embargo's overall impacts. Certainly the Cuban government (namely the Castros) have some responsibility in this issue – but they don't have the power to truly affect its change. The embargo doesn't hurt the government so much as it hurts the people who have to live under it; I assure you Castro and his inner circle aren't hurting for the daily necessities, running out of supplies or turning to prostitution as some their citizens are. The US government's general position on the issue is that the Cuban people will rise up, overthrow government and implement western style capitalism is just fucking stupid. You'd think after 50 years – we'd have a better plan of attack.
Next Page: The Havana Sights
The Havana Sights
Like I said in Part One, I don't want to give the impression that the only thing to see or do in Cuba is some sort of political science exercise. In fact, Cuba is a wonderfully beautiful city both in terms of landscape and its people. Here are a few attractions I took in during my stay in Havana – every single one of them worthwhile. Remember 1 CUC = 1.20 USD (so 100 CUC is $120 USD) and as an American you won't be able to reserve/purchase online nor use your credit/debit cards.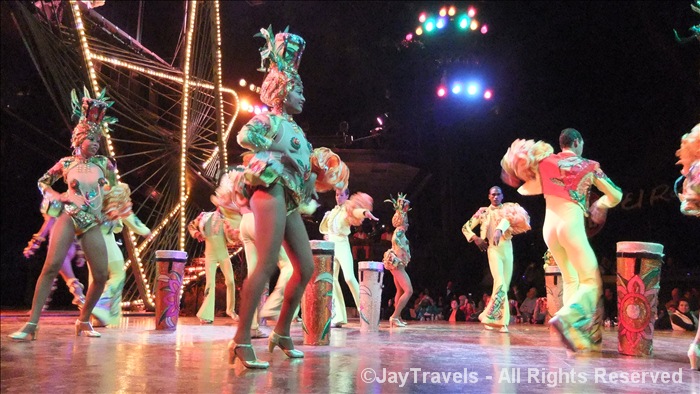 Tropicana
The original Tropicana opened in Havana in 1939 and copied in Las Vegas in the 1950s. The Tropicana is both an indoor restaurant and a large outdoor open-air theater. Gone are the days of the extremely risqué burlesque shows, there's no nudity or even sexually suggestive routines in the show. In addition, it's no longer a casino as gambling is illegal in Cuba. What the cabaret show does offer are excellently choreographed song and dance routines over about a 2 hour period. Shows run every day except Monday at about 9pm – weather permitting. The show is excellent – rivals anything you'd see on Broadway or Las Vegas. As part of the entry fee, the servers bring over a plate of appetizers, a can of cola, a pint of rum and a decent quality Cuban cigar – try that on Broadway! I won't lie though – the show is unnecessarily expensive (likely because the audience is 99% tourists). The show plus dinner is $111 CUC; show only is 70 CUC and the fee to take Video is an additional $10 CUC.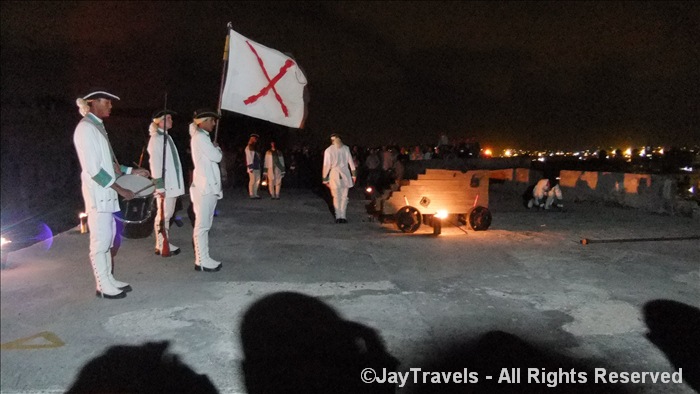 La Cabaña Fortress
Originally built in the 18th century to protect Havana against invading forces, it now serves as a giant museum containing artifacts from the period. The fort is allegedly the largest in North America and contains all of the things you'd expect in such a structure including a drawbridge, moat, cannons and watch towers but also includes a few museums. I'd suggest visiting the fort at night for two reasons: first you can take pretty nice night landscape pictures of the Havana skyline from across the bay. Granted, Havana's skyline isn't as lit up as most other cities – but it's still a worthwhile picture. Secondly, a cannon blast ceremony is performed every evening at 9pm sharp. Characters in 1800s military garb get into formation and fire off a blank shell in which the blast can be heard miles across town (locals say they set their watch to the blast). Admission is 5 CUC (I think).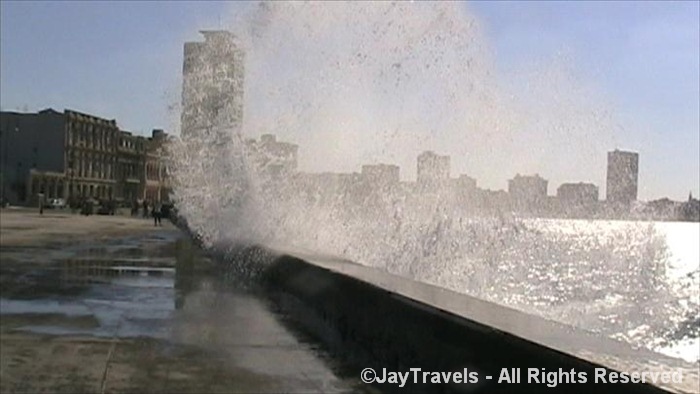 El Malecón
The Malecón is simply a roadway on the seawall against the Havana Bay that stretches from the Havana Harbor to the neighborhood of Vedado. While the 5 mile stretch of road isn't so much of a an attraction itself – it is where a number of attractions are located including the Hotel National and US Special Interest section. More interesting is the number of sections where waves of water blast over the seawall onto passersby and cars, the teenagers jumping off of the rocks into the water for a swim, excellent panoramic pictures of the Havana skyline and the wonderful Cuban people simply enjoying themselves walking along the shoreline. As I walked along the Malecón looking at the beautiful ocean on one side and miles of vacant and/or dilapidated buildings on the other, I couldn't help think how bad the Hiltons, Marriotts, etc. of the world are just dying to get a piece of the action. With literally miles of oceanfront property – it's not hard to imagine Havana turning into Cancun II once the embargo is lifted.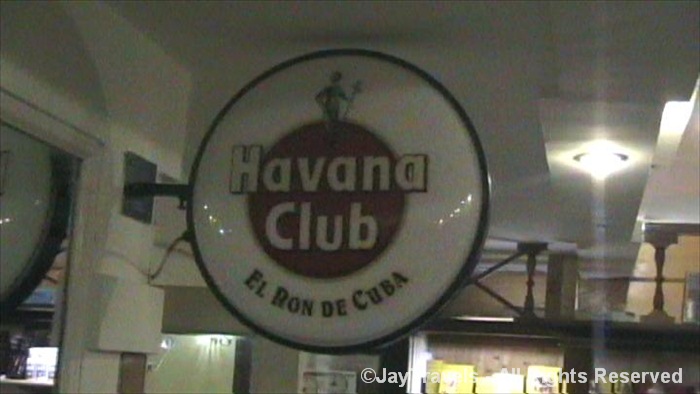 Havana Club Rum Factory
Agriculturally speaking, Cuba has an abundance of sugar cane and tobacco. As sugar is the basis of Molasses – which in turn is the basis of Rum – there is also no shortage of this alcoholic beverage. Havana Club is the most popular brand of Rum in Cuba and they offer a tour of one of their facilities. Though more of a museum than a production facility, there were barrels and vats of rum in various stages of the fermentation process, as well as a history of the Rum producing process starting from the 1700s (detailing slavery's impact) to current day operations. Tours are conducted by Havana Club employees and are given in Spanish, English, German and I think French. Tours lasts about an hour, costs 14 CUC and you can sample either their light or dark rums at the end of the tour.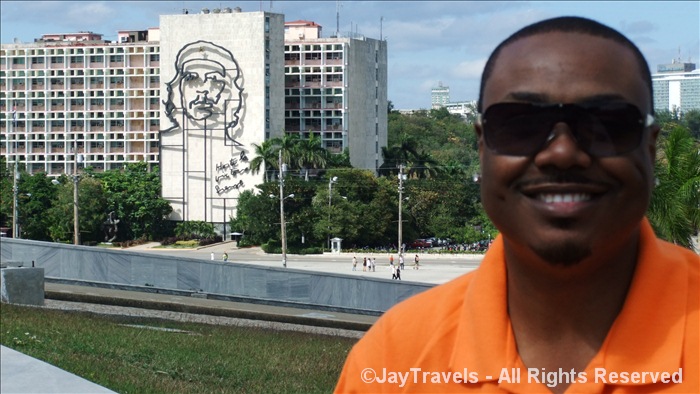 Plaza de la Revolución
Sometimes referred to as Revolution Plaza/Square; it is where a number of political rallies take place – some put on by the government others as political protests. In terms of things to see, the most grandiose is the Jose Marti Memorial – which includes a statue of the national hero and an over 350ft tall tower. You can take an elevator to the top of the tower for excellent city views but I can't remember why I didn't. Perhaps the most photographed monument in the square is the image of Che Guevara on the outside of the Ministry of the Interior. Just as large of an image is of Fidel Castro Camilo Cienfuegos on the adjacent building but I don't know what that building is though which is the Ministry of Informatics and Communication. If you are dying to see and/or ride in a Coco taxi – there are at least 20 of them at any given time in and around the square.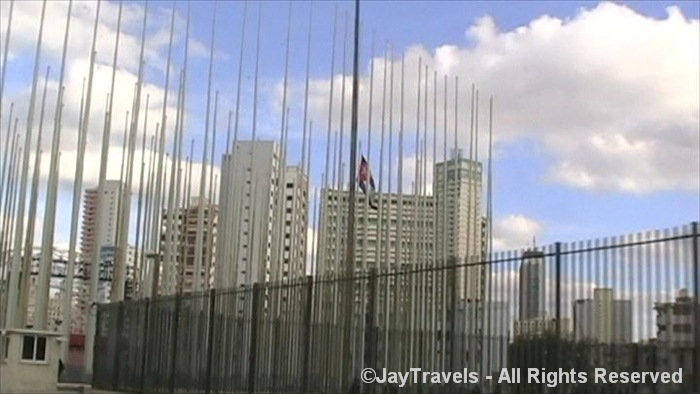 US Special Interest Section
Not much of an attraction (if you can call it that) now that the US has stopped antagonizing the Cuban government – but it is interesting enough to walk/drive by to get a sense of the atmosphere. The Special Interest section is the closest thing the US has to an embassy in Cuba. This was the only time I witnessed police officers numbering more than 1 during the entire time I was in Havana. It's hard to tell whether their primary goal is to protect the Americans inside from the Cuban population or the Cubans from the American propaganda; perhaps a little of both. Check out the electronic billboard (now turned off) that frequently spewed the US's political agenda to the Cuban people and the 100 or so flag-poles erected by the Cuban government to obscure said billboard from being seen.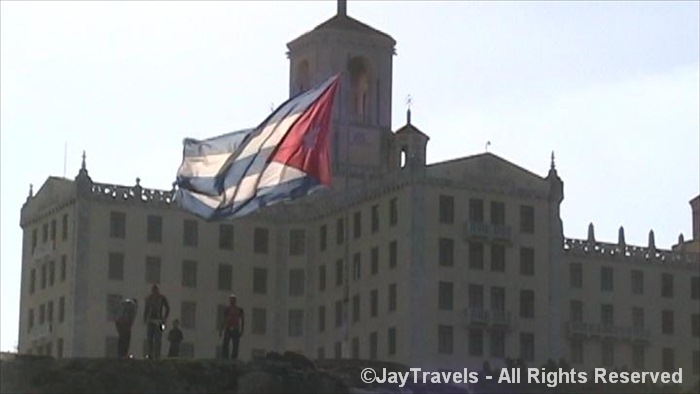 Hotel Nacional de Cuba
Originally opened in 1930s, the Hotel National is probably the most famous hotel in Cuba – though no longer the most luxurious. If you are looking to stay within the city limits in luxury accommodations with stunning views of the water, this is one of the best places to stay. In addition, there's a good deal of history within the hotel, including sections built by US mobster Meyer Lansky during the casino years and rooms where Frank Sinatra & Ernest Hemmingway stayed. Believe it or not, fake high-end cigars are a rampant problem in Cuba. Now, even the fake cigars are made from Cuban tobacco (unlike those found in Miami) – they just may not be the Montecristo, Habanos, etc. the seller claims they are. One place you can ensure you are getting the real thing is the Cigar shop in the Hotel National.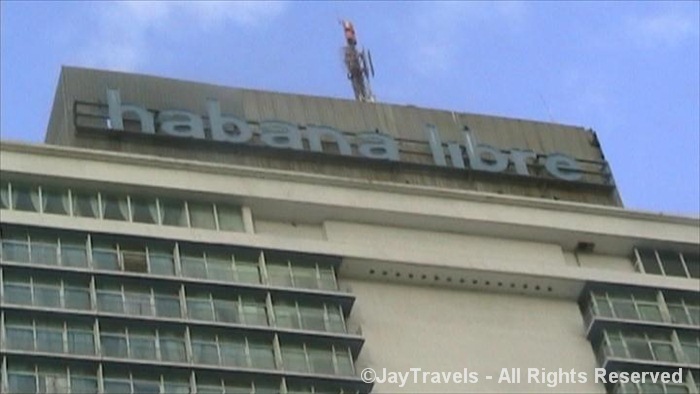 Habana Libre (Havana Hilton)
Originally the Hilton Hotel until Castro nationalized the property and made it his headquarters shortly after the Revolution. The property itself is showing its age so the more interesting aspect is the El Turquino club on the top floor of the hotel. Around midnight, the entire the roof opens exposing the moon & stars as partygoers dance into the wee hours of the morning to salsa, reggae and yes – Spanish & American Hip-Hop. (Didn't get to do).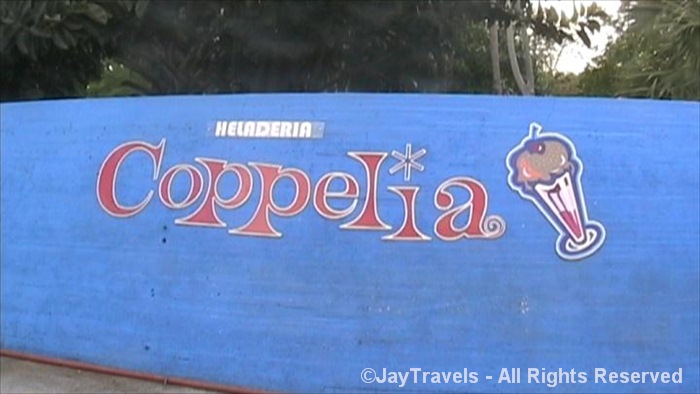 Coppelia Ice Cream Parlor
Another institution in Havana; Coppelia is a perfect way to get away from the sun and cool off. The complex, which spans nearly an entire city block – has two floors, ice cream serving bar and waiters. You should note that there are two economies for purchasing ice cream from this establishment – the first is intended for locals and the other is intended for tourists. If you are a local, a cup of ice cream is 20 CUD (about 70 cents). If you are a tourist and paying with CUC, you need to walk around the building to a special section and pay 3 CUC ($3.60 US). I asked the guy who raped me took my money whether there's any difference between the 'tourist' and the 'local' versions of ice cream. He said the tourist version used real cream instead of powdered milk; a claim I certainly find plausible – but not worth over $3 a scoop! The lesson here is always carry a few CUP for personal items such as street food and unmetered cabs.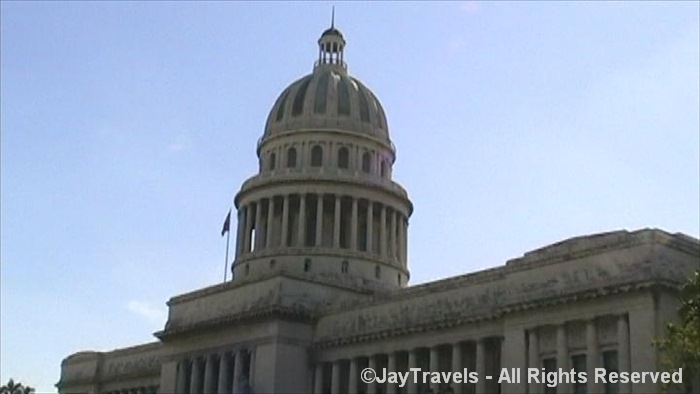 National Capital Building
"El Capitolio" was originally the seat of government for the entire country until Fidel's Revolution. Built in 1930, the capital building's exterior is almost an exact replica of the US Congress building in Washington, DC – the Cuban version's dome is exactly 4ft taller than its US counterpart. The irony of this little nugget of information is unbelievable. The building is now home to the Cuban Academy of Sciences.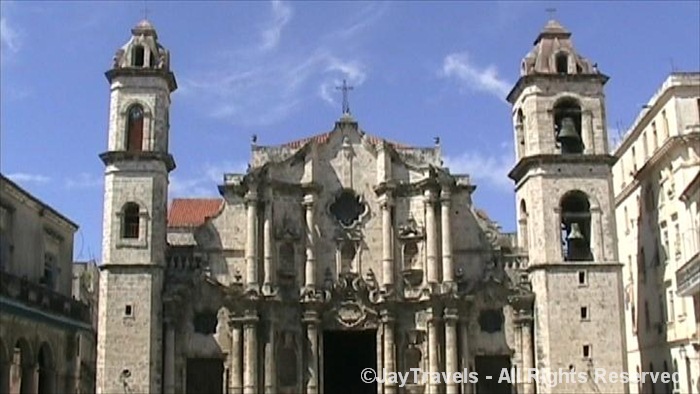 Havana Cathedral
Officially known as the Cathedral de San Cristóbal de La Havana; is a Roman Catholic church in the Old Havana district. According to Wikipedia: "the Cathedral is said to be the only example of a baroque facade that was designed with asymmetrical features" as the left tower is taller and narrower than the right. Even though it's a popular tourist site, it is also an in service church so be respectful when visiting.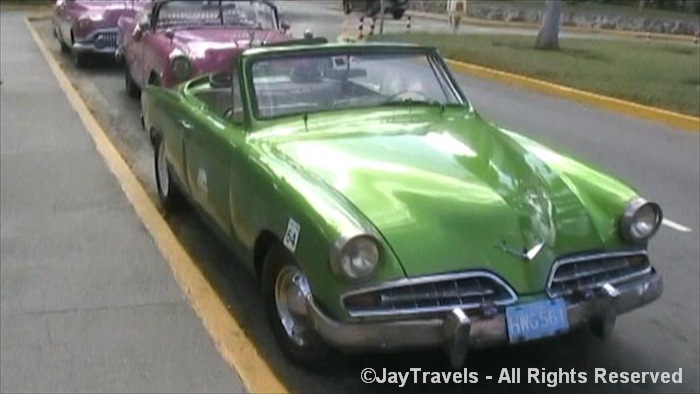 Circa 1950s Auto Tour
Right outside of the Hotel National usually sits 5-10 1950s era American automobiles waiting to take tourists around the city of Havana. Oldsmobiles, Cadillacs and Buicks in several different colors and configurations (several were convertibles) were available for guided tours from 1 to 3 hours. I choose a 1-hour tour in a pink convertible 1952 Buick (I'm not sure what model) – which took me all over the Havana city limits, including the Plaza of the Revolution, up the Malecón, Old Havana and Vedado neighborhoods and Hemingway Marina amongst others. Even stopped at a street food vendor in the middle of the city in what seemed like a swamp/jungle where I was also offered very cheap Montecristos and a pork kebab. Rides start at 20 CUC per hour from Gran Tour Company.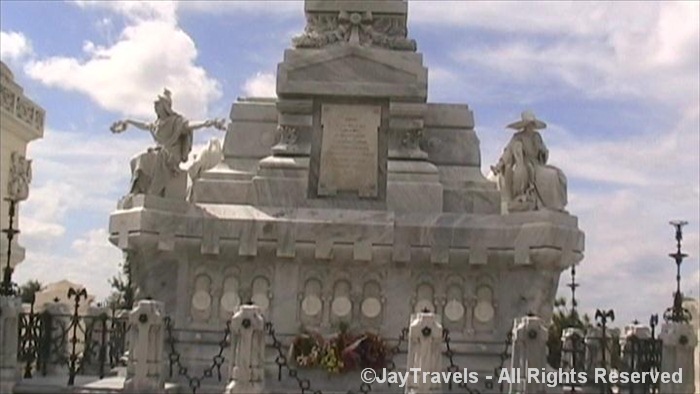 Cementerio de Colón (Cemetery)
If you've ever been to the cemeteries in New Orleans, then Havana's version looks fairly similar. If you haven't been to an above ground cemetery, Havana's version compares favorably with just about every one I've seen. Around since the 1870s, Colon sits in the middle of the Vedado neighborhood and contains over 800,000 graves and over 500 major mausoleums/family structures – some spanning 30ft into the air. Along with the tombs, vaults and family structures themselves, the front entrance (which was under construction when I visited) and the main chapel are excellent options for taking photos. The HavanaBusTour bus stops right in front of the cemetery entrance if you don't want to take a cab. Admission is free.
I accomplished a good deal in my 4 days in Havana, but I still missed the opportunity to take the Partagas Cigar Factory Tour due to a little housing snafu. In addition, my early flight out of Havana on Sunday caused me to miss the Sábado de la Rumba – an Afro-Cuban street festival in the Callejón de Hamel district (street art).
Next Page: Things That Stuck With Me
Things That Stuck With Me
In no particular order of importance, these are the things I experienced and felt while in Havana and since my departure. Some are profound, most not so much – your mileage may vary.
I felt extremely safe while I was in Havana. There was a police presence around in many instances but even when there wasn't I did not feel unsafe at all – even in the dead of night. I'd been warned that because of my skin tone, it was possible for me to be stopped by the police and asked for my Cuban identification. Nothing says 'American Tourist' like 6' 1" black guy in Addias carrying a video camera – so the police never did more than smile and wave at me. On the other hand, I witnessed several instances of police checking identification of 'Afro-Cubans'. I'm not sure if they 'did' anything to have their ids checked, but if one girl's reaction was any indication – it is a very frequent and annoying occurrence. This teenager basically went off on the cop and refused to show him anything (I think). Not sure if he didn't do anything because she was young, in the right or because I was standing there. In any case, I suppose one of the benefits (if u can call it that) of a near police state is lack of crime. Even on the most shabby and rundown streets, there were no drugs, guns, or gambling prevalent. Armed robberies and murders are extremely rare – not only against tourists but against locals as well. I only point this out because if you show me a country with a significant portion of its population below the poverty line, I'll show you a population ravaged by drugs & violence. Not so for Cuba; which brings me to my second point…
I didn't see a good deal of misery – in fact, I didn't see any at all. Granted, my short stay in Havana wasn't enough to know every in and out of the country – you generally don't have to look very far for these things. Hop off a bus in Mumbai and walk in any direction and tell me how long it takes to find people living in some of the most awful conditions in the world. Drive 5 minutes from the Cape Town airport to see the Apartheid era Shantytown settlements still in existence. Even with the embargo – few are starving in Cuba. The statistics just don't lie – lowest unemployment and homelessness in North America. Don't get me wrong, most Cubans don't have it easy – they just aren't dying of hunger or freezing to death like some do in the US.
No one is fat! Ok, ok, I'm over generalizing but I just don't remember seeing anyone who was fat much less overweight. I have a theory about this. First, most households don't have 200+ channels of DirecTV and PlayStations tying their asses to the living room couches, so people are actually outside walking, playing, swimming or exercising. Go figure. Next, the Cuban food supply doesn't have as much of the preservatives, additives and steroids we pump into our livestock and vegetables here in the US. I constantly encountered people with some of the most flawless skin I've seen in my life – no matter the skin color, age, or gender. I have no hard figures on this, but I'm convinced the lack of shit in their food eliminates the acne, zits and obesity commonly found here in the US. Finally, the US is a gluttonous super size everything society. Yes, food rationing makes it hard to be gluttonous in Cuba – but still, I have a hard time believing an active lifestyle isn't a major contributor to their overall health.
Living in Miami and watching television conditioned me to think that all Cubans looked like Gloria Estefan. Before I'd actually visited Cuba, the only time I can remember seeing a darker skinned Cuban was when a baseball player or boxer defected. It never even occurred to me a sizeable percentage of Cubans (especially in Havana) are minimally Mulatto and frequently darker than I am – but it's certainly true. According to the CIA Factbook, only 35% of the country's population is Mulatto/Black – but that concentration is much higher in Havana. There were several women as dark as a period but also the most beautiful I've seen in my life – touched by the sun if you will. And like most Latin American countries, Cubans also buy their clothes in one size – tight. Hooray!!! Makes me think there's a concerted effort to present the plight of the Cuban people under a single color tone.
This may be an American thing, but because I started to feel somewhat guilty for what my country was doing, I let ordinary hustles I wouldn't allow anywhere else slide in Havana. On multiple occasions I found myself saying 'whatever' when a cabbie or street vendor tried to overcharge me for something. Most anywhere else in the world I would have put a halt to this stuff immediately – but I admit I felt a bit conflicted. Cubans certainly know this and take advantage of those feelings. So I over paid for a few items – but I frankly don't feel all that bad about it.
While overt racism may be against the law, there is still a very strong class system. Although the country's Socialist model says that everyone is equal – some are a lot more equal than others. I was in and out of three casa particulars during my stay in Havana and the following were true in each one: 1) all of the casa owners were of light-skinned Euro-Spanish decent 2) all three employed maids and 3) all of the maids were Afro-Cuban. (Maids??? I can't afford a fuckin maid, how the hell do casa owners in Cuba afford a maid?? WTF. Okay, off soapbox). In addition, very few darker skin toned Cubans hold important/high office in government. If you listen to and read some of the comments from the various voices inside of Cuban, they are also disproportionally represented in Cuba's prison system. My trip to Havana was the only time I felt not speaking the local language took away from my trip. It also makes me even more weary/mistrustful of the Cuban expat community in Florida. Look, no one deserves to have their homes seized and/or family members executed in the streets – but all of these folks aren't innocent. Many of these folks were able to get to America because they had the financial means to do so – often off of the backs of their Afro-Cuban countrymen. As it were, the brothas are at the bottom of the totem pole – even in socialist Cuba.
Cuba knows how to do its share of propaganda. They are quick to point out there is no homelessness in Cuba. I was told there was a sign in Cuba that read "There are over 200,000 people living on the streets in the Caribbean – and not one of them is a Cuban!" I didn't see the sign myself, but it certainly sounds like similar leaflets/books scattered throughout the city. The fact is there is some homelessness in Havana – there was a lady with no legs sitting right outside the Havana Cathedral who was homeless. Elin Gonzaolas is a national socialist hero in Cuba – and the story told from their perspective is vastly different than how it's portrayed in the US. This guy killed himself rather than be taken to jail (presumably for years on end) for the crime of cooking beef! And let's not forget the evil capitalist empire the United States of America – I could write a book on the propaganda on that subject. Finally, as I said above – everyone really isn't equal in this socialist society, it's the darker skin Cubans living in the broken down tenements and constantly being harassed the police.
As much as I wanted to visit Cuba and for as long as I'd been planning it – I ultimately felt unprepared for my goals because I don't know Spanish. To be clear, you definitely don't need to know Spanish to enjoy yourself in Cuba – especially in Havana. But my goal was to learn their perspective and 99% of the folks that look like me didn't speak English. This makes me a fucking idiot. I will learn Spanish before I go back…
Almost no architecture, vehicles or language (street name or otherwise) exists from the Soviet Union. Only the airplane that I flew in on from Cancun and a few posters in the La Cabaña Fortress museum referenced the Soviet Union. My take away from this is the union of socialist Cuba with communist USSR – at least for Castro – was a union of protection (both militarily and economically) more so than of a mutual fondness of the country or its leaders.
I've heard on several occasions that food in Cuba is bland; but the statements are sometimes framed as if it's because the locals just can't cook. That couldn't be further from the truth; Cubans simply make do with what's available to them. For example, the Mojito is a famous Cuban drink made with Mint leaves – except Mint Leaves as we know them don't actually grow in Cuba. As importing Mint is cost prohibitive, "Mentha Nemorosa" – sometimes referred to as 'Cuban Mint' is used instead. In terms of spices, unless it is derived from sugar cane – Cuba has to import most of it – sometimes at great cost. The lack of spices contributes to the so called blandness of the food – not that these folks don't have talent. When I travel, I prefer to eat where and what the locals eat – and the place with the longest line usually is the best bet. A couple of blocks from the Havana Libre hotel was a long line of about 20-30 people. As I got in line, I realized it was for a hotdog – a pork hotdog. It's been so long since I've seen a pork hotdog I forgot they still made them. Anyway, the best place to eat in Havana is at Casa Particular – they won't run out of food, are rarely short on spices and where in the world is home cooking not better than restaurant food???
Back Home and Final Thoughts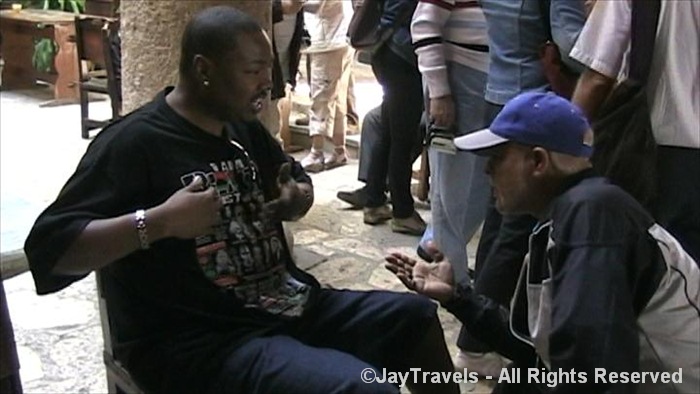 I wanted to know if what I'd heard and read about Cuba was in line with my actual experience and if it changed my perception on the matter in any way. A good deal of the commonly held perceptions about the island were for the most part in line with that narrative, particularly the shortages, socialist underpinnings and beautiful people (both inside and out). I was surprised about how my perception of what a Cuban should 'look' like had been shaped by external forces and the fact that some folks are a little more equal than others. I'm even more of a fervent believer that the embargo is not only a complete waste of time; it is in many ways unnecessarily cruel to the average Cuban citizen. For that matter, I'm even less swayed by many of the arguments of the Cuban expat community in the US. Not sure anyone is innocent, yes many have had their homes taken and/or family members jailed/killed – but many if not a significant majority gained that wealth on the backs of others. Not quite slavery, but near indentured servitude. The impact of this clearly evident 50 years later; the Afro-Cubans are still at the bottom of the totem pole. Like most things in life and politics – there aren't any clearly defined good or bad guys – just shades of grey.
As I departed from Havana back to Cancun, I began wondering how my re-entry into the US was going to play out. As I said in Part Two, there's nothing to worry about since I was there legally on a General License; I was just curious just how far the Customs Agent would go to review/verify my documents. As I said before, I Might Be a Terrorist – so surely of all people to pull over for additional screening you'd think ME + CUBA is an automatic detention pass. I reached the Customs Agent and handed him my passport with the blue re-entry card that clearly stated "Cuba" in the list of countries I'd visited. He took the documents, typed a few things into his computer, stamped my entry form and said welcome back – without even looking up! What the hell?? All of that F'in work creating documents, getting notarized, etc. and all I get is "welcome back"? All the times you've pulled me over for body checks for returning from places like Thailand – but returning from one of the countries on the alleged 'Terrorist Sponsors' list – you say "welcome back"? Un-freakin believable. You know the truth though – if I weren't prepared, he would have given me the 3rd degree so I guess it's better to be safe than sorry.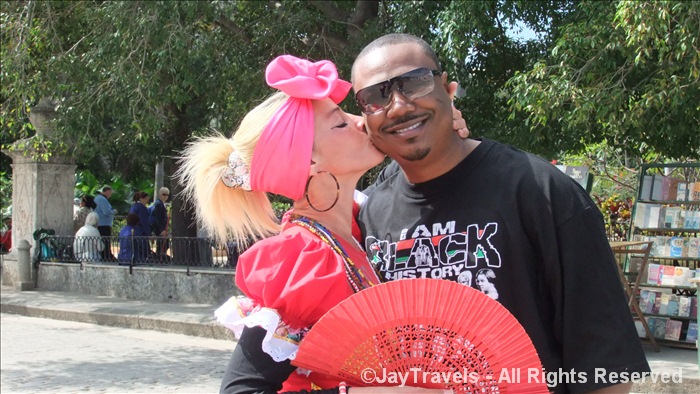 I fully intend on visiting Cuba again – the next time armed with a fluency in Spanish. In addition, I long to see other parts of this wonderful country – including Varadero (true tourist area with international hotel chains), Trinidad (world heritage site), the Bay of Pigs and Santiago de Cuba (the country's second largest and most Caribbean influenced city). Of the three articles in this series, this one is by far based on my personal experiences and opinions. One's experiences shape their reality – therefore your experience/reality may differ from mine. My suggestion is to use these three articles as guidelines for your travels and visit Cuba yourself to gain your own perspective. Get there before the embargo is lifted and it turns into Cancun II – me thinks it will.
Start Over: Part One: History and Why You Need to Go