Bangkok is an amazing city; the weather, the food and the politics are all as hot as can be. Thai Kickboxing, the Grand Palace, Tiger Temple tour, the Thai Cooking Class and some of the best massages I've ever had in my life were the highlights of my visit.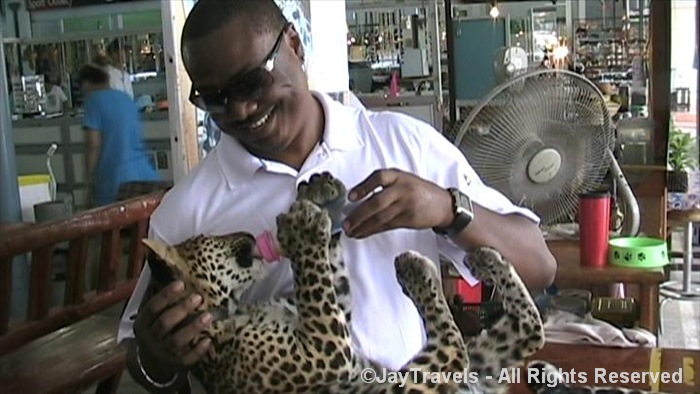 Destination at a Glance

Date of Trip
May 2010
Destination Good for
Shopping, Culture, Food
Best Time to Go
Always hot – though rainy season June-September
Currency/Conv. Rate
Thai Bhat/ 1 USD = 32 THB – Very Favorable
Good Way to Get Around
Rent Car: No
Public: Yes
Taxi: Yes
Walking: No
Appox. Trip Cost
Fairly Inexpensive
Speaks English?
Many
Entry Requirements
Passport
Do it

Grand Palace
Tiger Temple Tour
Thai Cooking Class
Thai Kickboxing Match
Exquisite Massages

Skip it
Didn't get to do

Scuba Dive Siam Ocean Aquarium
Canal Longtail Boat Ride

Would I Recommend
Yes
Overall Trip Rating
Trip Review
(Click Thumbnails to see Full-Sized Images)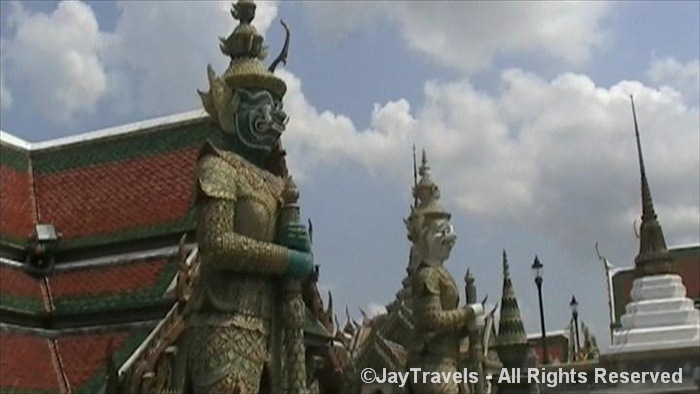 Spicy food, kick boxing, beautiful beaches and some of the best scuba diving in the region were initially the reasons I wanted to go to Thailand.  As an avid fan of Discovery Channel's Bizarre Foods, I couldn't wait to get to one of the night markets to try some fried scorpions, roasted grasshoppers or some other strange cuisine.  Bangkok was my first stop in my 6 day tour of Thailand – the second leg would be spent touring the beautiful islands of Phuket.
I knew the worst part of the trip would be the flight.  Rarely the highlight of any trip, this particular connecting flight on Delta was pretty uncomfortable.  It amazes me why Delta would spend money upgrading planes that primarily fly domestic routes with seatback entertainment, WiFi, etc. while leaving their long-haul international planes as the oldest and least updated in the fleet.  The 767 from Atlanta to Tokyo was so old it had ashtrays – ponder that for a moment.  Not only did the plane not have any seatback entertainment in coach, there were only 3 TVs for the entire cabin – and two of them were CRTs (old glass screens).  I hate flying overseas on US carriers!!!
I finally arrive 1am in the morning at Bangkok's Suvarnabhumi International Airport and the first thing that hit me as I exited the terminal is the heat and humidity.  It was 90 degrees and 80% humidity at 1am in the morning! Wow!  As I stepped out of the baggage claim area, an airport staffer points me to the taxi stand where there's a set rate of 500 Baht ($16 US) into the city.  Sure I could have taken a shuttle bus for a lot less, but at 1am in the morning the last thing I wanted to do is spend 2 hours stopping at every hotel in the downtown area.   The good thing about the taxi stand was the standard rate – no negotiations, no mob of taxi drivers yelling at you to get in – the rate is the rate.  In so many countries exiting the arrivals section of the airport is akin to the floor of the New York Stock Exchange, so it was nice I didn't need to get into haggle mode to get to my hotel.
Getting Acclimated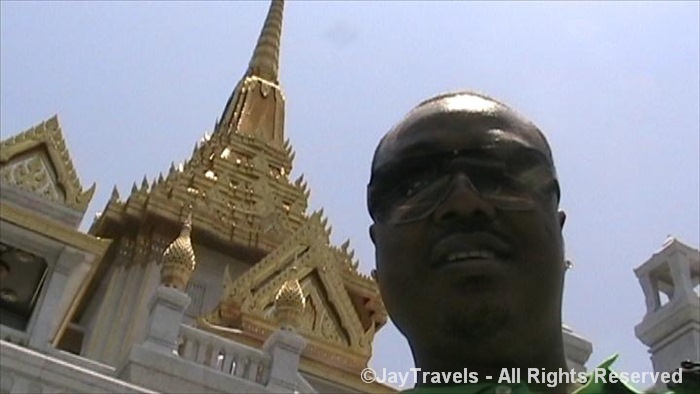 Although I alluded to it before, it's worth mentioning again that it's very hot and humid in Bangkok.  Atlanta is a fairly hot and humid city by US standards but I could barely take it in Bangkok.  I have never sweated like that in my life!!!  It made me wonder if it were possible to spontaneously combust into flames from the heat and simultaneously extinguish one's self with the humidity.  My suggestion is to take it easy for first 24 hours in the city (region) so that your body has time to get acclimated to the weather.  And drink plenty of water!
Turns out the weather wasn't the only thing hot in the city – political unrest was brewing.  I won't get into an in-depth political analysis in this blog but the short version is one of Thailand's political parties (the Red Shirts) were protesting the government's ruling party (the Yellow Shirts).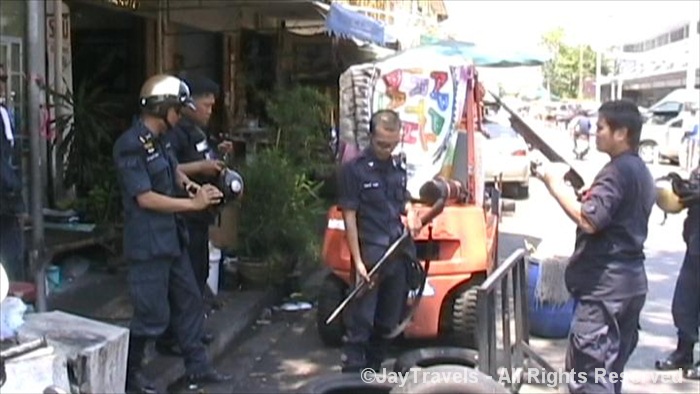 The normally peaceful demonstrations turned into ugly violence that claimed the lives of several people and basically paralyzed the city for a few weeks.  I would not go as far as calling it a war zone, but when several city blocks are barricaded by protesters with guns, bottles and homemade mortars (you can make mortars & a launcher at home???), it's not necessarily the safest place for tourists.  Personally, the violence in the downtown area did not impact my safety to any extreme – the Hilton Millennium hotel was across the river away from the activity.  That said, many of the activities I'd planned in the city were cancelled or closed due to the violence.
The upside to putting together an itinerary for your trips is it increases the likelihood of you doing most of the things you intended to do.  It sometimes allows you to fit a number of activities into tight schedules without feeling as though you've missed something.  The downside of course is some things happen that are out of your control and can kill even the best plan.  The red shirt protests were just that for me.  My original plans included scuba diving in Bangkok's Siam Ocean World Aquarium with the sharks and spending nearly every night in one of Bangkok's night markets sampling the variety of foods.  Unfortunately, I wasn't able to do any of these as roadblocks, public train closures and police mandates basically shut down these parts of the city.  Time to execute Plan B.
The Sites of Bangkok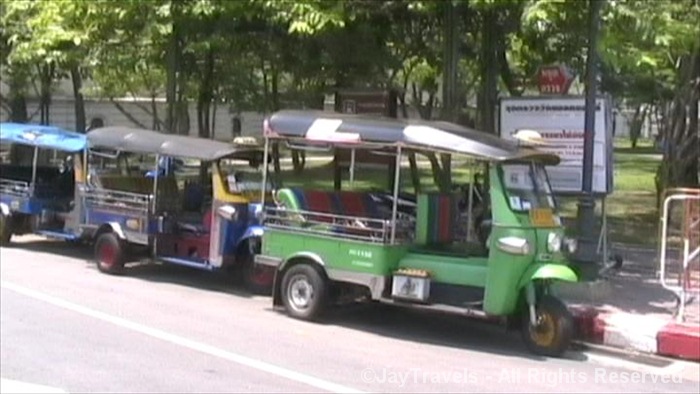 Getting around Bangkok is both super easy and very cheap.  Official taxi cabs are an excellent way for tourists to get around as all have meters and are the cheapest I've experienced in my travels to date.  For example, I was in a taxi for almost 30 minutes (driver got lost) and the fare came to only 75 Baht (that's $3 US).  Another – albeit more adventurous method of getting around are Thailand's Tuk Tuks.  Tuk Tuks are 3 wheeled open air vehicles that whiz you around the city at breakneck (some say dangerous) speeds.  Another method primarily used by locals is the motorcycle taxi; basically the backseat of a 100cc motorcycle.   Both are somewhat interesting – though not necessarily cheaper (price is negotiable) or faster method of getting around.  Finally the MRT and BTS (SkyTrain) train systems are first-rate methods of getting around downtown and the outlying areas.  Once you've determined your mode of transportation, there are a number of sites in the city limits including:
Grand Palace

– I don't think a stop in Bangkok would be complete without a tour of the Grand Palace.  The Grand Palace complex is actually a series of structures that includes a museum, statues, shrines and several Wats (monasteries).  The most popular are the Wat Phra Kaew (houses a giant emerald Buddha) and a giant Golden Temple (not sure of the correct name).   Admission is 350 Baht and there is a strict dress code (arms, legs & feet must be fully covered at all times).  Note: Don't be fooled by anyone trying to sell or rent you proper clothing to get into the palace grounds.  Proper clothing is provided free of charge by the palace staff (a fully refundable deposit is required).

Muay Thai Fights

– Muay Thai (Thai Kickboxing) is Thailand's national pastime and there's usually 2-3 events featuring multiple matches most every week.   Bangkok has two Muay Thai stadiums – Ratchadamnoen and Lumpini.  Due to the Red Shirt demonstrations, only Ratchadamnoen stadium was open as was not in the affected area.  Regardless of which stadium you go to, purchase your tickets at the box office on site; many hotels will attempt to sell you 'VIP' tickets at more than twice the cost.  I had front row seats in a relatively empty stadium, but the fights themselves were pretty decent.  I found it interesting that more than half of the participants were foreigners (supposedly from Australia).  In any case, there were a few knockouts and a good bit of blood – a good day in my book.

Royal Barges Museum

– Eight perfectly restored barges along the Noi canal.  Each barge is at least 100ft long and is exquisitely sculptured and laced with gold and glass.  The barges are placed into service during special occasions & festivals.

Wat Traimit

– About a 10 minute taxi ride from the Grand Palace is another sacred Wat – Traimit.  The Wat sits in the middle of a dual commercial/residential block but stands out by the white walls and gold laced trim.  Even though there's a small museum inside, the main attraction is the 5 ½ ton solid gold statute of Buddha.  According to the Wat, it is the largest seated Buddha in the world.  20 Baht entrance fee.

Canal Boat Ride

– Bangkok is sometimes referred to as the "Venice of Asia" due to the number of canals that run throughout the city.  Long narrow boats called "Longtails" were once the primary mode of transportation throughout the city; now serve as rather expensive tour boats for visitors (there are ways of getting a cheap longtail ride).  I had a few hours before my flight to Phuket to take a ride, but I choose to get another massage instead.  What can I say?

Custom Clothes

– Though not really a tourist attraction, there are tons of storefronts offering custom tailor services.  They can do almost any design you want assuming you have a picture or can adequately describe the style.  In 1-2 days (sometimes hours depending on the design) they can complete a complete 3-piece suit and shirt tailored to perfectly fit your body.  The average cost for these suits is anywhere from 3000-6000 Baht ($100-$200) – much less than an off the rack suit in the US.  I didn't have a need for a suit at the time, but a guy in my cooking class and another in the hotel swore by the quality.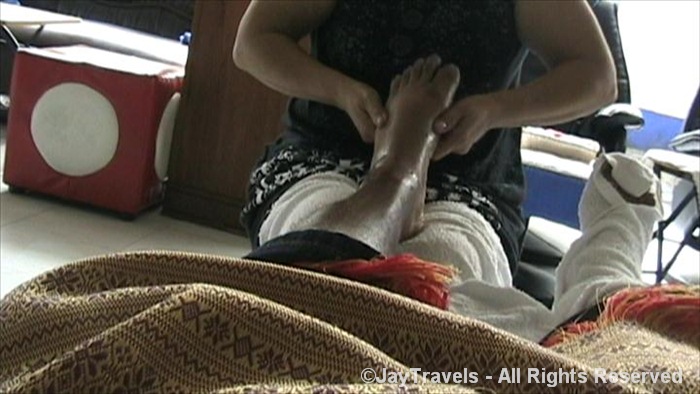 The most memorable part of my time in Thailand was the massages.  More memorable than the Wats, Tigers, beautiful scenery and the wonderful food – nothing has remained as fresh in my mind as the massages.  I'm not sure if the fact that they were universally of good quality or so unbelievably cheap, but I have Vietnam style flashbacks to this day of how good it felt.  I frankly became addicted to them.  I actually had time to take a longtail canal tour of the city but thought to myself I'd rather be getting another one of those massages.  200 Baht (that's $7 US dollars) for an hour long foot & leg massage; 300 Baht for an hour long Full body massage.  WOW!!!  You couldn't pay someone $7 to 'look' at you for an hour in the US!  During my full body massages, the lady always jumped up and stood on my back – cracking every bone in my spine.  She even massaged my butt and…hold up, I just had another flashback!
…Continued
Tiger Temple Tour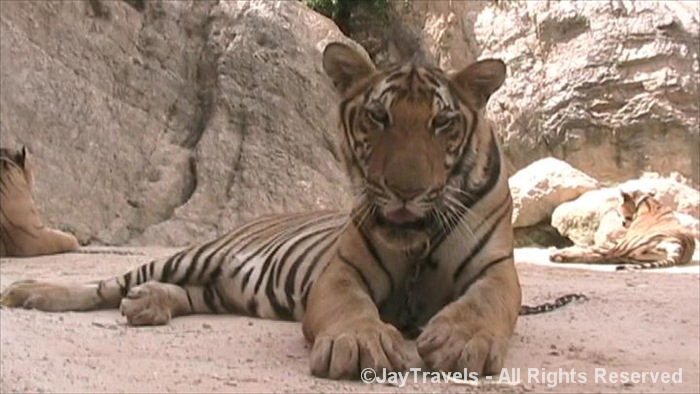 The Tiger Temple tour was a last minute addition due to the demonstrations cancelling much of my original plans.  This all day excursion includes hotel pick-up/drop-off, lunch and the attractions listed below.  Beware – there are only a handful of tour operators but many times that number reselling the same tours.  This means your hotel concierge, flyers on the street and the Internet all have wildly different prices for the exact same tour.  In my case, the Hilton Millennium wanted to charge me 5,000 Baht and the best deal I could find on the Internet was 3,500 Baht.  It seems like the price is heavily dependent on how much the reseller thinks you can pay for the tour.  My advice is if you want to go on one of these organized tours, take a trip down to one of the hostels and purchase tickets there.  You'll save yourself a good deal of money and avoid feeling like you've been taken advantage of (a few folks in my group stated they paid 3,500 and 4,000 respectively to do the same tour I was doing).  Thanks to Lillie from AroundtheWorldL, I managed to purchase my tour from the LUB-d Hostel for only 2,000 Baht.  On to the tour stops:
WWII Museum & Cemetery of the Dead – Near each other (but not part of the same structure) are two attractions that honor Thailand's role and sacrifice during WWII.  Unsurprisingly, the cemetery honors those that have fallen in battle via a well manicured courtyard that includes a monument to the country's solders.  The Museum provides greater (and sometimes graphic) details into the activities of the war – including the forced slavery by the Japanese.  Worthy of the 20 Baht donation.

Baby Leopard

– Just outside of the museum is a guy who has a mother and baby Leopard chained to a platform.  This setup is not part of any official attraction – it's just some guy charging money to take pictures with his cats.  No matter – it was only 30 Baht ($1 US) to take some sweet video of me feeding the baby leopard with a bottle as his mother sat a foot away from me.  Awesome!!

Bridge & Train Ride

– After leaving the museum, I took a few pictures on a bridge that spanned some unknown river and hopped a train for a ride into the country.  The train itself is the open air variety with hard wooden seats, but it moved fast enough to produce a nice cool breeze to help with the blazing heat & humidity.  Once we departed from the train, it was off to eat a nice country Thai lunch on one of the country's many rivers.

Elephant Trek

– Technically not a trek; more like herding the elephants around in a circle for the tourists.  Nevertheless, it was interesting to get up close to the Asian version of the Elephant to see how it differs from its African cousins.  The ride was about 20 minutes – plenty long enough as you are baking under the brutal sun.  After a bit of video of me with the elephants it was off to the next stop.

Waterfall

– I forget the name of the waterfall, but it is obviously a place where the locals come to barbeque and cool off from the hot sun.  There's something about me filming on waterfalls that turns me bat shit stupid enough to fall in the water.  Unlike my fiasco in Jamaica, I didn't ruin my video camera – but my HTC Hero bit the dust.  That was pretty embarrassing and pretty dirty (little Thai kids simultaneously laughing and scared of the crazy 6 foot Black man).

Tiger Temple

– After about 4 hours on this tour, we finally get to the namesake attraction.  As you step into the gates of the attraction, you walk about 10 minutes to get to the Tiger Valley.  Though these tigers are not in the wild – this is far from a zoo; so the staff takes great care to ensure you do not startle or harm the tigers – which would not be good for all parties involved.  After removing all shinny objects (sunglasses, keys, etc.) the staff takes your camera and literally holds your hand as you walk from tiger to tiger.  There are about 10 tigers in various states of alertness, e.g., sleeping on their backs, lying prone and up and walking around.  You kneel behind each tiger so the staff can take your picture while 3-4 other staff members keeps a close eye on you and the beast (wouldn't wanna lose a hand now would ya?).  Even though any of the tigers could have bitten my entire arm off, at no time did I feel unsafe.  The experience was way cool and I highly recommend.
…Continued
The Food
One of the primary reasons for visiting Bangkok was to try some exotic and perhaps strange foods.  Due to the Red Shirt demonstrations, both of the main night markets were shut down, so I wasn't able to eat any bugs.  I did eat at a few sidewalk/mobile restaurants, but there wasn't much out of the ordinary beyond seafood that doesn't exist in my hemisphere.  There were a ton of fruits and vegetables I'd never seen or heard of; here are a few I sampled:
| | | |
| --- | --- | --- |
| | Dragonfruit | Pinkish-Red fruit with white flesh/black seeds – tastes similar to a Kiwi |
| | Rambutan | Sorta red hairy looking fruit with firm and somewhat chewy white flesh around a seed.  Sweet and tangy. |
| | Orange | In Thailand, the oranges are the size of a Lemon and rind is green, but the flesh is still orange. |
| | Mangosteen | Dark purple outside with soft white fleshy center and a pit.  Similar tasting to a plum but the consistence of a mushy peach. |
| | Durian | Giant prickly fruit either hated or revered around the world.  See Phuket Review for more on this fruit. |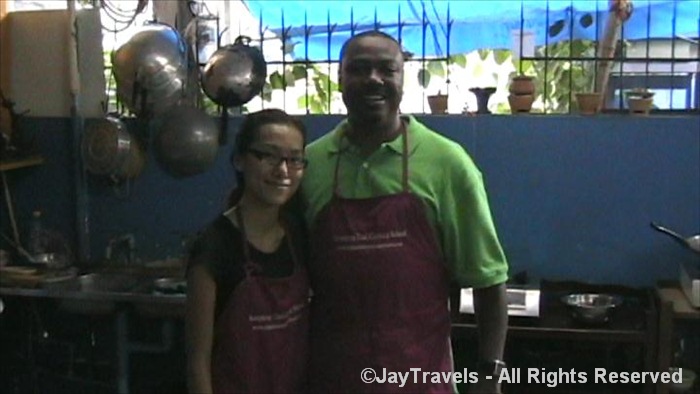 Whatever authentic Thai food I didn't get to sample in street markets, I did get to make myself at the Samphong Thai Cooking School.  This was an awesome hands-on experience as the four hour class started with a trip to the local market to pick up the fresh ingredients.   Each class participant has their own cooking station/Wok and makes their own curries & sauces themselves.   I made 7 dishes in total (Thai Banana Fritters not pictured) and am pleased to say every one turned out as expected (though I didn't really care for the Green Curry Chicken).  The best part of the experience was the chef/owner/teacher who took the time to explain what and why certain elements went together, how cutting the food correctly during preparation increases the flavor and techniques for making visually appealing food (see tomato skin rose in picture).  There is a different class menu each day, so if you are in Bangkok for an extended period you can learn/eat during your entire stay.  Finally, she provides written instructions of every recipe you make during the class so you can whip up a batch once you get home.  The cost of the 4 hour class is 1,000 Baht ($32) – highly recommended!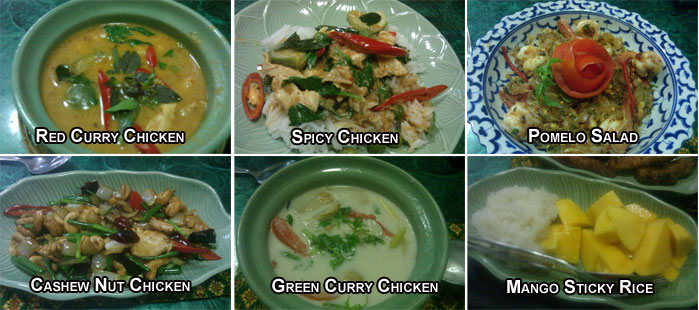 Flat out awesome!
Closing
Bangkok is an amazing city; the weather, the food and the politics are all as hot as can be.  Though I only spent 3 days in the city and the demonstrations curtailed a few of my plans, neither took away from a truly fascinating time.  The Cooking Class, Tiger Temple Tour, Grand Palace and the absolutely cheap and wonderful massages were some of the highlights of my visit.  I won't lie, it sucked that I wasn't able to hit the night markets and try any crickets, scorpions or beetles; but I guess you can't win them all.  I had a wonderful time in Bangkok; next up – the beautiful beach town of Phuket, Thailand.