The big city lights of Sydney, Melbourne's wine country and the Great Barrier Reef from Cairns made my first trip to Australia an exhilarating experience that left me wanting more.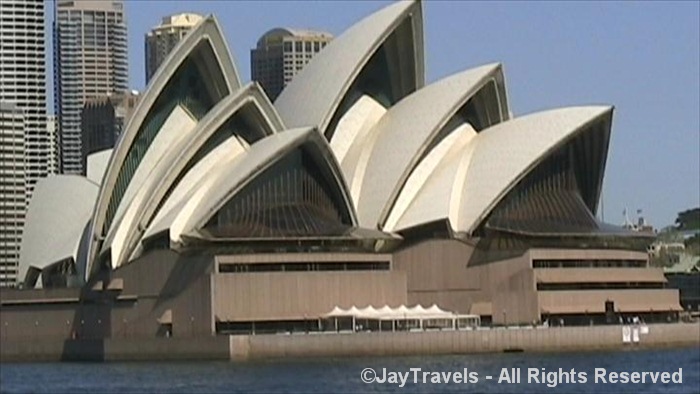 Destination at a Glance

Date of Trip
September 2009
Destination Good for
Shopping, Watersports, Sightseeing
Best Time to Go
Year round – but Fall may be best
Currency/Conv. Rate
Australian Dollar/ 1 USD = 1.16 AUD – slightly favorable
Good Way to Get Around
Rent Car: Yes
Public: Yes
Taxi: Yes
Walking: Yes
Appox. Trip Cost
Fairly Expensive
Speaks English?
English is Primary Language
Entry Requirements
Passport & $20 Tourist Visa
Do it

Take pictures from Manly Ferry (Sydney)
Surf & Sand on Bondi Beach (Sydney)
Great Barrier Reef (Cairns)
Wine country tour (Melborne)
NRL/AFL game (Multiple Cities)

Skip it

Paying $300 to walk up the Sydney Harbor Bridge

Didn't get to do
Cricket Match and Hot Air Balloon ride
Would I Recommend
Absolutely
Overall Trip Rating
Trip Review
(Click Thumbnails to see Full-Sized Images)
There's no way around it – the flight to Australia is a bitch.  Even if you take a non-stop flight from the west coast, you are looking at 15 hours on an airplane.  I'm not complaining too much since I almost blew the entire trip due to my idiot mistake (incorrectly thought an Australian Visa wasn't necessary).  The lesson here is to always verify entry requirements with the US State Department no matter what any other travel site says.
Moving along, the plan was to hit three cities within the 8 days I was in the country.  How do you visit three wonderful cities in 8 days – it's called planning my friend.  My itinerary included Australia's two largest cities – Sydney and Melbourne, as well as arguably its most famous landmark the Great Barrier Reef (via Cairns).  Although I certainly would have loved to go into the Great Outback, I'll save that for next time when I can devote 3-5 days to the experience.
I jumped around from city to city using Australia's excellent discount carrier JetStar Airlines.  On the whole, fares on JetStar were extremely cheap – usually cheaper than Virgin Blue and Qantas.  Unfortunately for me, I was lugging an extra bag full of my scuba diving gear and the Nemo 200 from city to city.  In the US, you simply pay a flat fee for extra bags up to a certain weight/size.  On JetStar, you pay by the kilogram!!  So instead of $50 I would have paid for my 47lb bag on a US carrier, I ended up paying over $200 – each flight!!!   Holy Sheet – I hadn't felt so violated since my last prostate exam… :o(
During my visit, the Australian Dollar (AUD) was nearly on par with the US Dollar; but I was a little surprised how expensive everything seemed to be.  Granted, things are usually more expensive near tourist destinations; but even locally resourced items like seafood weren't what you'd call cheap.  In 2008, Sydney and Melbourne were the 16th and 36th most expensive cities in the world – though they had fallen quite a bit in 2009 due to the world recession and associated dip in travel.  Just a heads-up for those thinking about taking a trip to Australia.
Finally, no matter what city I was visiting the people were extremely pleasant and willing to engage in any subject.  So nice in fact that I started to wonder if they were up to something (only an American from the big city would think such ridiculous thoughts).  By the way, I just love listening to Australians speak; seriously, who doesn't just love the Aussie accent?
Sydney
Sydney – the largest city in Australia and the first stop in my three city tour.  Here are some of the highlights.
Sydney Opera House

– One of the most photographed buildings in the world, the massive structure is actually six separate venues.  The Opera House sits at the end of a peninsula in Sydney Harbor.  There are a few excellent vantage points for taking pictures of the Opera House.  The easiest is directly across Sydney Cove on a free viewing platform.  This platform provides a street level view of the West side of the Opera House.  Another vantage point is from the Sydney Harbor Bridge – which provides somewhat of an aerial view of the West side and portions of the rear (harbor facing) side of the building.  Perhaps the best view of the Opera House is to jump on the Manly Ferry for the 30-minute round-trip ride to the city of Manly.  For $6.40 each way, the ferry not only gives you stunning views of all three sides of the Opera House, but the best pictures of the Sydney Harbor Bridge and the entire downtown Sydney skyline.  Catch the Manly Ferry from the Wharf #3 in the Sydney Cove.

Sydney Harbour Bridge

– Another iconic Sydney landmark, the Sydney Harbour Bridge sits just west of the Opera House.  Tip:  If you take the Manly Ferry, you can fit both the Opera House & bridge in the same frame.  As I mentioned earlier, the bridge is an excellent place to take photos of the Opera House and the Sydney Skyline.  There are two ways to take pictures from the bridge, one free and the other not so free.  The easiest and cheapest way is to use the pedestrian walkway along side regular automobile traffic crossing the bridge.  While there are pylons and a gate covering the outside of the walkway, the gaps are large enough to take photos (Note, there is a tower near the South entrance which provide less obstructed views for about $9 entry).  The second method is to climb to the top of the bridge's arches through a company called BridgeClimb.  When I visited Sydney in September 2009 the climb cost $300, but it appears new climbs & pricing were introduced in October 2009.  According to their website, there are varying types and durations of climbs which cost anywhere from $188 to $258 based on time of day and season.  If your goal is to take pictures, skip the high price and walk along the bridge.  On the other hand, if you want to get over your fear of heights or take advantage of one of those once in a lifetime opportunities – by all means go for the BridgeClimb.

Darling Harbour

– A major tourist restaurant and attraction area covering both sides of its namesake harbor.  Depending on where you are staying, it's either a 10 minute walk from the downtown area or a short monorail ride to the entrance.  The area includes almost 40 restaurants (from fast food, bars and high-end) and multiple attractions, including an entertainment center (bowling, Laser Tag, etc.), Aquarium, IMAX theater, casino and much more.

Sydney Tower

– As the tallest structure in Sydney, the Sky Tower provides 360 degree panoramic views of downtown Sydney with no obstructions from nearby hotels.  For $25, your ticket includes access to the enclosed observation deck and entry into the OzTrek movie/ride experience.  For an addition $40, you can step onto the Skywalk – the outside platform nearly a 1,000 ft in the air.

Sydney Rocks

– The 'Rocks' is a historic shopping district a short 5 minute walk west of the Sydney Cove.  While certainly a tourist trap, the distinct sports souvenirs, arts and crafts mostly provided by local vendors.

Bondi Beach

– Bondi Beach is about a 10 minute cab ride from downtown Sydney and is a popular destination for locals and tourists alike.  Besides miles of beautiful sand, Bondi Beach draws surfers of all skill levels.   As I enjoy trying new things, I figured this would be a great opportunity to learn to surf.  So I signed up for the surf experience with Let's Go Surfing.  Targeted towards those with no previous surfing experience, this class attempts to train and get you up and surfing in two hours.  So how was my surfing experience???  Well, it was less like surfing and more like "Jay fall-go boom" – over and over again.  It was absolutely ridiculous.  At least I was able to eat at a nice Bohemian restaurant while I nursed my bruised ego back to health.

Sydney Fish Market

– While watching the "Australia" episode of Bizarre Foods one day, the host took a tour of Australia's largest seafood trading market – the Sydney Fish Market.  While the market certainly sports some exotic seafood, it did not feel as grand as it seemed on television.  My guess is Bizarre Foods got a special VIP tour of the facility – as a good 60% is not accessible to the general public.  In any case, if you are staying in an apartment or hotel with a kitchen, you can take a tour of the market, signup for a cooking class and purchase your dinner all in one place.
…Continued
Cairns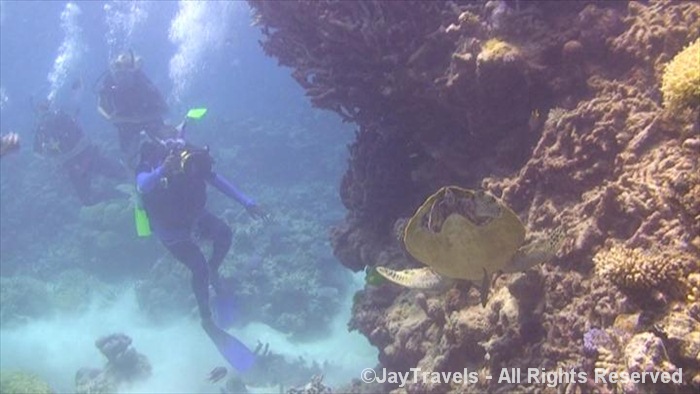 After my excellent time in Sydney, it was off on a JetStar plane to Cairns (pronounced "Cans").  This tropical location has some of the best weather in Australia with average year-round highs in the 80s and lows no less than 62 degrees.  Though not as many beaches as other Australian cities like the Gold Coast, Cairns is an excellent destination for outdoor and water related sports.
By far, the most popular activities in Cairns are scuba diving and snorkeling the Great Barrier Reef.  There are two primary ways to scuba dive the GBR – a day trip or on a liveaboard.  Day Trips are those those that start and end the same day stay relatively close to shore (Inner Refs in this case).  Liveaboards mean you eat, sleep and dive from a single vessel over a 2-7 day period.  Great Barrier Reef liveaboard tours allow you to travel further north and deeper into the Great Barrier Reef – exposing you to marine life that lives in deeper water like sharks and whales.  Since I only had 8 days total in Australia and you need 24 hours before/after diving to board an airplane, a day trip was my only option.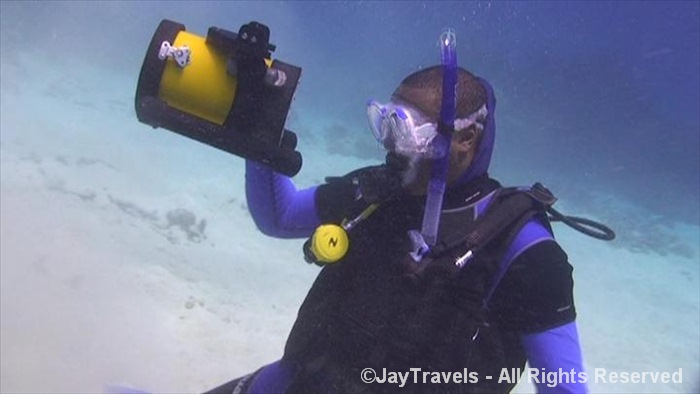 This was actually my first scuba diving trip outside of the US since I'd gotten my certification, so I was somewhat nervous.  It was also the first time I was able to test the Nemo 200 Underwater Camera housing in salt-water.  The dive company I used for my day trip operated a 95ft catamaran called the SilverSwift.  For $240, the day trip included 3 certified dives, all dive equipment, light breakfast, full lunch and a guide.  During the three dives, I was able to capture video of sea turtles, a stingray, a fish feeding frenzy, several coral and rock formations and of course me having a blast underwater.
The video and pictures of the dive can be found on the appropriate sections of this site; suffice it to say the Great Bear Reef was wonderful diving – even if we were confined to the inner reefs.  One thing I will do with my next video/housing setup is to invest in a good Blue/Green water filter to accurately capture the entire color spectrum.
Finally, there are other things to do in Cairns besides a visit to the GBR including White Water rafting, ATV Tours, Skydiving and a trek to the rain forest in Daintree National Park.  All in all, a wonderful experience … now off to Melbourne.
Melbourne
Unfortunately, my itinerary in Melbourne was cut short due to rain, but there were a few things I was able to get done.
Due to bad weather, I wasn't able to do the planned Hot Air Balloon ride, Kayak downtown Melbourne or visit the Queen Victoria Market.
Food
The diversity of restaurants in both Sydney & Melbourne is impressive, if not expensive.  As a former British colony, I didn't expect much in the way of exotic fare in any of the cities I visited.    What I found were the normal array of international fare menus tweaked to include local game.  Here are the few items I tried that I guess folks in the US would call exotic:
Ostridge

– Pretty good, marbled like a ribeye but a little 'gamey'.

Kangaroo

– very lean and tender piece of meat with the consistency of beef.  In fact, it tasted like an excellent Filet Mignon.

Crocodile Sausage

– Actually pretty gross.  Fairly gelatinous and mushy.  But I'm willing to chalk it up to the sausage preparation, not the Crocodile.  I've had great experiences with the croc's cousin the Alligator – so I'll try a leaner and/or filleted piece of Crocodile meat in the future.
One thing I didn't get a chance to try was Vegemite – mainly because I somehow forgot about it the entire time I was in the country.  I understand many Australians swear by it and perhaps many more non-Australians hate it.  Guess I'll have to try it and weigh-in when I go back.
In Closing
Not too many countries in the world have such varied geographic landscapes that include beaches, deserts, mountains, rain forests and big cities as Australia does.  I had such a wonderful time in each of the cities I visited and I can't wait to go back to experience more.   My next trip to the land down under will focus on the famous Great Outback, the Mountains of Tasmania, the things I missed in Melbourne and the rain forests in Daintree National Park.  Oh, maybe I'll attempt to regain some pride by surfing again at the Gold Coast – maybe.
Good Day Mate!